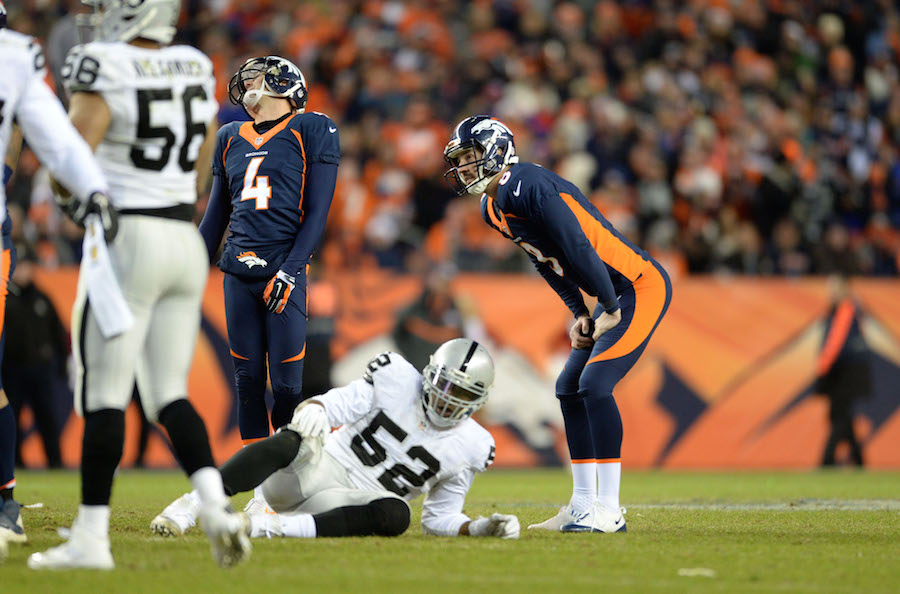 This is the week we find out if John Elway's "kicking and screaming" mantra has legs.
This is the week we see if these Denver Broncos have an overall level of professionalism worthy of a championship team. If we see a repeat of last Sunday's "mail it in" effort, then we're going to see an end to this season that looks a lot like last season, which was the opposite of kicking and screaming.
It's not so much losing to the Oakland Raiders that stings, it's how Denver lost to the Oakland Raiders: By failing to show up and put forth a professional effort, especially in the second half. Mistakes we haven't seen all season – in the form of fumbles and dropped passes – are an indicator that players' hearts and minds weren't in the game. They acted as if the outcome was a foregone conclusion and put out that kind of lackluster effort. As if just showing up would suffice. Kicking and screaming? More like wandering and yawning.
Last season, with many of the players appearing to spend more time thinking about fat new contracts, radio and TV shows and commercial endorsements rather than winning football games, the Broncos level of professionalism – defined here as showing up for work every single day focused on your job, prepared to give a 100 percent effort – was sorely lacking across the board. In a lot situations, the focus and effort appeared to be all but absent. It wasn't one person or one position group. There were failures in all phases, mental and physical. It was a performance worthy of an also ran, which is what they became by last season's end.
Much like the second half of last season, the effort last Sunday resulted in a performance totally absent of "kicking and screaming." Repeat that effort in Pittsburgh against a team fighting for its playoff life, and it won't result in a three-point loss; it will be a 30-point embarrassment.
The reason Elway could call his players out after last season (and last week) is simple: He didn't give those lackluster efforts as a player. His 47 fourth-quarter comebacks are testament to his unwillingness to concede defeat, even on a bad day.
There were plenty of days when Elway struggled to hit receivers and generate much offense until late in the game, when he found an extra gear. He played the way many of the greats have, with a sense of urgency and an amazing will to win at all costs. That's what separates talented players from great ones.
Do these Broncos have that in them? Can they become greater as a whole than the sum of (what's left of) their parts?
Certainly the Broncos have had their share of injuries… but so have all the other teams. Injuries can't be used as an excuse at this point. And obviously the Broncos lack experienced talent on offense, especially with Peyton Manning injured and declining. They're below average at running back, where they still desperately need a "horse." Broncos running backs are the equivalent of Colorado Rockies starting pitchers: They lack an "ace." (There is a handful for pretty good running back prospects coming out in next year's NFL Draft. Perhaps that's where Denver spends a draft pick or two?)
They're shallow at receiver. After Demaryius Thomas and Emmanuel Sanders (both of whom were major offenders in last Sunday's debacle) they struggle to find consistent production. And at least half of the people in attendance last week would have caught the pass that Vernon Davis dropped in crunch time against the Raiders.
And the offensive line, which was young and inexperienced at the start of the season, has not improved. With injuries, things have actually gotten a bit worse. Clearly, Michael Schofield is not a starting caliber NFL offensive lineman.
So yes, the Broncos have their share of problems. It's not a perfect team. But guess what? Neither are the other guys. Nobody is at full strength right now. That means it's time for a gut check, time to rally the troops, as they say. Can this bunch – including the coaching staff, which also had a subpar effort last week – show up for the next three games kicking and screaming and find a way to win? There will be no coasting into the playoffs. Kansas City is now firmly in sight in the rearview mirror. They aren't going to lose again. The Broncos have to win their way into the postseason. And that's going to take a full-on professional effort and approach in every game the rest of the season.
Kicking and screaming? There is no other way.
Listen to Mark Knudson and Michael Klahr, Saturday mornings 8a-10a on Sports Stampede Radio on Mile High Sports AM 1340