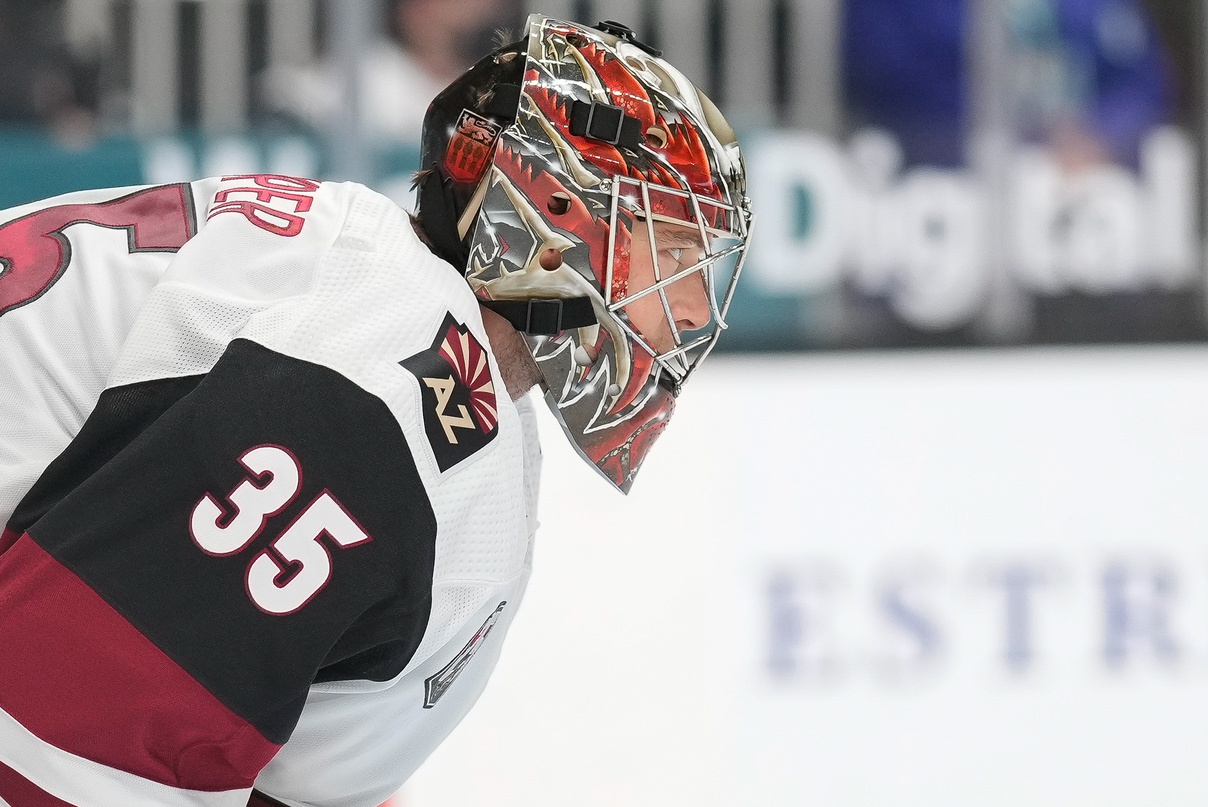 It was March 8, 2021, at Ball Arena. The Arizona Coyotes were tied 2-2 with the Avalanche through 40 minutes. After making a routine save early in the third period, then Coyotes goaltender Darcy Kuemper was suddenly hurt.
Kuemper had made 17 saves but needed to be replaced by his backup after tweaking his MCL. He missed exactly six weeks before returning to close out the regular season as Arizona's starter. The injury wasn't the first he had dealt with in 2021. And in his career, Kuemper has dealt with quite a few more.
But upon his trade to the Avs on Wednesday, Kuemper is confident that his injuries are behind him. All he's looking for is a chance. And in Colorado, he'll get it.
"I feel great right now. Unfortunately last year I tweaked my MCL," Kuemper told me. "When that happens there's not really much you can do so I just put in the work and did what I had to do to get healthy. Now I'm ready to go."
"Fortunately, I was able to come back and finish the season and go to the World Championships. So I'm confident in having a great summer of training."
Listen to "Darcy Kuemper Is the Man" on Spreaker.
At the World Championships, which took place in May and went into early June, Kuemper was Team Canada's starter. The team started the tournament 0-3 before winning seven straight games and the gold medal.
Kuemper turned aside 29 shots to record his sixth win of the tournament in the 3-2 gold medal game against Finland. He was lights out in the playoff round, posting a .947 save percentage.
Perhaps a sign of things to come for a player that has not had many opportunities for a long playoff run.
"It was a ton of fun. Every time you get the chance to represent your country, to win while doing that is something really special," Kuemper said. "You learn what it takes to win and although it's a different format, it is a great learning experience and something you can keep with you forever."
Trading for Kuemper was the obvious choice for the Avalanche after Philipp Grubauer decided to sign with Seattle. He was connected to the Avs long before Wednesday when the idea of Grubauer walking in free agency became more of a reality.
But when Sakic finally pulled the trigger, the transaction was met with mixed reviews.
Surely, the Avs have found their starting goalie for the 2021-22 season. But is Kuemper worth the haul Sakic had to relinquish to bring the 31-year-old to Denver?
Colorado gave up its first-round pick in 2022, one of the deepest drafts in years — albeit a high first-rounder — as well as young defenseman Conor Timmins. There's also a conditional third involved in the deal.
His history of injuries is a major question mark. And so too is his contract, as he's one year away from free agency. And on top of all that, there's also the unknown factor in adding a starting goalie to a team that has aspirations of winning the Stanley Cup.
Grubauer was a known commodity. He fit in with this team, he gelled with his defense and he was consistent in giving the Avs what they expected from him. With Kuemper, everything is starting from scratch. And as we saw when Grubauer was acquired in 2018, it could take months for a goalie to get acclimated to a new place.
But Kuemper is not worried. He already feels a connection to the team he's been a part of since Wednesday.
"Quite a few have already reached out which has been really nice," Kuemper said of his new teammates. "It makes me feel welcome right away. I'm just excited to get down there and meet everybody."
He has yet to speak with Avs goalie coach Jussi Parkkila.
"I've heard so many good things. Can't wait to pick his mind a little bit and see what he has to add to my game."
Parkkila helped turn Grubauer into a Vezina Trophy nominee. He was also a large part of the reason why former Av Semyon Varlamov was able to reignite a career marred by injuries.
Kuemper is certainly in good hands with Parkkila. And if things go well, he remains healthy and proves that an opportunity for a deep run is all he needs, then a contract extension could be in the works. Even if it's not something he has discussed with Sakic as of yet.
But first, Kuemper must prove that his regular-season numbers are something he could duplicate in the playoffs.
Despite putting up some of the best numbers in the league and often being considered a Team Canada Olympic hopeful, he's only gotten the chance to start 14 playoff games.
Coincidentally, 10 of those 14 starts came against Colorado.
"Playing against them over the years, from the other end they're a really hard team," Kuemper said. "The expectations are high and it's a great roster. To be able to join something like that is super exciting and I can't wait to get started."
Listen to "Darcy Kuemper Is the Man" on Spreaker.
Kuemper was solid over the past three years with the Coyotes, a team that only made the playoffs once thanks to the unorthodox play-in round in 2020.
The goalie he's replacing, Grubauer, had similar numbers in those same years on a much stronger Avs team.
In 111 starts, Kuemper was 53-42-13, with a .922 save percentage and a 2.35 goals-against average. He surrendered 257 goals on 3,290 shots.
Grubauer started 108 games, going 66-30-10 while posting a .918 save percentage and a 2.38 goals-against average. He surrendered 256 goals on 3,131 shots.
Kuemper, who is 6'5, 215 lbs, has proven to be clutch in big games with Team Canada. And he's finally going to get that chance in the NHL.
That kind of opportunity is a dream for many, but not always a reality.
I'm just so excited to get the opportunity to be a part of something like this," Kuemper said. "The roster and the expectation are great and those are the opportunities you dream of. To get the chance to step in and join that is unbelievable and I'm just so excited for it."
__
Aarif Deen is our Colorado Avalanche beat reporter. He covers Avs games live from Ball Arena and attends practices, media availabilities and other events pertaining to the Avs on the daily beat. He is also a co-host of Hockey Mountain High: Your go-to Avalanche podcast. Deen joined Mile High Sports upon completion of his bachelor's degree in journalism and master's in business administration from the University of Michigan – Dearborn. Before Mile High Sports, Deen worked for the Michigan Wolverines Athletics Department as the assistant sports information director.
Follow him on Twitter @runwriteAarif