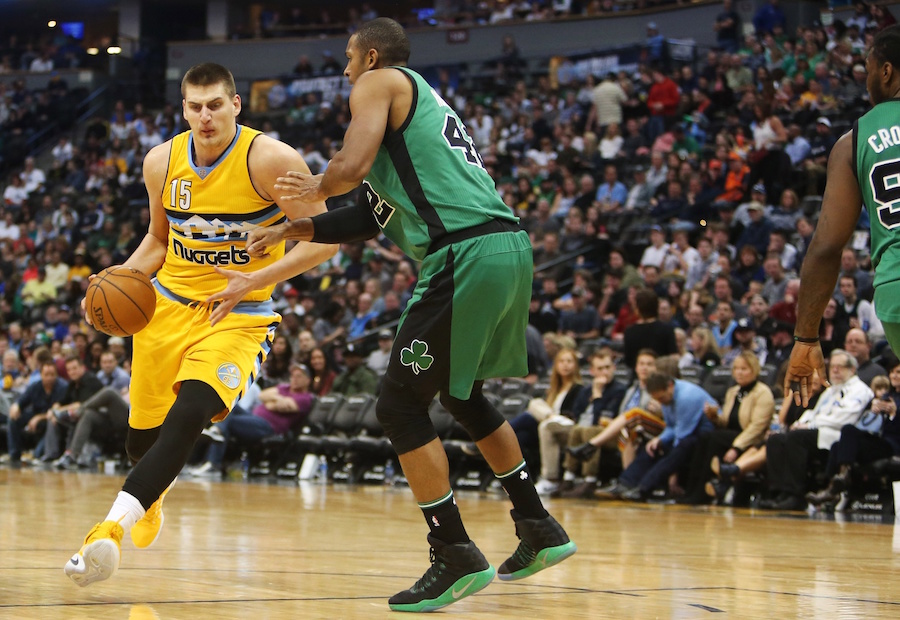 A dominant Denver Nuggets offensive effort never let up as the Nuggets ran over the Boston Celtics in wire-to-wire fashion, 119-99, Friday at Pepsi Center.
"I kept telling my guys, win the first quarter" said head coach Michael Malone postgame. "I keep on saying, thirty teams in the league since December 15th, we have the No. 1 offense in the NBA. Not Golden State. Not Houston. We have the No. 1 offense."
The Nuggets certainly won the first quarter, unafraid of their underdog status against the 41-win Celtics, taking a 10 point lead to the second quarter. They tacked onto that lead at halftime, mainly by penetrating the Celtics interior with ease. Denver outscored the Celtics 58-28 in the paint by the final horn.
A major presence inside was Nikola Jokic, who returned after missing two games with the flu. Paired with forwards Danilo Gallinari and Wilson Chandler, the Nuggets had a stream of offense coming from all angles.
"Our starting front-court, when healthy, is a pretty talented threesome" Malone said. "Our ball movement has been pretty good the last couple games, even without Nikola. That means we're playing the right way. That means we're sharing, we're cutting, we're moving the ball from side-to-side and I think when we do that, we're hard to guard."
Jokic came out with energy and an impressive night, scoring 22 points to go with 10 rebounds. His return sparked a barrage of points from others, including a game-high 23 points from Chandler and 20 from Gallinari.
Jamal Murray continued to bring energy off the bench, dropping in 13 points on 6-of-11 shooting, while tying a team high +13 in plus/minus. Mason Plumlee added a major presence above the rim, throwing down two put-backs dunks in the second half to breathe life into a Pepsi Center crowd of 17,000-plus.
What's next:
Denver head to Sacramento, where the Kings await them in the second game of a crucial back-to-back for the Nuggets. The Kings sit five games behind the Nuggets, but would love to spoil their playoff chances while defending their home-court against their former head coach.
Nuggets notes:
The Nuggets wrap up their four-game home stand with a record of 2-2 and remain a game ahead of the Portland Trail Blazers for the eighth seed in the Western Conference.
Head coach Michael Malone was called for a technical foul after attempting to learn why a double-technical foul was assessed during the game. Malone said postgame that he was ignored and never given an explanation.
The Nuggets scored 110-plus points for the 32nd time this year. They are 22-10 in those games.