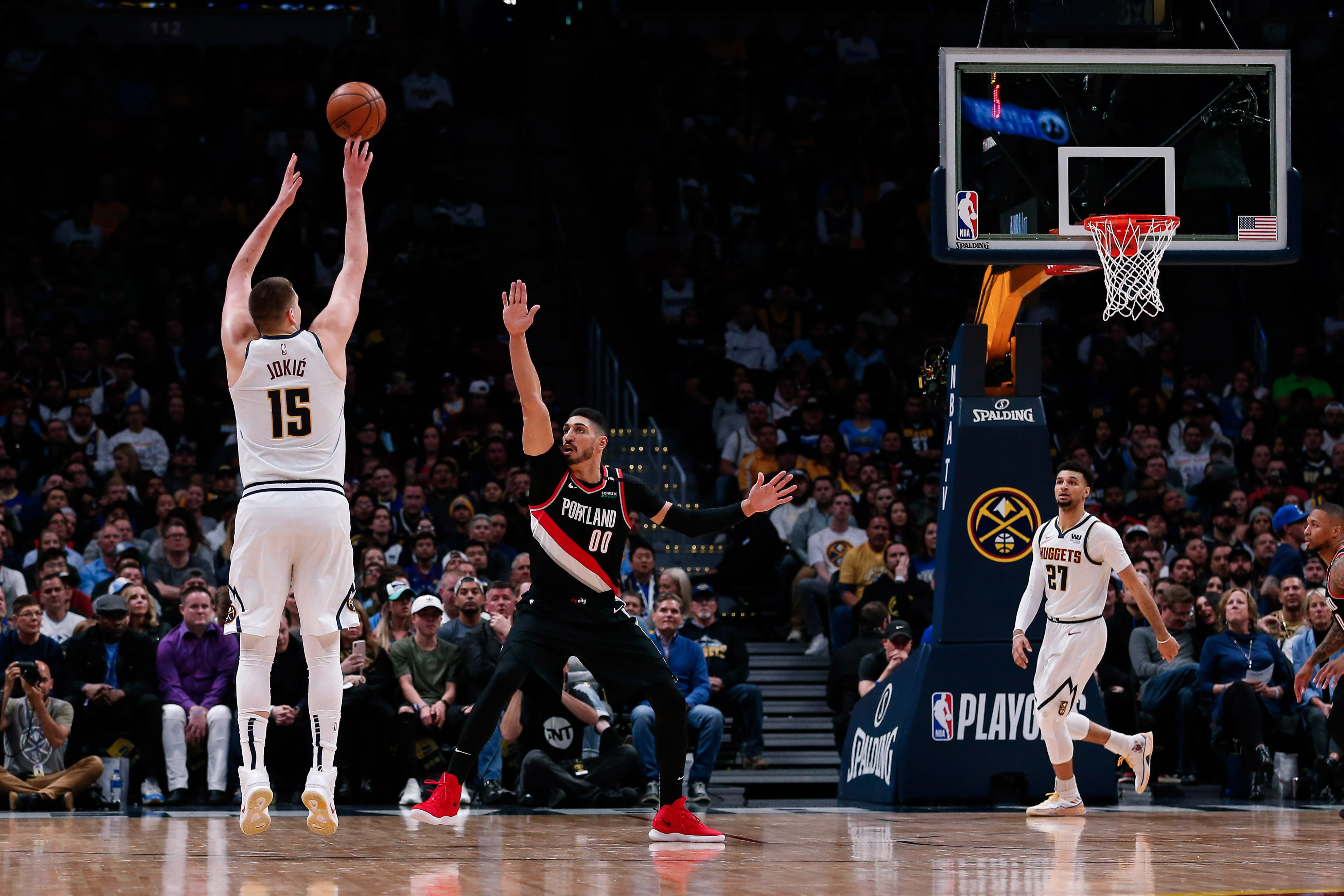 In Game 1 of the Western Conference Semifinals, the Denver Nuggets were able to pick up a 121-113 victory over the Portland Trail Blazers.
With the win, Denver now holds a 1-0 advantage, which is something they were not able to accomplish in their first round matchup against San Antonio. The Nuggets now need just three more victories to advance to the Western Conference Finals for the first time since 2009.
Monday night's game got off to an incredible pace offensively as both teams were running and gunning from the opening tip. For the Nuggets, they got tremendous production from Jamal Murray to start the game as Denver's point guard drilled two 3-pointers to give them an early lead.
Portland was having their own success offensively though, which narrowed the Nuggets lead to just 15-14 with 6:29 remaining in the first quarter. The Nuggets were doing a phenomenal job of exploiting an early matchup problem for Portland, which was Al-Farouq Aminu trying to guard Paul Millsap. That was a matchup the Trail Blazers had no chance of winning, which was evident in Millsap scoring 10 of Denver's first 17 points.
Even as Millsap was dominating play for Denver, the Trail Blazers got that same production from Enes Kanter and C.J. McCollum. Kanter and McCollum each finished the first quarter in double-figures as they scored 10 points a piece. Denver was still able to keep pace offensively though as the game was tied at 32 through one quarter of play.
Defense was certainly at a premium in the first quarter, which only continued in the second period. Portland's bench unit was giving the Nuggets problems, specifically Rodney Hood as he scored eight points and drilled two 3-pointers to open the quarter. Denver was able to weather the storm though as they led by 2-points with 6:36 left in the half.
That lead did not last long as Damian Lillard came to life for Portland as the Nuggets had no way of slowing down Portland's superstar. Lillard finished the first half with 15 points on 6-of-9 shooting from the field to go along with three makes from distance. Even as Lillard was scorching hot offensively, the Nuggets were able to keep pace with Portland as they led 58-55 through two quarters of play.
Denver's three-point halftime lead was in large part thanks to Millsap, who finished the opening half with 17 points on 6-of-8 shooting from the field. Nikola Jokic also had a solid first two quarters as he scored 14 points, hauled in three rebounds, and dished out two assists. Murray was the only other Nuggets player in double-figures as he scored 10 first-half points.
The Nuggets came out of the halftime locker room buzzing as they opened the period on a 12-8 run, which bumped their lead up to seven points with 8:22 left in the third quarter. This was around the same point in the game that Jokic really started to take over as his aggressiveness offensively allowed Denver's lead to reach double-digits. The Nuggets star big man finished the third quarter with 15 points — 37 points for the game — as his spark gave Denver a 93-84 lead through three quarters of play.
While Denver held a fairly big lead to start the fourth quarter, it still felt as if the game was in reach for Portland as Lillard was just warming up to start the final period of play. Lillard scored back-to-back layups with just under nine minutes left in the fourth quarter to make it a five-point game. Denver immediately subbed Jokic back in as he was their greatest chance of slowing down a Trail Blazers run led by Lillard.
That is exactly what Jokic and the Nuggets did as they immediately went on a 6-0 run to push their lead back up to 11 points. Denver continued to hold that double-digit lead as they were ahead 111-100 with 4:25 left in the game. All the Nuggets had to do was slow down the Trail Blazers late push, which they were able to do in capturing the win.
Because of the Nuggets late game execution, Portland had no chance of a comeback as Denver picked up a 121-113 victory in Game 1.
statistical leaders for Denver were Jokic, who had a tremendous Game 1 scoring 37 points on 11-of-18 shooting from then field to go along with nine rebounds and six assists. Millsap also had a great game for Denver as he scored 19 points on 7-of-12 shooting and collected six rebounds. Other Nuggets who finished in double-figures were Murray (23) and Gary Harris (11), who both played a major role in Denver's victory.
Both teams will have a day off tomorrow before Game 2 of the Western Conference Semifinals, which will take place at the Pepsi Center on Wednesday. Tip-off for that game is set for 7 pm MDT and will be televised nationally on TNT.