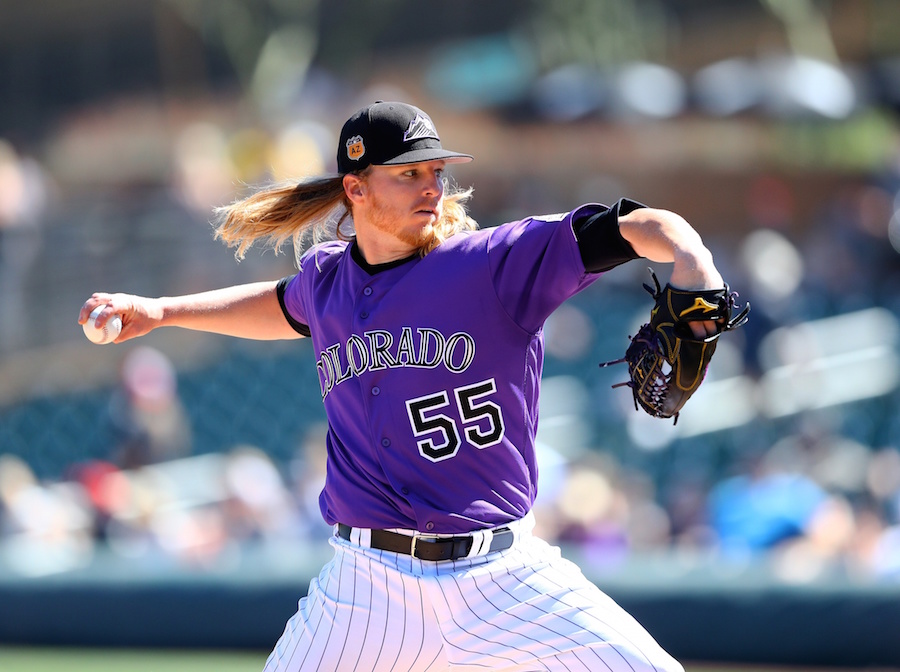 The old cliche says the baseball season is a marathon, not a sprint. Still in the pre-race warmup stages of the long run to September, Jon Gray knows regulating his tempo is key to a strong finish. The 25-year-old right-hander posted his strongest outing of the spring on Tuesday in a 4-3 victory over Oakland, but he's still focused on making adjustments that will serve him in the long run.
"I'm still trying to take it back a notch," Gray said postgame. "Earlier in the game, especially the second inning, I had a rough one. I think it was just tempo; I think I was going too fast."
In that second inning Gray allowed two walks and a single, but escaped any damage thanks in part to his catcher. Dustin Garneau threw out Marcus Semien, who had walked with one out and none on, trying to steal second base, clearing the bases. Gray allowed another walk and a base hit, but struck out Josh Phegley to end the threat.
"I had to slow myself down in the third and fourth. I had a really good fourth inning," Gray said. "The delivery was a lot better. The tempo, timing, and the pitches were executed a lot better."
Gray's manager, Bud Black, was impressed by the way Gray bounced back after that rocky second inning. Gray retired all five of the batters he faced before reaching his pitch count in the fourth. He struck out three of those batters on a total of nine pitches. Gray finished the day with six strikeouts over 4.2 innings, allowing one hit and three walks.
"More than anything, I liked the fact that after the second he bounced back," Black said from the field after the win. "Had a very good third, got two good outs in the fourth before [reaching his] pitch count."
As with training for a marathon, Gray is monitoring tempo, and his coach is pleased with his progression thus far.
"I thought it was a progressive outing again," Black continued. "Advancement in a number of things where he needs to be this time of spring, so it was a good day for Jon overall."