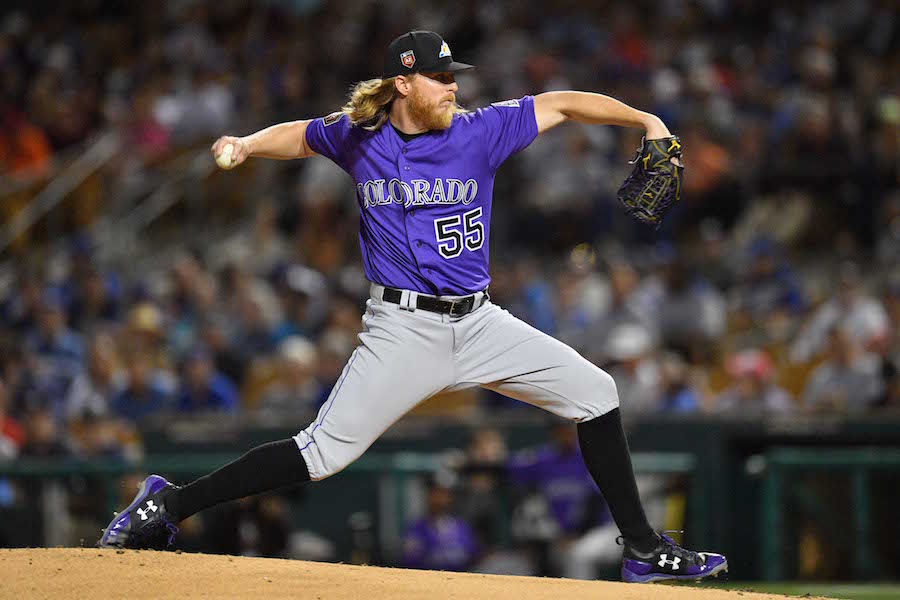 Jon Gray bid farewell to winter with some heat down in the desert.
On the final day of winter 2018, Gray pitched 6.1 dominant innings in what is likely his penultimate tune-up start before the regular season, which begins March 29.
Against the Texas Rangers at Surprise Stadium on Monday night Gray allowed just four hits and struck out nine, earning his first victory of in Cactus League play this year. He walked only one batter and produced seven ground-ball outs to just two fly-ball outs against a Rangers Spring Training lineup that included seven projected Opening Day starters.
After an up-and-down spring so far, Gray was lights-out in what may possibly be the closest thing to a regular season start prior to Opening Day — which Gray is expected to start for Bud Black next week. Gray will likely have one more start this weekend prior to the season opener to stay sharp.
Gray had been knocked around in his previous outing, allowing five runs on six hits over four innings against the Dodgers. His Cactus League ERA climbed above 10 with that performance, but Gray and pitching coach Steve Foster were adamant that the rocky outings were due to experimentation with Gray's delivery and a specific plan to work on troublesome pitches early in the preseasons program.
On Monday Gray's full complement of pitches was on display, with his slider proving especially devastating.
"The down slider, it was working," Gray said. When I get it going, that's my ground-ball pitch. I can make it look like a four-seam, and it's going to not stay straight. I feel like it's a good pitch in any count."
The 26-year-old treated Monday's start like a regular season game and delivered a performance that quelled any concerns about his readiness for Opening Day.
This year will mark Gray's second consecutive Opening Day start for Colorado. He earned a victory in Milwaukee last year, the first of his 10 wins on the season.
Gray will join Kevin Ritz, Darryl Kile, Mike Hampton and Ubaldo Jimenez as the only pitchers in Rockies history to make Opening Day starts in consecutive seasons. Jason Jennings, Aaron Cook and Jorge De La Rosa all made multiple Opening Day starts for Colorado, but not in consecutive years. No Rockies pitcher has ever started three times on Opening Day for Colorado, consecutively or otherwise.