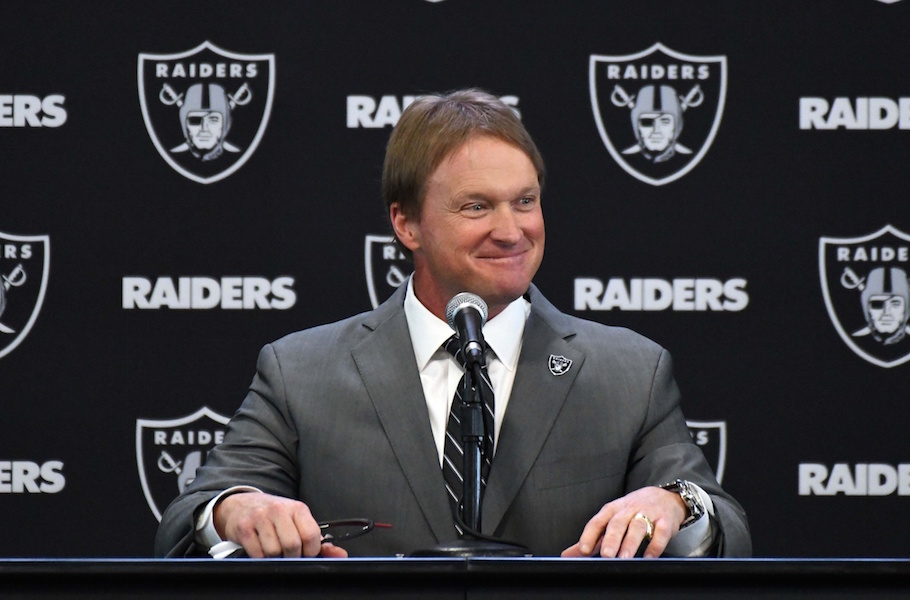 The biggest buzz in the NFL centers around the Oakland Raiders and the return of head coach Jon Gruden, who led Oakland to the playoffs in two of his four years at the helm from 1998 to 2001.
Covering the Raiders for a new website he co-created — Raiders Snake Pit (paywall) — former Denver Post columnist, Bill Williamson joined Eric Goodman and Les Shapiro of Mile High Sports AM 1340 | FM 104.7 in an interview and dished on Gruden's re-entering the AFC West.
"There are some cons," Williamson said. "He hasn't coached in nine years, and that's quite awhile for a coach. There will be a bit of adjustment for him when he returns to the sideline."
Gruden last coached in the NFL in 2008, leading the Tampa Bay Buccaneers to back-to-back 9-7 records in his final two years with the team. The high point of his head-coaching career came in 2002 when his Buccaneers beat the Raiders in Super Bowl XXXVII — one season after Raiders owner Al Davis traded him to Tampa Bay.
The personable and vocal head coach went straight from the sidelines to the TV booth in 2009 after the Buccaneers fired him. He was the primary color analyst for ESPN's "Monday Night Football" before accepting the Oakland job for the second time.
The Raiders are coming off a 6-10 season that failed to meet expectations after a 12-4 finish in 2016, Oakland's only winning season since 2003.
Williamson believes the Raiders may have to wait for success under Gruden.
"I don't know if you would say Jon Gruden is an instant elite NFL coach again. He's going to take them to Vegas and he's going to spark there, but this was a big business decision by Mark Davis."
Oakland finished 8-8 in each of Gruden's first two seasons as a head coach. He owns a 95-81 lifetime record (5-4 playoffs) as a head coach, 38-26 with Oakland (2-2). He is 1-7 against the Broncos while coaching the Raiders.
Click here to listen to the full interview with Bill Williamson, including what he had to say about Derek Carr, the Broncos defense and more, or listen to the podcast below.
Catch Afternoon Drive with Goodman and Shapiro every weekday from 4p-6p on Mile High Sports AM 1340 | FM 104.7 or stream live any time for the best local coverage of Colorado sports from Denver's biggest sports talk lineup. Download the all-new free Mile High Sports Radio mobile app for Apple or Android.