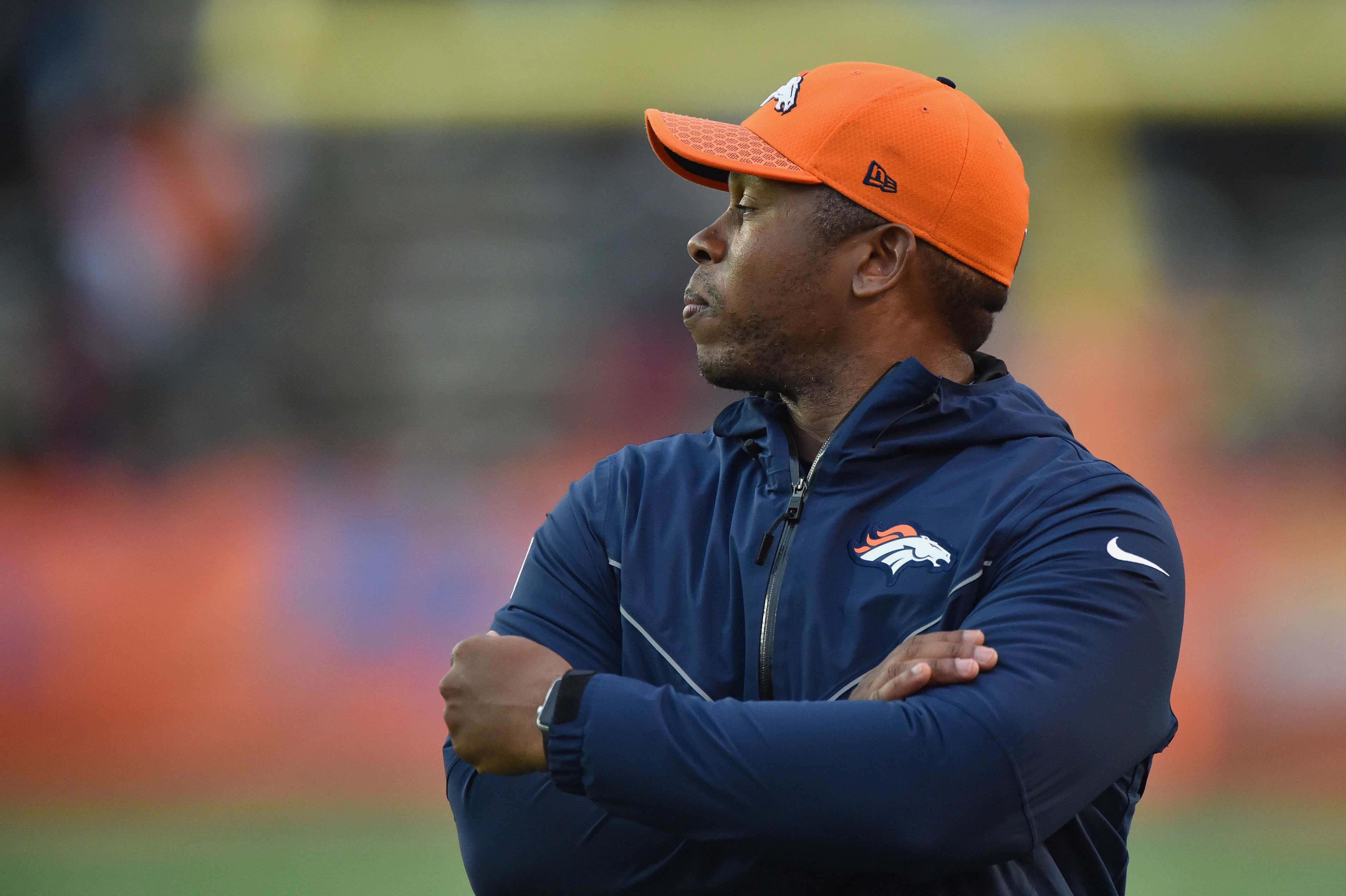 On Saturday, the Denver Broncos will kick off their preseason against the Minnesota Vikings, who sport two of the Broncos' four quarterbacks in training camp last year. Head coach Vance Joseph said that facing Trevor Siemian — the Broncos' starter for the last two seasons — and Kyle Sloter doesn't change the situation.
"It does not. The story obviously on Saturday is going to be the Broncos versus the Vikings, not player versus player," Joseph said. "We have goals going into those games, and obviously, it's not dependent on who we're playing. It's about the Broncos in preseason. You want to win, but hitting your goals, and obviously, playing good team football is important — not really personal challenges."
A nervous fan base might see things differently, as Paxton Lynch continues to struggle in his quest to simply become an NFL starter, let alone a star. Siemian and Lynch will almost undoubtedly be trading drives on Saturday, but while Joseph would like to win, last preseason's 4-0 record amounted to nothing — so Joseph isn't terribly worried about 'winning' a game that doesn't count.
"I don't know. We won them all last year, but I think winning is important. Winning is a habit, so you want to win games, but obviously no one is game-planning, and things happen in games that cause you to lose games. I'm not concerned about the wins and losses, I'm concerned about how we play," Joseph said. "I don't want sloppy football, I don't want pre-snap penalties and I don't want a bunch of flags. That's what you want; you want to make improvement each week you're playing and not peak during the preseason. You want to peak [against] Seattle on September 9 — that's our goal."
To help ensure that, six veteran, returning Broncos starters had the day off in what Joseph called "a vet day," including wide receivers Demaryius Thomas and Emmanuel Sanders. That gave some of the team's youngsters a chance to shine. "It was good. It's always good to see those guys become 'ones' [starters] for the day, especially '14' [WR Courtland Sutton] and '17' [WR DaeSean Hamilton]. They're playing with [QB] Case [Keenum] in the huddle, so it was fun to see those guys play with the ones."
"It wasn't much [of a] drop-off as far as knowing what to do, and that's important. Obviously, those two guys are talented, so if '88' [Thomas] and '10' [Sanders] go down, I think we're in good shape there with '14' [Sutton] and '17' [Hamilton]. Again, it's practice, it's scripted plays and a controlled environment, so we'll see on Saturday how our young guys improve."
Click the video for more from Broncos head coach Vance Joseph, including:
Joseph's preseason plan for tight end Jake Butt
If starting tight end Jeff Heuerman's injury is jeopardizing his spot on the roster
Injury updates on defensive lineman Clinton McDonald, guard Menelik Watson and linebacker Todd Davis
Defensive lineman Shelby Harris's and DeMarcus Walker's improvement
Wide receiver/kick returner River Cracraft
Broncos "Alumni Day"
… and more!
VIDEO CREDIT: Denver Broncos/Facebook