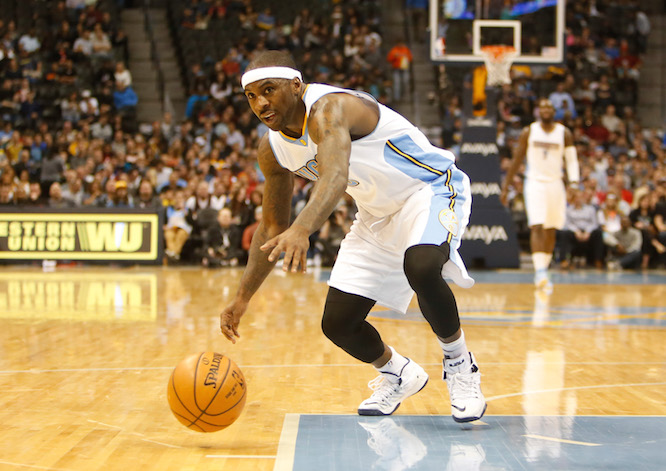 Ty Lawson had a turbulent last few months as a member of the Denver Nuggets. Now that the point guard has been dealt to the Houston Rockets, the Nuggets organization feels that they can divulge some of the problems that they had with the talented player.
Nuggets president Josh Kroenke opened up to Marc J. Spears of Yahoo Sports about the situation, offering some candid details about the team's mindset in dealing with the point guard. Kroenke realized that Lawson was fighting a battle that was much bigger than just basketball problems.
Ty … there were times when he was better than others. But the problems have been there for several years, going back to when we were having a lot of on-court success. I don't want to go back too far. There were just a lot of times where you were at practice and you just know. You could smell it. You know there is probably deeper issues than he would probably let on.
Kroenke also revealed that the organization finally made plans to move on from Lawson after he missed the first practice after the All-Star break.
I love Ty and will always love Ty, but once I saw him going down this dark path, we knew that we probably were going to end up in a situation where we were dumping him. It creates a weird dynamic.
Lawson placed the Nuggets in a tough situation after his second DUI arrest of 2015, bringing his trade value down to an all-time low. As a result, the Nuggets barely got anything for the former University of North Carolina Tar Heel. But Kroenke wishes Lawson much success in his future endeavors.
In the long run, I hope [the trade] is a good thing for Ty Lawson, the person. There are no guarantees. Sometimes you just need to hear the message from a different person. Sometimes a change of scenery is the best thing for all parties. That's the way we looked at this. … I think Ty Lawson, the person, is starting to understand more so than he ever has the things he needs to do in order to keep his career on track and more importantly get his life on track.
Kroenke tried helping Lawson on several occasions to better himself, but too no avail. Kroenke has no hard feelings and hopes that Lawson flourishes with the Rockets.
I fully expect Ty to have success [with Houston]. We're going to be cheering him on. I think he's going to have a lot of fans in Denver, Colorado.
---
Marcus Flowers, a Mile High Sports intern and Claflin University student, contributed to this report
---