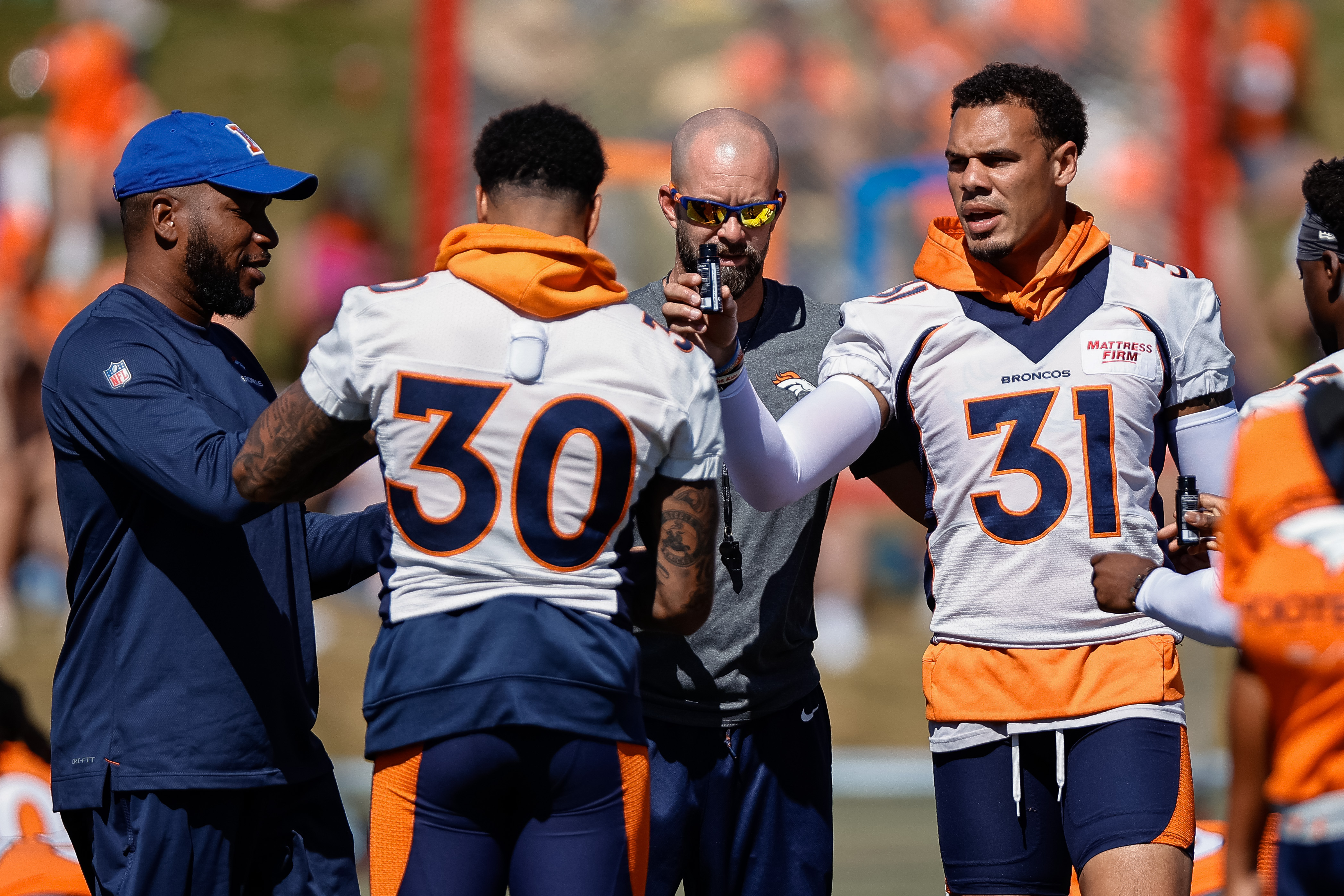 The Denver Broncos defense will have to adjust going forward for at least the next four weeks as Justin Simmons is expected to miss time with a quad injury.
How does Simmons absence impact the Broncos defense? Can other players step up and lessen the blow of losing an All-Pro caliber player on the backend of the secondary?
Justin Simmons placed on injured reserve
The Broncos season hasn't gotten off to the start they hoped for after dropping their season opener this past Monday.
When it rains it pours, and that was the case for the Broncos on Wednesday as they began on-field preparation for their Week 2 matchup against the Houston Texans.
Denver's defense will be tasked with limiting big play opportunities from Texans quarterback Davis Mills and wide receiver Brandin Cooks, but will have to do so without star safety Justin Simmons.
On Wednesday, the Broncos placed Simmons on i\Injured Reserve, guaranteeing that he'll be out of action for at least the next four games.
How does this impact the defense?
The loss of Simmons is a tough blow to Denver defensively because of the role the seventh-year veteran has with the team.
The Broncos defensive captain is one of the smartest players on the field, often at times in charge of audibling when an opposing offense throws a different look at them.
You can't replace a player like Simmons or his impact, but other players can step up.
"I'm not sure how long he is out," veteran safety Kareem Jackson said on Wednesday. "It's my first time really kind of hearing it, as well, but it's hard to replace a guy like Justin Simmons. What he does for our defense and what he does in that locker room for this team [and] with this leadership—it's tough. I'm sure everybody in the community knows what type of guy he is on and off of the field, but it's—for us, we pride ourselves on having the next guy available and ready. Caden Sterns has played a ton of ball in this league in such a short time, so I think he's very ready for the situation and the opportunity. I think he'll come in and I think he'll play great."
How Simmons' injury impacts the defensive scheme and personnel
With the injury to Justin Simmons, younger players like Caden Sterns and P.J. Locke will be asked to play in elevated roles while Simmons is out.
Sterns will likely get the start opposite of Kareem Jackson as he looks to continue to evolve in his second season in the National Football League.
Against Seattle, Sterns played within the Broncos dime package, but with Simmons injury, he slides to the backend while P.J. Locke likely steps into Denver's dime role.
Luckily for the Broncos, both players have been more than ready to step up in the event their name gets called upon.
This Sunday against the Texans, they'll be asked to make some plays in the secondary and against the run.
"I'm about as ready as I was last year, it's the same thing this year," Sterns said in the locker room on Wednesday. "It's an opportunity to make plays so I'm pretty excited for it."
It's worth noting, Sterns had an impressive sample size as a rookie despite not having much volume in terms of quantity in reps.
As a rookie, he had two interceptions, 28 tackles, five passes defensed, and two sacks despite only playing 32% of Denver's defensive snaps in 2021.
It will be a tough task for the Broncos to navigate the next four games without their All-Pro safety, but it's a great opportunity for players like Sterns and Locke to showcase what they can bring to the table.