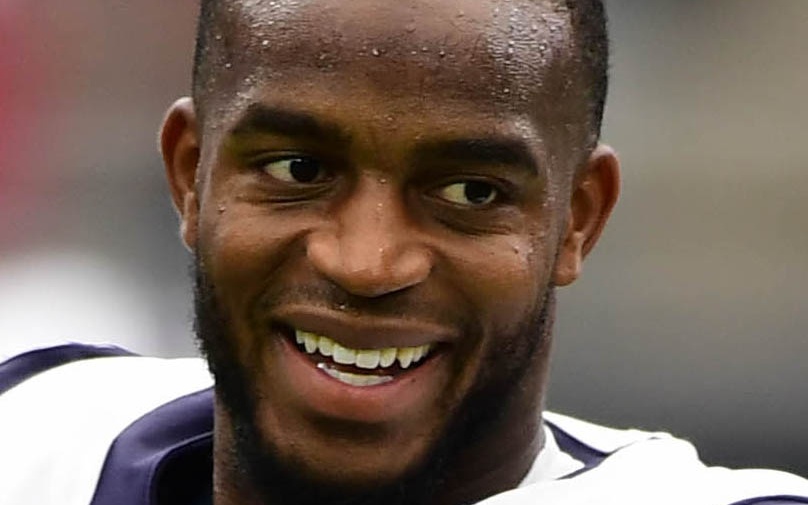 Kareem Jackson was one of the biggest signings this offseason for the Denver Broncos, a star cornerback who flew under the radar for most of his career.
With the Houston Texans the last nine years, Jackson quietly became a shutdown cornerback no one was talking about. He racked up 16 career interceptions, consistently picking off at least one pass per season save the 2013 year, and last season's 17 passes defended were tied for the most in his career. Jackson may be entering his 10th season, but he's still on top of his game, grading out as the sixth-best cornerback (86.7 grade) according to Pro Football Focus.
It seemed he would just step right in and start opposite of Chris Harris Jr. But, not so fast.
As first reported by Benjamin Allbright immediately after the Broncos signed Jackson, he will likely play much more safety than corner, as the veteran player explained Thursday at Dove Valley.
"I would assume it will be more safety, but I'm not really sure what will happen," Jackson said, not spilling the beans fully. "For me, I'm just trying to prepare to play whatever position that I'm asked to play. For the most part, it's been safety."
Jackson playing safety is nothing new to him, as he enjoyed 135 snaps at free safety last year for the Texans, mostly in Weeks 1-4. His most frequent position was wide corner (467 snaps) followed by playing in the slot (328 snaps). The bottom line on Jackson is he's extremely versatile, meaning we'll likely see him line up at all three positions at some point this season.
However, it looks like the Broncos mostly want to use him at free safety, opposite of Justin Simmons and ahead of Will Parks. That's interesting because it would mean possibly asking Bryce Callahan to move outside from his usual slot cornerback position, or Denver could try to start Isaac Yiadom outside, time will tell.
And if Jackson has a favorite position, he clarified that's at safety.
"If I had to choose one, safety is fun just because I get a chance to kind of see everything that's going on and just kind of run and hit people," he explained on Thursday. "For me, it's just all about changing my mindset. Just knowing when I'm in the slot, knowing where my help is depending on what call we're in. [At] safety, obviously getting guys in the right call and stuff like that. That's just pretty much what it is for me."
As cornerbacks age, it's commonplace to see them move from cornerback to safety, although, Jackson still has a lot of skill left in the tank. In certain passing situations, we will likely see him move to cornerback, with Callahan in the slot and Parks in the defensive backfield next to Simmons. If the Broncos believe it's more likely to be a run, expect Jackson at safety, where his 91.1 run defense grade was the third-best among all cornerbacks last year.
Jackson's not just being played at safety because he's older and can't run with receivers anymore, he's being moved because he will excel in the position. In turn, Denver's defense will be more deadly and more versatile because he hits like a safety but can play the ball like a lock-down cornerback.
As the Broncos look to bounce back and find their way to the playoffs once again in 2019, expect Jackson to be a huge part of that defensive improvement in an immediate way.