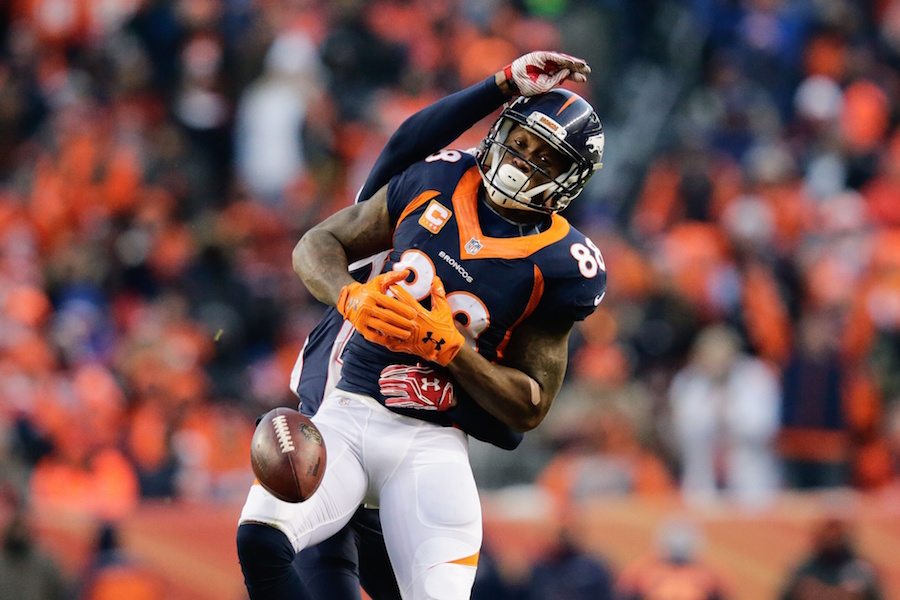 The Denver Broncos' abysmal offense last season has received an overhaul following the budget-busting signing of free-agent quarterback Case Keenum, who was brilliant for the Vikings last season.
Keenum's mobility and accuracy will be improvements over what the Broncos put forth at the position — Trevor Siemian, Brock Osweiler and Paxton Lynch — but their new signal-caller will need a variety of targets to throw to if offensive coordinator Bill Musgrave's offense is to be fully realized.
At the moment, Keenum can count on exactly two: Demaryius Thomas and Emmanuel Sanders. Take a look at the career numbers of the wide receivers on the Broncos' roster:
Demaryius Thomas: 629 receptions, 8,653 yards, 57 touchdowns
Emmanuel Sanders: 464 receptions, 6,156 yards, 33 touchdowns
Jordan Taylor: 29 receptions, 351 yards, 2 touchdowns
Isaiah McKenzie: 4 receptions, 29 yards
Jordan Leslie: 1 reception, 26 yards
Receivers Carlos Henderson, Kenny Bell, River Cracraft and Tim Patrick have no NFL receptions.
In case you're keeping score at home, that's a total of 34 receptions, 406 yards and 2 touchdowns — from seven players, combined.
The Broncos are counting on Henderson — last year's third-round draft selection in 2017 — to bounce back from an injury that kept him out for the entire season, but that's always a gamble; a bet that the Broncos would be well-advised to hedge on.
The draft likely won't provide immediate help, either. History suggest that wide receivers that aren't picked in the first round rarely make immediate and sizable contributions to their new teams; something that the Broncos can attest to with Henderson, McKenzie and now-Giant Cody Latimer, whom Denver spent a second-round pick on in 2014.
Fortunately, free agency provides a lot of options for Denver to find a third receiver at a discount. Youngsters Justin Hunter (26) and Jordan Matthews (25) are both former second-round picks with potential upside. Dontrelle Inman (29), Kamar Aiken (28) and Markus Wheaton (27) have each had seasons that were more productive than the Broncos' entire corps behind Thomas and Sanders. Kendall Wright (28) and Michael Floyd have each had 1,000-yard seasons in their careers.
The Broncos could even bring Eric Decker (31) back to Denver, where he played the first four seasons of his career, but his size would probably preclude him for being a slot receiver, which would be the best fit for Denver.
Perhaps the best choice would be former first-rounder Jeremy Maclin. With 514 receptions, 6,835 yards and 49 touchdowns, he's arguably more accomplished than Sanders, yet the 29-year-old has languished in free agency after being released by the Ravens. A receiving corps with Thomas, Sanders and Maclin instantly becomes one of the most explosive and experienced in the league — and a near-perfect fit for the agile Keenum.
Whether it's Maclin, Decker, Floyd, Matthews or any of the names above, the Broncos need a third wide receiver, and they're in a position of strength if they act quickly.