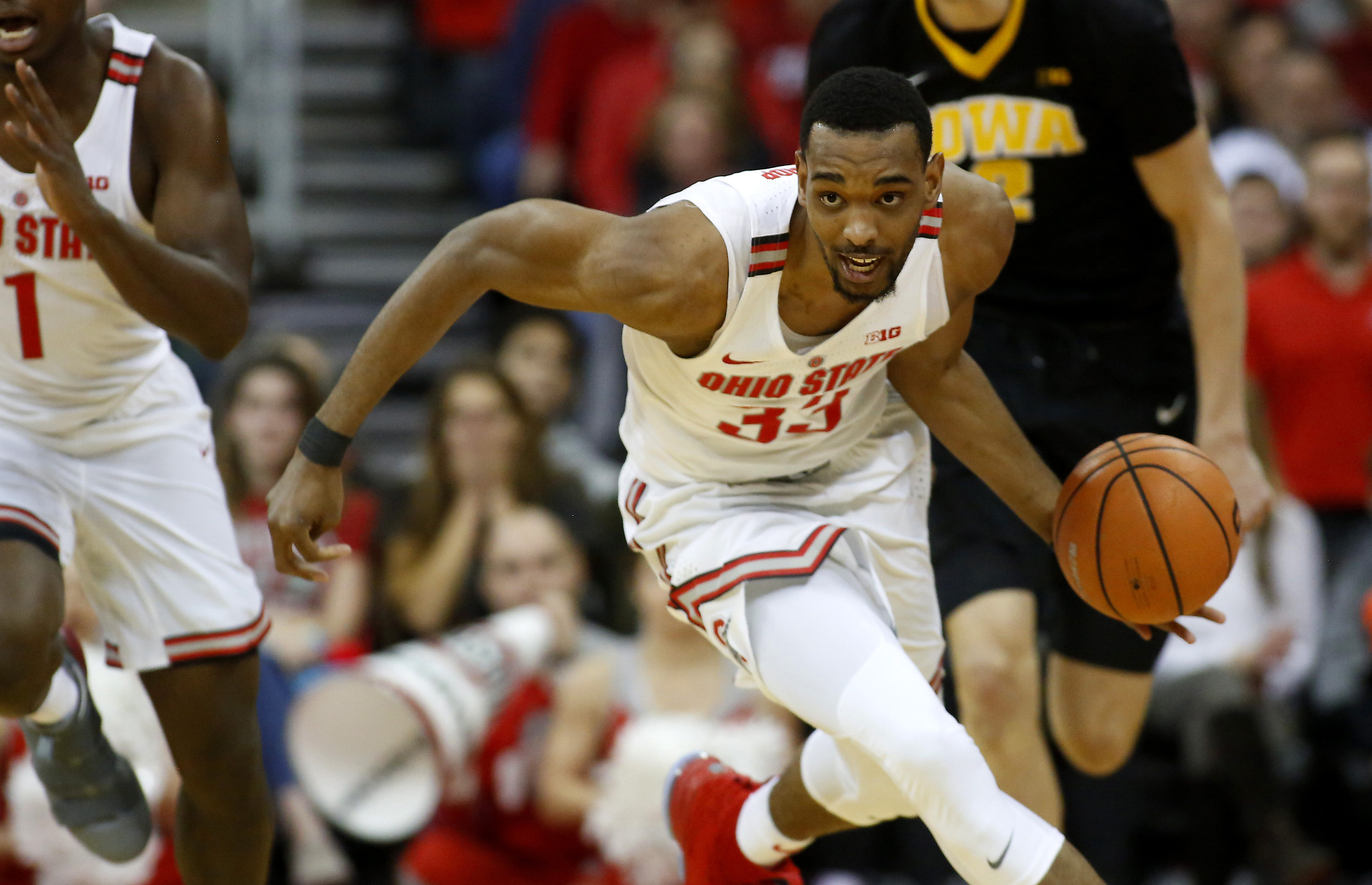 The 2018 NBA offseason is in full effect for all but two teams and the Denver Nuggets have now completed their first few rounds of pre-draft workouts.
While all workouts tend to be similar, this workout felt different for one particular reason. For the first time leading up to the 2018 NBA Draft, the Nuggets welcomed in not only a potential lottery selection, but a player that could very well end up in the Mile High City in just three short weeks.
Keita Bates-Diop has declared for the 2018 NBA Draft, has hired an agent, and is projected to be selected somewhere between pick 14 and the late-20s. Bates-Diop weighed in at 235 pounds, has just 5.35 percent body fat, and is a 6'7 combo forward who possesses an incredible 7'3 wingspan. Considering that the Nuggets are in the market for more switchable and defensibly-minded wing players, it is hard to ignore the potential fit of Bates-Diop and Denver.
When discussing what makes Bate-Diop such an intriguing prospect, his wingspan is really where the conversation has to begin. Even the hyper-focused and short-winded Bates-Diop acknowledged that his length is an extremely important aspect to what makes him such a tantalizing prospect.
"My length is a big factor," Bates-Diop told the media after his pre-draft workout with the Nuggets. "I have a really long wingspan so it enables me to guard little guards and wings."
According to University of Colorado's own George King — who also took part in the workout with Bates-Diop — that ludicrous wingspan shined brightly during Monday's workout and even worked directly against King himself.
"He is a tough shot maker and he made some tough shots today, but he is long," King told the media when asked about Bates-Diop. "He actually deflected a ball that I did not think he could get to and he had blocked someones shot. I was like, 'wow, that is that 7'3 wingspan right there'."
Denver's pre-draft workout played right into Bates-Diop's wheelhouse. While possessing a 7'3 wingspan is not something you can teach, what is teachable is how to most effectively use the gift of freakish length. Bates-Diop is one of the best in the draft at using his length to his advantage.
With a premium being placed on positional versatility and switchability at the NBA level, many workouts have evolved from matchup-based drills into more team-oriented play on both ends of the floor. The Nuggets are not an exception to this evolution and the switching-based drills that were ran were ideal to showcase what makes Bates-Diop so talented.
"We switched onto guards, wings, and bigs and I guarded all of them and did pretty well today," Bates-Diop explained. "It was all six of us on a shell switch; cross screens or pin downs or whatever you want to see if we can guard multiple positions."
That defensive versatility is badly lacking on the current Nuggets' roster and Bates-Diop has the skills to help fill in many gaps that plagued the Nuggets all of last season.
What is even better is that Bates-Diop pairs his defense with a very productive offensive skill-set. He graded out in the 88th percentile offensively among all collegiate basketball players last season and was a terror as a spot-up shooter. He took 5.4 three-point shots per game and make 35.9 percent of them, showed off a plethora of post moves, and is an even better off-ball cutter than he has been given credit for.
He followed up his collegiate performance by shooting well in Denver during his workout with the Nuggets. Bates-Diop is trying to display that he is a strong shooter to NBA teams and he spoke one that today when he was asked about what is the most important skill for him to showcase.
"My shooting ability," Bates-Diop said. "I think I shot the ball really well today. I was scoring inside and outside. I think I also finished well today."
#OhioState's Keita Bates-Diop is showing off his three-point shooting on the far court.

I really like KBD's fit with Denver. His high-level defense is badly needed. pic.twitter.com/v5wJgmWR2J

— T.J. McBride (@TJMcBrideNBA) June 4, 2018
Bates-Diop is more than just a shooter as well. He has no problem trying different things that his team may need and there is no role that he is not willing to try. He even alluded to the fact that he could play some point guard if needed.
"I can try to do everything too," Bates-Diop explained. "I can try to play point guard or anther position and do stuff I have never done before. I just play my game. That is what has gotten me this far."
Bates-Diop as a playmaker with the ball in his hands is not as crazy as it may sound. Albeit on a small sample size of just 25 possession last year, Bates-Diop was in the 97th percentile as the ball handler in the pick and roll for plays that include passes. In addition to that, his vision shines in the post as well. Bates-Diop was in the 77th percentile in the post including passes over 103 possessions with just a 7.8 turnover percentage. His playmaking may be the most under-appreciated aspect of his game.
Oh, and he is decently athletic too.
Keita Bates-Diop showing off with a double-clutch reverse jam. pic.twitter.com/g10jelkv6x

— T.J. McBride (@TJMcBrideNBA) June 4, 2018
All of the signs point to Bates-Diop and the Nuggets being a nearly perfect unison of skill, team needs, and mindset. Bates-Diop has been known to be a gym rat with a great work ethic and passion for the game. Even Bates-Diop himself understands how great the pairing could be.
"One of the first things that the coaches said is that we like to move the ball," Bates-Diop said. "We are not an ISO team. That's not my game either. I fit well in this system."
Now, all that is left is waiting until June 21st to see where Bates-Diop ends up. Regardless, he has what it takes to be an NBA player for a long time and Denver could be the ideal spot for him to land.