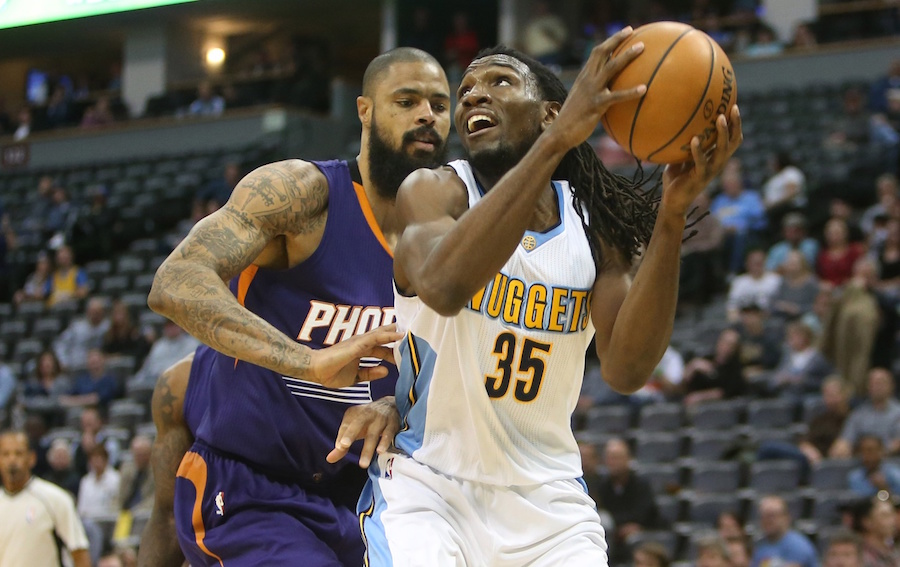 The Denver Nuggets hosted the Phoenix Suns at the Pepsi Center and won in convincing fashion, 120-104. Seven players scored in double digits, including Wilson Chandler, who secured a season-high 28 points.
While Chandler was the one getting the offense going, Kenneth Faried was the catalyst on the defensive end.
Faried was phenomenal, as he finished with four steals and had a season high in both points (20) and rebounds (14), earning his third double-double of the season.
.@wilsonchandler (28 pts, 11 rbs) &@KennethFaried35 (20 pts, 15 rbs) manhandle @Suns in 120-104 @nuggets victory: https://t.co/gHBaS9zyOb pic.twitter.com/aDZ5N6X2kv

— NBA.com (@NBAcom) November 17, 2016
Often known for his high energy, Faried has been showcasing more than just that this season, specifically on the defensive end, where he's been Denver's most-improved player.
"His discipline is catching up with his athleticism, and that's scary," head coach Michael Malone said on Wednesday, "because I think he has all of the tools to be a multidimensional, versatile defender if he commits to that."
For Faried, its more so about proving a point.
"For me, a lot of people in this league and a lot of the media has been disrespecting me saying 'Kenneth's defense,'" Faried said. "Even past coaches say, 'Oh your defense is suspect.' But that's what I predicate myself on; that's how I got into this league. So I find that as disrespect, and I just want to shut everybody up, not by saying it but by doing it."
Lately, Faried has let his game do the talking, and Malone has rewarded him by putting him back into the starting lineup, a spot Faried believes he deserves.
"That's my spot, that's my spot," Faried said. " I don't like people taking my spot. I didn't take kindly to that, coach knew that, my teammates knew that. I was outspoken about it. I was really upset. But I wanted it, and I worked for it. That's what I wanted to get back. When I came out of that starting spot, it was kind of a wake-up call like, 'hey, you need to get back to who you are.'"
And with a defensive rating of 104.9 (per NBA.com) so far this season, that's exactly what Faried has done, posting his highest defensive rating since the 2012-13 season, when he finished the year at 102.5.
In that time, Faried has never posted a defensive rating lower than 107.1. If he truly is a changed defender, he may very well prove all those doubters wrong.