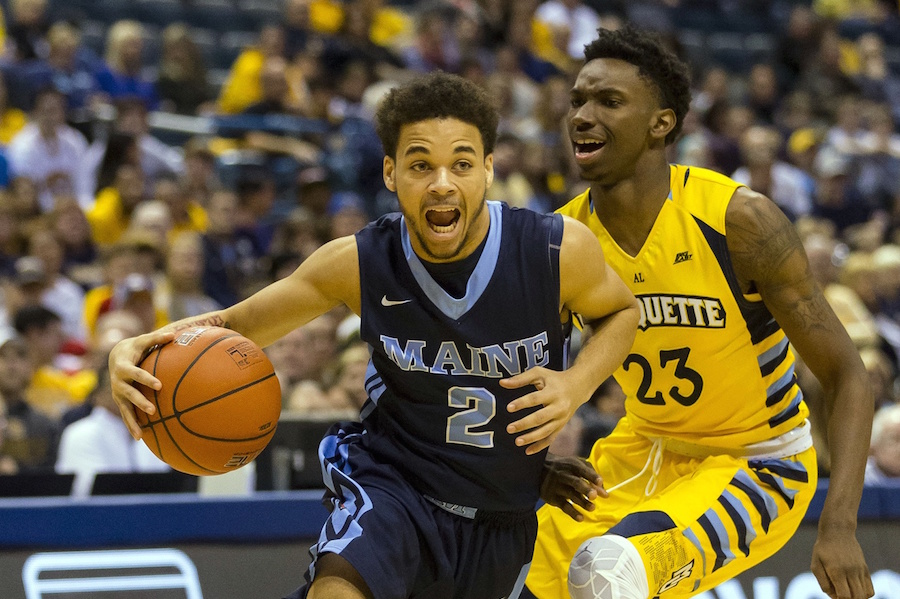 View this story on CSURams.com
Colorado State men's basketball has wrapped up its 2016 signing class, as guard Kevin Little (Wyandanch, N.Y. / Coastal Academy (Maine)) has signed with the Rams, head coach Larry Eustachy announced today. Little will have two years of eligibility remaining, starting with the 2017-18 season.
"We're excited that Kevin is joining the program," Eustachy commented. "Kevin is a skilled player who has show the ability to be both a good playmaker and scorer. He will be able to use the upcoming year to focus on academics while continuing to improve his game and our team in practice."
Little ranked second on the team and fourth in America East with 14.7 points per game, including an average of 14.9 in conference play. A starter in 20 of the 23 games he played before a foot injury ended his season prematurely, Little shot 37.9 percent from the field, 34.8 percent from the 3-point arc and 80.4 percent from the free-throw line while also recording 2.2 rebounds, 2.6 assists and 1.2 steals per game. He had a career high-tying 25 points at Fordham on 9-of 15 shooting, scoring in double figures in 18 games with six games of 20 or more points.
As a freshman in 2014-15, Little was named to the America East All-Rookie team after leading the Black Bears in scoring at 12.5 points per game, with an improved 15.2 points a contest in league play (third best in the conference). He also had 2.8 assists in conference action, ranking ninth overall, while shooting 37.4 percent from the field, 38.9 percent outside the 3-point line and 77.1 percent from the charity stripe. His 23 steals ranked second on the team, while his 55 assists were third best for the Black Bears. He scored a career-best 25 points against Hartford, going 5-of-10 from 3-point range. He led the team in scoring six times and had 12 games in double figures, with five of 20 or more.
Little spent a prep year out of high school at Coastal Academy in central New Jersey but averaged a combined 23 points and six assists a game at Coastal Academy and his high school Our Savior New American in Centerreach, N.Y. He exclled during high school showcases, most notably The Fall High School Showcase held at the Hoop Group Headquarters in Neptune, N.J. He scored a combined 54 points in two victories over top competition and ended up as the showcase's leading scorer after day one of the two-day tournament.
The son of Kris and Kevin Little, he has two brothers and sisters, including Jessica who plays college basketball at C.W. Post. He plans to continue his major of communications at Colorado State.