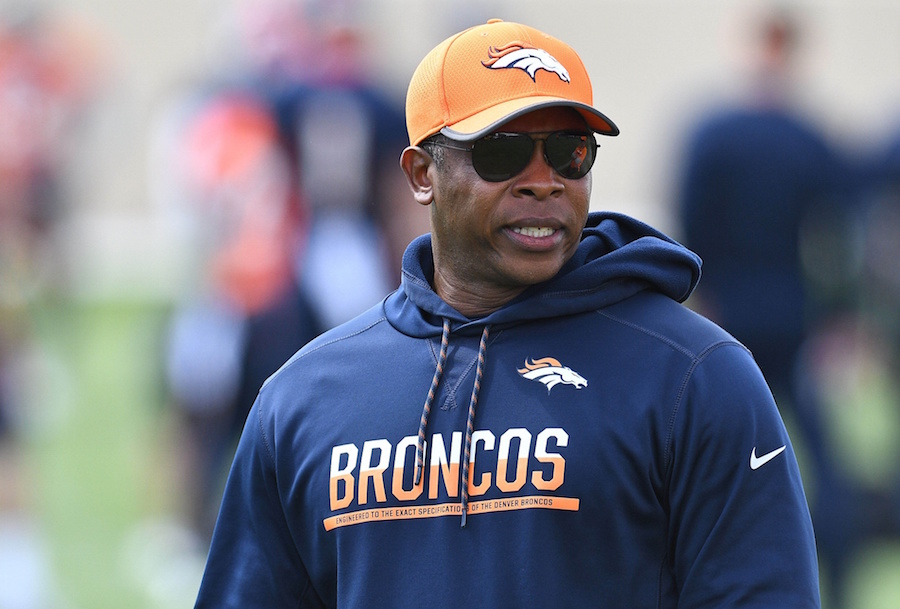 Any first-year head coach in the National Football League faces tremendous pressure. But when you're the guy in charge of a team less than two years removed from a Super Bowl victory, that pressure intensifies. Vance Joseph is in that exact situation, and a former NFL Coach of the Year has some advice to help alleviate the pressure on the first-time head coach.
Of the many keys to a successful football team, Jim Fassel believes that turnover differential is the most important of them all. Fassel joined Gil Whiteley to explain what Joseph needs to do in order to win in his first season.
"As a football coach, you better understand that," Fassel said. "That's the number one issue on winning and losing. Twelve teams go to the playoffs; I have never seen more than two teams get in with a negative turnover ratio. Those two teams that got in with a negative turnover ratio were like minus-one, minus-two. It doesn't take a genius to say what is the most important thing in winning and getting into the playoffs; it's your turnover ratio."
Dating back to 2009, seven of the eight Super Bowl champions finished in the top nine for turnover differential. The only team that didn't was none other than the Broncos in 2015 (T19). But when looking at their performance in the playoffs that season, the Broncos finished with a plus-four turnover differential in the playoffs.
Widely considered to have one of the best defenses in the NFL, the Broncos certainly have the ability to win the turnover battle every week and relieve Joseph of some of the pressure he faces.
Even for teams that are less talented than others, turnover differential holds a significant importance. Fassel used his first year as head coach of the New York Giants to prove that turnovers can be more important than talent.
"I go back to when I took over the New York Giants. We weren't a very a good team, and we ended up going undefeated in the NFC East. In my opening meeting with them, I had to lay out a plan. I said, 'The only way we are going to do this is if we win the turnover battle.' At the end of the [season], we were plus-25 and we won."
Listen to the full interview with Fassel, including his opinion on the importance of the first game of the season, in the podcast below.
Catch Gil Whiteley every weekday from 11a-12p on Mile High Sports AM 1340 | FM 104.7 or stream live any time for the best local coverage of Colorado sports from Denver's biggest sports talk lineup.