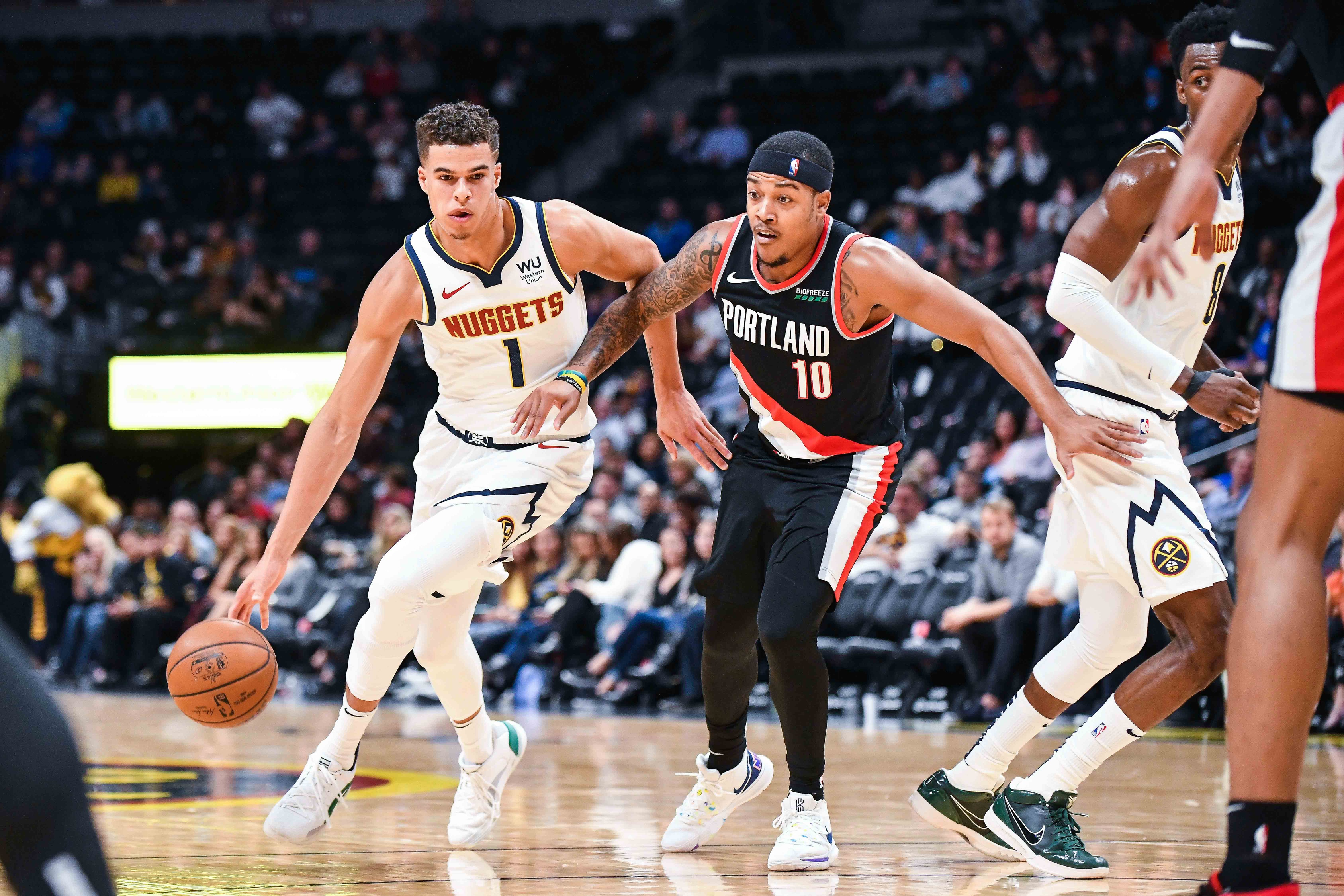 "To handle with kid gloves…" – (idiomatic) To treat something very delicately or carefully.
Today is the day. The Denver Nuggets, widely predicted to be the best team in the vaunted Western Conference, will begin to prove the believers right.
Or wrong.
It's unchartered territory in Denver. The Nuggets? Number 1? Get out.
No, really. It's true. Belief in the Nuggets has finally spread beyond the Mile High City. It's no longer Charles Barkley making a brash proclamation for shock value. It's no longer a stretch. There are too many sites, sources and scribes to cite here; it's a widespread belief. The Nuggets are good. Damn good. Really.
But with expectation comes pressure. At current, the Nuggets are 82 games away from validating what feels like a brand-new thing. The Nuggets – so far as this scribe can find – have never, ever been the favorite to win the West. Nor have they ever finished the regular season with the best record in the West. Not once. Are the Nuggets ready for this?
When it comes to the 2019-20 Nuggets, will history be repeated? Or will it be written?
Credit the Nuggets for being one of the most patient and diligent franchises in professional sports. When we all barked and begged for trades and free agents, they – Josh Kroenke, Tim Connelly and Michael Malone – held steady. They had a plan, and no matter how much they heard or how loudly they heard it, they held firm. And now, they've built a team that practically everyone believes can compile the best regular season in the West. Maybe more.
Over time, the group that Connelly and Co has steadily put together has also matured. Sure, the Nuggets are young, but believe it or not, they've actually gained a lot of experience too.
Is that enough? Are a few years and two playoff series enough to put the Nuggets on the next level?
Perhaps. But there's but there's always been something else missing in Denver, too – a superstar.
Nikola Jokic might be. Jamal Murray might be. If either player earns that moniker, this is the year they'll do it. Or, they'll be "really, really good" and that's okay, too. Title contenders need stars though.
Michael Porter Jr. might be that type of star. The Nuggets need him to be that kind of star. If the Nuggets are to win an NBA title in the next two-to-three seasons, they'll have to keep up with the Joneses. And the Joneses have stars.
The thing about stars though, is that they're not necessarily easy. Michael Porter Jr. might not be a star. If that's the case, well, that's that. Drafting him was a good gamble anyway.
But he might be, too. He's got that kind of upside. And aside from a preseason that provided flashes of brilliance – and there were plenty to be excited about – he showed that he might be a star in other ways, too.
Take for example what many will brush under the rug, call it a brief – very brief – misunderstanding between Malone and Porter Jr. The long and short of it was that Porter Jr. didn't enter the final preseason game, a home game, until 2:47 remaining in the third quarter. Player wasn't happy. Coach emphasized – rather challenged – that everyone's minutes must be earned.
That's a trusty, rusty, old-school sentiment. But Michael Porter Jr. is 21, a generation or two past the way sports used to work. And although he publicly accepted the challenge, don't think for a second the kid will ever be content warming the pine and biding his time. If he's truly a star, he won't be, he shouldn't be.
Stars play. Stars know they're better. And if stars aren't given the opportunity to show they're better, they'll force the issue until someone lets them.
That's not to say Porter Jr. unequivocally has won the job as the Nuggets small forward.
But has anyone?
Sure, there are plenty of other Nuggets with more experience, but do any of them offer the x-factor that Porter Jr. could ultimately be? Will it be Juancho Hernangomez who puts the Nuggets over the top? Defensive specialist Torrey Craig? Wild Will Barton?
Don't we know, or at least have a decent idea what those guys bring to the party? There's absolutely a place for each of them – they're all keys to this roster – but, for now, only Porter Jr. offers the potential of being a transcendent player. He's an unknown – a major unknown – but if he's got the goods, the Nuggets must realize that.
Quickly.
Don't mess around with this kid. It's a delicate balancing act, one that will require Michael Malone to wear kid gloves, no doubt. It's putting Porter Jr. in situations to succeed, while not completely coddling him so much he can't fail. It's giving him minutes that others might "deserv more." It's constantly checking his state of mind and catering to it.
Michael Porter Jr. spent an entire year on the bench. And, with injuries and a true lack of experience beyond high school basketball, that was the best thing for him.
But if he's healthy, this is no time for hard lessons. It's time to let a star shine. There will be bumps in the road, but those bumps should take place on the court and not on the bench.
If the Nuggets are to win, they'll need a star.
Michael Porter, Jr. might just be that star.