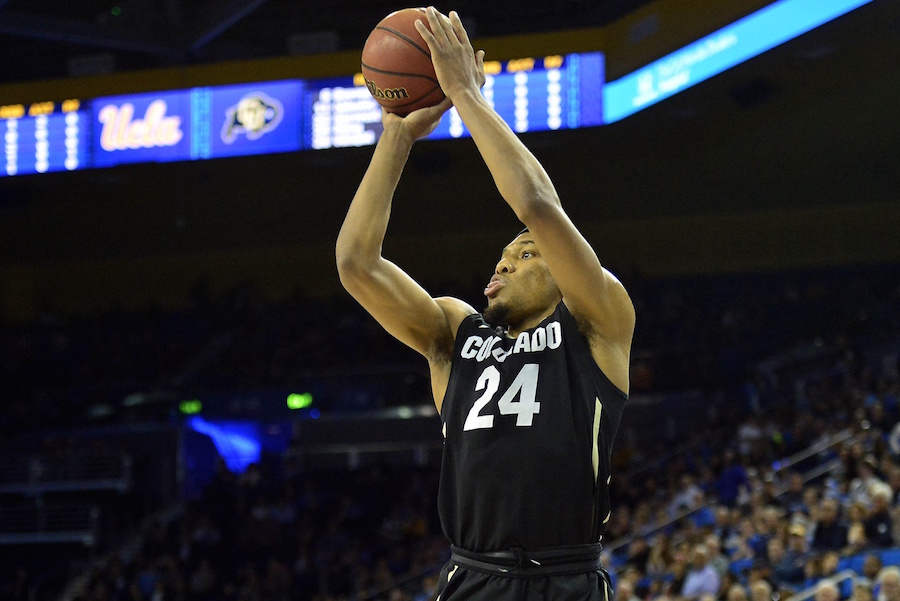 Tad Boyle's Buffaloes keep finding wins in unlikely situations.
Coming off a week that saw the Buffs upset a pair of top-15 schools — No. 4 Arizona State and No. 14 Arizona — at home, the Buffs picked up their first-ever win at Pauley Pavilion and defeated the first-place UCLA Bruins, 68-59, on Saturday. It was CU's first road with of the season.
George King led the way for Boyle's Buffaloes with a game-high 26 points and 10 rebounds.   King hit six 3-pointers, a career high.No other CU player scored in double-figures, although nine of 10 who saw action in the contest recorded points.
Colorado survived the limited team offense thanks to a smothering defensive performance. UCLA had averaged 91.8 points on 44 percent from 3-point range in its first five Pac-12 games. The Buffs held UCLA to 23-of-62 shooting (37.1 percent) from the field, including 5-of-25 from 3-point range. The Bruins hurt themselves at the foul line with an abysmal 8-of-18 performance. The Buffs were 13-of-17 from the charity stripe.
A Namon Wright 3-pointer at the 16:40 mark of the first half put Colorado up 7-4. The Buffs would lead the rest of the way.
Colorado led 55-41 just past the midway point of the second half before the Bruins went on a 10-0 run over the next 4:10 to bring the game within four points. But Wright muscled in a layup and two strong defensive stands resulted in five points in the other direction for King to give Colorado some breathing room down the stretch.
CU improved to 11-7 overall and 3-3 in Pac-12 play with the win. the Bruins, who entered the day in first place in the Pac-12, dropped to 13-5, 4-2.
"Just a great win for our program," Boyle said postgame. "These young guys are growing up before your eyes.
"I'm just so proud of these guys. The road hasn't been good to us and we needed this first one to start believing. I told them it's our first road win, it better not be our last."