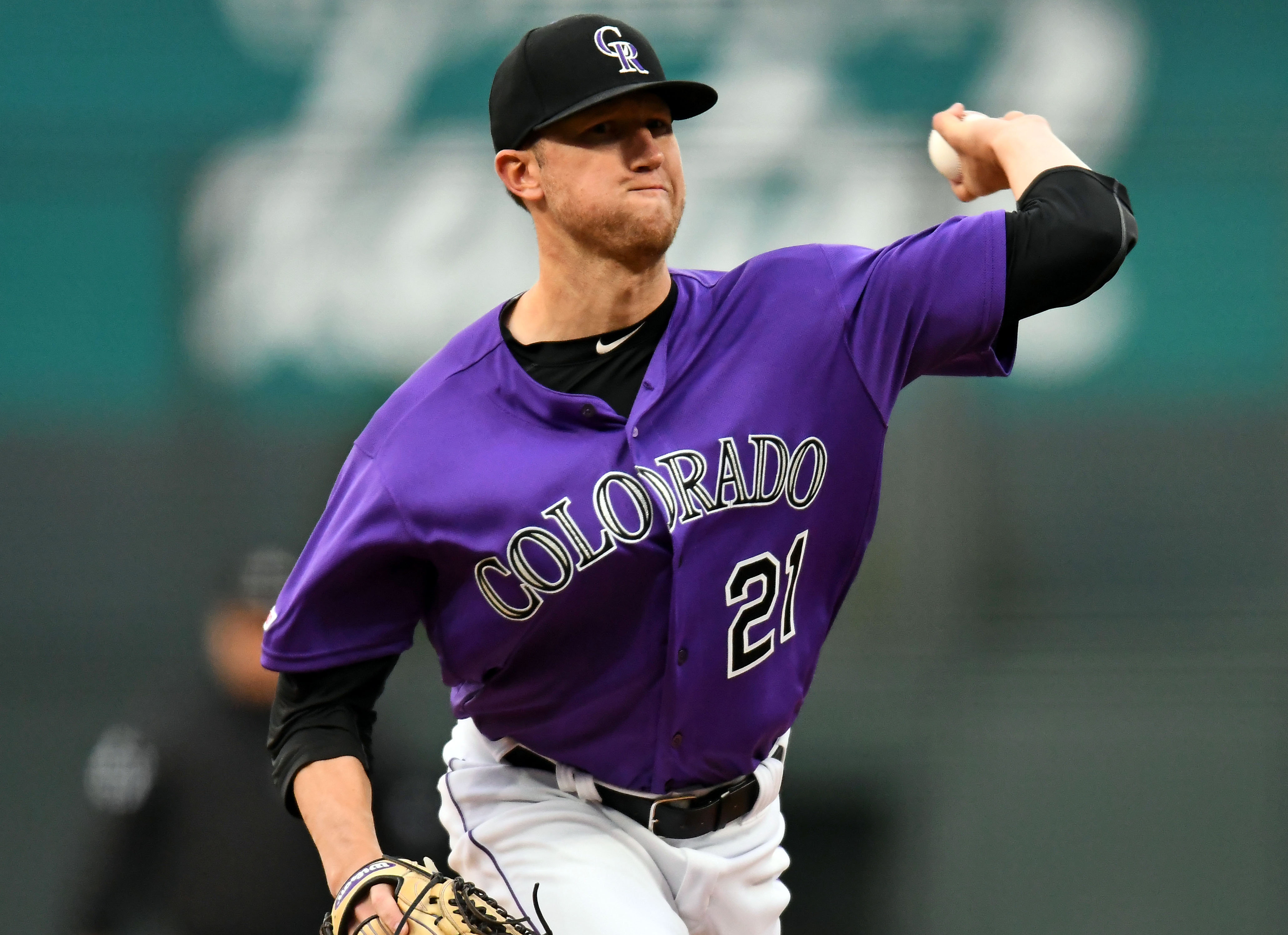 A wavelength. No, not the physics interpretation regarding electromagnetic waves, rather, a similar mindset between a pair of players.
Kyle Freeland, normally paired with Chris Iannetta, was without his like-minded partner Thursday, pitching to Tony Wolters for just the second time since the start of 2018.
"(Iannetta and I) have a great connection in that aspect where we're obviously on the same page," Freeland said. "We've been on the same page for all of the last year and going into this year. Being able to have that is a confidence booster and I trust him."
The Colorado Rockies beat the Philadelphia Phillies 6-2 in Iannetta's stead, buoyed by a dominant performance from Freeland. His final effort, six scoreless innings and seven punchouts, came without the club's most senior backstop.
Placing a heightened onus on Freeland was a rocky pair of outings preceding his fifth of the year. In his previous two starts, Freeland had allowed 10 earned runs in 10 innings. In those innings, he also walked five hitters, an irregularity for the normal pinpoint leftie.
Against the Phillies, he threw 86 pitches, 58 of which were strikes, including 10 of his 11 first-inning pitches.
Still, an uncommon face behind the plate was a factor.
In his 14-plus-year career, Iannetta has caught four separate teams, playing the role of advisor to 1087 game's worth of starters and relievers alike. In that time, he has garnered a bevy of knowledge and wisdom he shares regularly with Freeland.
"He's a veteran, a guy that's been in the game a long time, caught a lot of different pitchers and a lot of baseballs," Freeland said. "He knows what he's doing back there, so I trust him completely with the decisions he makes and when he makes them and why he makes them."
For comparison, Wolters has caught only 211 games after his latest nod. Regarded as one of the elite pitch-framing backstops in the league, he offers a well-regarded skillset to the club. German Marquez can attest to Wolters' proficiency, but the connection is lesser between Freeland and Wolters.
No longer did Freeland have a catcher that could spot abnormalities in his windup, nor could he share common dialogue, though the two got on the same page prior to his start.
"I caught his last bullpen, (saw) what kind of target he likes," Wolters said. "I know (Freeland's) game plan… It's all about communication, talking to each other before and after games."
Adjustments were a common thread after a rough patch for Freeland. Battling through multiple poor outings gave room for improvement in his game, corrections he sought to make before returning home.
"(I made) quite a few adjustments," Freeland said. "I had to go back through a lot of video of my mechanics from last year and this year and tighten some things up, clean some things up… it paid off tonight."
Stacking the odds further against Freeland was another flare-up of a blood blister on the middle finger of his pitching hand. Though he has often shared that the sores are nothing new, they impact control nonetheless.  
"Throughout the game, it started building," Freeland said. "I (had them) in college, in pro ball the past two years here."
His newly-minted catcher saw a more rigorous day for Freeland, citing his mindset for bypassing the ailment.
"He's a warrior," Wolters said. "That's his warrior mentality coming out. (The blister) was killing him, it was pretty bad. He worked through it and put everything on the field for the team."
Freeland added yet another start of six or more nearly-hitless innings for the Rockies. The rotation's four outings allowing two-or-fewer hits is the most in franchise history through the first 20 games.  
Iannetta figures to miss more of Freeland's starts, with his return date currently unknown. Luckily for the Rockies, Wolters is up for the challenge, showcasing his aptitude once again in the first three-hit night of his career.
"He's a great catcher just like Chris (Iannetta) is," Freeland said. "That's why he's up here, that's why he's one of the best catchers there is."