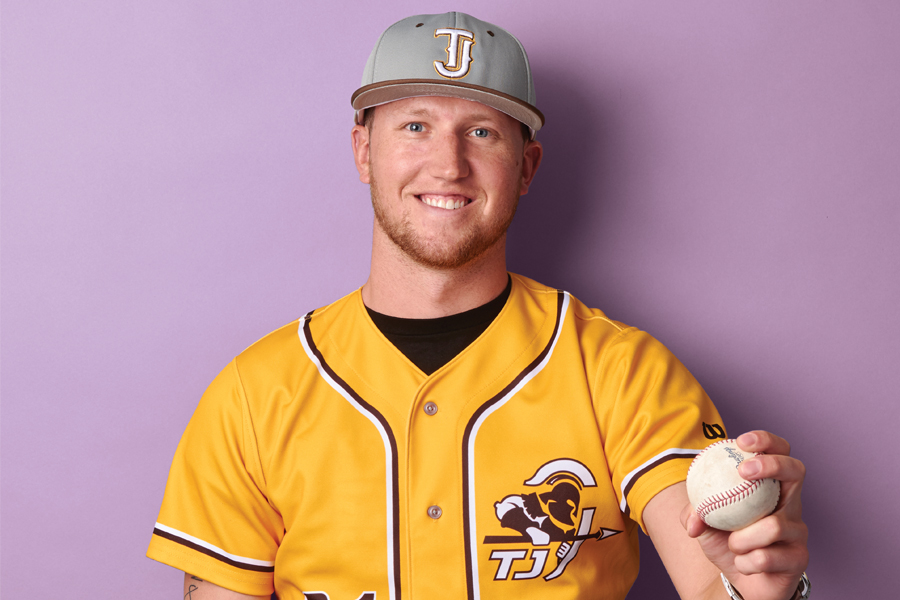 Cy Young contender Kyle Freeland was a well-rounded prep athlete
The following article is from the February issue of Mile High Sports Magazine. Subscribe here!
Growing up, Kyle Freeland always played sports and was considered a fierce competitor in everything, even while at home, playing ping-pong and video games. Freeland's tenacious attitude on the mound throughout his youth resulted in his hometown Rockies selecting him with the eighth overall pick in the 2014 MLB draft. However, before he got to the big leagues, Freeland's journey started in the Denver Public School system at Thomas Jefferson High School, where he made a name for himself on the baseball diamond… and the golf course.
Ironically, in high school, Freeland's talents were equally split between golf and baseball, according to his golf coach, Stacy Fornstrom. Freeland was a four-time varsity letterman in golf, while in baseball, he played only three full seasons at the varsity level. Nonetheless, Freeland went on to become the third top-10 pick in school history. He joined CU's John Stearns, who was selected with the second pick in 1973 by the Philadelphia Phillies, and Tyler Green, who was the 10th pick in the 1991 draft, also selected by Philadelphia.
"It's awesome," Freeland said. "A lot of people don't know that about T.J., but it's really cool to see guys that come from the Denver Public school's system end up making a name for themselves."
While Freeland's main priority has always been baseball, golf was still important in allowing him to focus on another sport; it provided "a balance." During golf season, Freeland was as dedicated as the rest of his team. His competitive nature showed on the greens just like it did on the mound.
"When he was a sophomore, at the state tournament, they had free range balls after the first round, and he was hitting it pretty well and just wanted to keep hitting golf balls," Fornstrom said. "He hit way too many, and he kept saying 'No, just one more bucket.' He hit probably around 500 balls. There were two people left there. Kyle and Wyndham Clark (who now plays on the PGA tour)."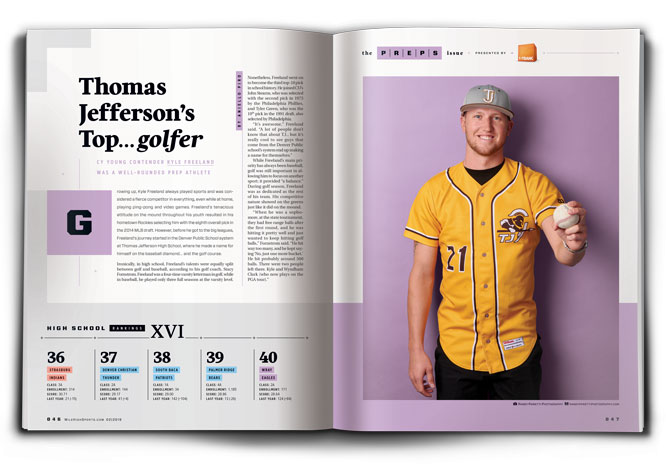 The one significant similarity between baseball and golf is the mental aspect and toughness required to be successful. The mental side of golf has been essential in Freeland's game on the mound, from the time he was in high school to his time in the majors now.
"It's actually one of the key learning tools I use," Freeland said. "You can use shots on the golf course and take that mentality onto the mound. If you need to think creatively on the golf course with a shot, you can also be that the same way on the mound."
Freeland built a strong foundation for his future as a two-sport athlete while at Thomas Jefferson. He has applied the same fundamentals to his pitching repertoire since he was a teenager facing local DPS opponents. A lot of Freeland's talent came naturally in his youth, but his high-school baseball coach, Tory Humphrey, was instrumental in polishing his game.
"He had naturally great pitching mechanics," Humphrey said. "Where I helped him a lot was more of the mental things. What I really worked with him on was ownership and maturity. I think that's where he really grew [at Thomas Jefferson]."
When Freeland arrived at Thomas Jefferson, he primarily threw a four-seam fastball and 12-6 curveball with substantial movement. When coach Humphrey started working individually with him, he helped incorporate a slider into Freeland's repertoire, a pitch that is now his most effective weapon.
Adding that pitch, in addition to his plus-fastball and devastating curveball, made Freeland one of the best pitchers in Colorado. During the 2011 season, Freeland set a state record with 145 strikeouts for the Spartans. He pitched to an 8-2 record to pair with an ERA of 1.39.
"We worked on the slider as he got older, because he was basically throwing fastballs and curveballs. We really incorporated that slider, which he could throw hard. So now we had a pitch where he's throwing that slider 82 mph, 83 mph with a nice, tight cut on it. It became kind of a wipeout pitch for him. He loves his slider; it's his bread and butter. He's turned it into something way beyond the high-school level, but it's something he's thrown since his 10th-grade year."
While Freeland was at his best as a pitcher, he also had a knack for hitting as a teenager. Throughout high school, Freeland compiled a .451 batting average and was even looked at by colleges as an outfielder who could hit for average.
Freeland has had a profound impact on the local sports community in Denver. Along with Broncos' standout running back Phillip Lindsay, Freeland has helped define the preps sports scene in Colorado on a local and national scale. He still has a presence at his alma mater, as the school holds "Freeland Fridays" throughout the year — where the student body and faculty are encouraged to wear Freeland and Rockies apparel to school for the day.
Freeland has dominated on the mound for the Rockies in just two seasons and has a goal to help secure the first World Series championship in franchise history. But those building blocks from Thomas Jefferson are still the foundation from which his lofty goals are built. And he didn't forget about golf, either. Freeland plays frequently during the offseason, and once his baseball career is finished, he has aspirations to attempt to play golf professionally, like Hall-of-Fame pitcher John Smoltz.
And why not? After all, he lettered more in golf than he ever did in baseball.
***
*For more from Mile High Sports Magazine, subscribe here!