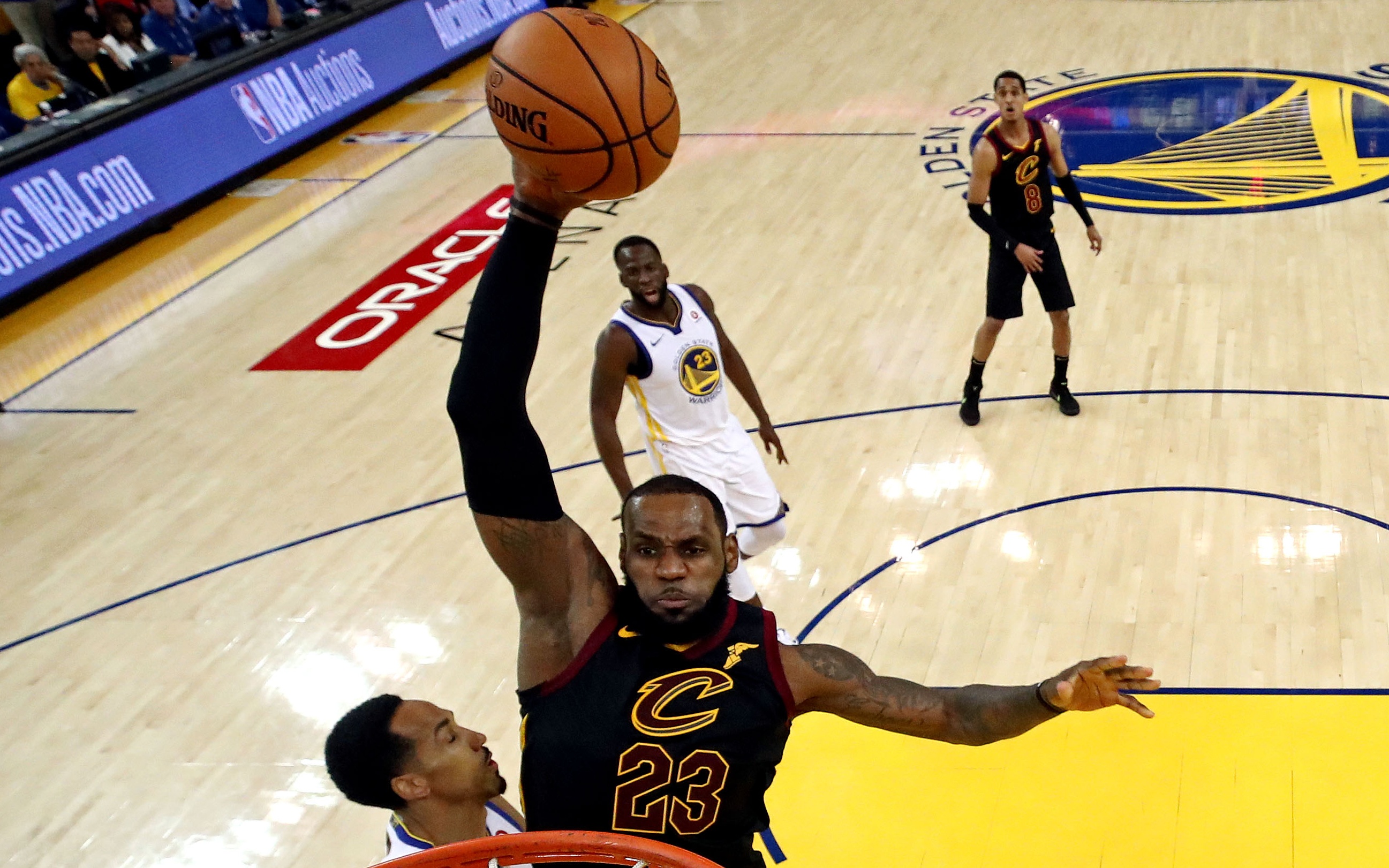 Thank you, LeBron James.
Last night, despite losing in overtime to the superstar-studded Golden State Warriors, you still put on one of the most amazing, jaw-dropping performances in NBA Finals history. And, for one basketball fan, you remind me why I fell in love with the game in the first place. LeBron also reminds Nuggets fans how far their favorite team is from truly contending for a title.
In case you missed the game — you'll be sorry, if so — James was unconscious shooting the ball. He scored 24 points in the first half alone, in an attempt to lead his Cleveland Cavaliers to what would have been a massive upset at Oracle Arena.
In the second half and overtime, James was even more a prolific scorer than he was in the first, putting up 27 points to finish with 51, only the fifth time any player has scored 50-plus in an NBA Finals game. But, just like throughout the King's career, this game wasn't all about scoring. James nearly finished with a triple-double, recording eight rebounds as well as eight assists, doing anything and everything his Cavs needed to win the game.
Everything except call a timeout after George Hill's missed free throw left the game tied at 107-107 with 4.5 seconds to go. J.R. Smith was able to rebound Hill's miss, and James called for the ball, but Smith instead held onto the rock and basically allowed time to expire. That's when the Warriors proved too much for the Cavs, with Golden State out-scoring Cleveland 17-7 in overtime.
What LeBron James did last night was reminiscent of what Carmelo Anthony and Allen Iverson used to try to do for the Denver Nuggets back in 2009. Regularly, they'd score 50, even 60-plus combined points, while the rest of the team managed to score in the 30s. That recipe produced many regular season wins, and that year, the "Thuggets" also won playoff series, pushing their way into the Western Conference Finals.
That's when Koby Bryant, Pau Gasol and the Los Angeles Lakers — the Nuggets biggest rival historically — won the Western Conference Finals in six games, completely changing the course of history for Denver's basketball team.
In 2009, that "Thuggets" team included Kenyon Martin, J.R. Smith, Melo, AI, "Birdman," Nene, oh, and the King of Park Hill Chauncey Billups, himself. It was arguably the greatest assemblance of talent in Nuggets history. The next year, AI was gone and Denver went with veteran Anthony Carter as their point guard and Billups at the two. Carter was certainly a "safer," less flashy, less talented man running the offense, which came with mixed results.
Denver, again, won the NBA's Northwest Division that year, but they fell flat against the Utah Jazz, getting bounced from the first round of the playoffs. Of course, that 2010 season included George Karl announcing to the team he had cancer, and as Jeff Morton beautifully wrote earlier this offseason, that was the year everything changed for the Nuggets.
Why the rehash from nearly a decade ago?
Because, since Melo left and Karl a few years later, the Nuggets have been floundering in obscurity for eight seasons, failing to win a single playoff series. Brian Shaw lasted a mere two years and now Mike Malone just finished his third year as head coach. They've had three top-11 draft picks, taking Jamal Murray, Emmanuel Mudiay and Doug McDermott (traded for Gary Harris and Jusuf Nurkic). They also found Nikola Jokic in the second round of the 2014 draft — a huge win — but traded the pick that would turn into Rookie of the Year Donovan Mitchell. In Mudiay, Murray and Jokic, the Nuggets have started working on and developing talent, which is solid.
And yet, after missing the playoffs this year — due to a stroke of bad luck or not, with other teams winning 13 games in three days at the end of the season — the Nuggets are still at the base of the mountain looking up at a 14er staring them right in the face.
At the summit of the NBA are the Warriors — superstar laden — and James' Cavaliers, who have a decent amount of talent, too.
Of course, due to his size, his otherworldly athleticism, because he can do literally anything and everything on the court; LeBron James' once-in-a-generation talent is enough to push a young Cavs team to the finals.
Back in 2003, when I graduated high school, it was an exciting time for basketball in Denver. The Nuggets were able to select Carmelo Anthony with the No. 3 pick, the same year James went No. 1 overall. The expectations on both of those young ballers were phenomenal; one not only reached those expectations, but even exceeded them. The other — Melo — fell far short of being the franchise-leading man Denver truly needed back then.
Now, Jokic could possibly be the guy for the Nuggets. But, if he's "merely" the Gasol-type-guy, a No. 2 guy, that means the Nuggets still have to find the guy.
At the risk of sounding like my old man, back when we'd watch the Nuggets in the 90s together; NBA teams shoot too many 3s these days, they play too much isolation and too few players want to get down and dirty for rebounds. Yet, it's still an entertaining game to watch. And this era of basketball is defined by superstar talent. Well, it always has been.
The Nuggets are building something, and that's positive, but until they can find legitimate superstars — plural — they'll be doomed to mediocrity.
Meanwhile, I'll be watching LeBron — the second greatest player in my lifetime to Michael Jordan — and dreaming of what could be, maybe, possibly, one day for the Nuggets.
Note: It's a tough pill for Nuggets fans to swallow seeing Smith, JaVale McGee and Andre Iguodala on these two Finals teams while former Nuggets Jalen Rose and Chauncey Billups commentate on the game during halftime and postgame. For Denver, who's never been to an NBA Finals, having former players in the season-defining series is as close as they've ever been.