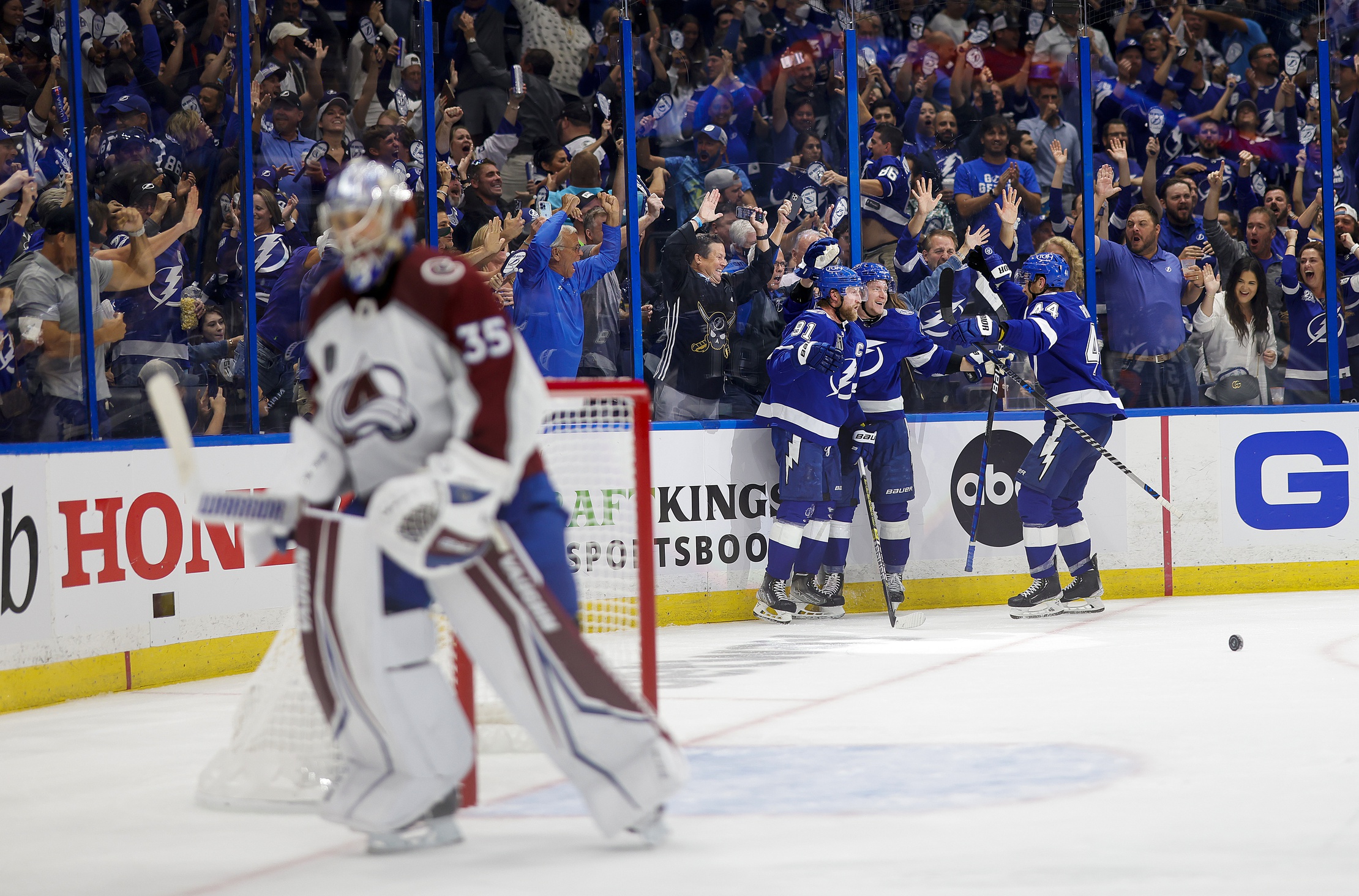 Just when it looked like they were down and out, the Tampa Bay Lightning flipped the script. They effectively silenced the critics, arriving in a huge way to make this a series after all.
The Avalanche scored first on Monday but surrendered six of the next seven, falling 6-2 in Game 3 of the Stanley Cup Final at Amalie Arena.
The Lightning had two tallies in the first period and added four more in the second, chasing Avs goalie Darcy Kuemper after the fifth and sending the Avs into another whirlwind of goaltending questions.
Kuemper stopped 16 of 21 shots. He started the evening with multiple solid saves but took a downward spiral after the Lightning found their footing.
Francouz made nine saves, surrendering a power-play goal to Corey Perry in his third relief appearance of the postseason.
"He didn't have a good night, you know?" Avs coach Jared Bednar said of Kuemper. "Neither did our team. We win as a team, lose as a team. Group him in with everybody else. Just wasn't as good as we needed to be."
Kuemper is 8-3 in the postseason while Francouz holds a 6-0 record. The duo have both been used regularly throughout the postseason. Regardless of who gets the nod on Wednesday, the Avs will need to commit fewer turnovers to get back on track.
Bednar would not comment on who would start the next game.
Listen to "Lightning Storm Back in Game 3" on Spreaker.

Two Tampa goals were the direct result of turnovers from defensemen Devon Toews and Josh Manson. Others were poor defensive coverage and the sixth, a power-play goal on a delay of game penalty on Nico Sturm.
It was a night of self-inflicted wounds all around for the Avs, who lost for the first time since May 29th and just the third time in the playoffs.
"They executed quickly on our mistakes," Bednar said. "They had two on rush coverage right away, had a turnover, had a missed coverage when they found F-3 in the slot all alone when we lost a wall battle."
Colorado entered the game with a 7-0 record on the road and a seven-game winning streak. Both came to an end thanks to a Lightning squad that has now won eight straight games at Amalie Arena in the postseason. Tampa Bay's only loss at home was Game 3 of the first round, the first one it hosted this postseason against Toronto.
Game 4 will be pivotal, especially for the Bolts, who not only need to win their home games but steal one at Ball Arena to defend their two-year championship run.
"We got to our game plan early and it works. It's something that we stick with," Perry said. "Nothing's really changed over the course of the season, but it's just a matter of executing and playing with the puck a little bit and doing the little things."
Gabriel Landeskog scored both Avs tallies on the power play. His 10th and 11th of the season were both assisted by Cale Makar and Mikko Rantanen. Before Landeskog's team-leading 11th goal of the playoffs (tied with Nathan MacKinnon), the Avalanche had another goal called back from Valeri Nichushkin.
What would've been his ninth of the postseason was challenged by Tampa's head coach Jon Cooper. The lengthy review was determined to be offsides as Avs defenseman Bowen Byram let the puck slip past the blueline before MacKinnon set up Nichushkin for the goal.
"It wasn't that easy for them to tell either, the linesman," Landeskog said of the challenge. "It took them a while. But I trust their opinion. They got to see it, they got all the angles. There's not more to it."
Bednar was not a fan of the amount of time the Lightning had to challenge the play, calling it "probably three times the length we normally get."
Colorado could get reinforcements back in Game 4, as both Andre Burakovkky and Nazem Kadri were labeled as day to day earlier in the day. Kadri skated on his own following the Avs' morning skate and was taking shots for the first time in his recovery.
Burakovsky, who reportedly may have also injured his thumb, was not present for morning skate. Bednar implied that he would join the team later in the day.
__
Aarif Deen is our Colorado Avalanche beat reporter. He covers Avs games live from Ball Arena and attends practices, media availabilities and other events pertaining to the Avs on the daily beat. He is also a co-host of Hockey Mountain High: Your go-to Avalanche Podcast. Deen joined Mile High Sports upon completion of his bachelor's degree in journalism and master's in business administration from the University of Michigan – Dearborn. Before Mile High Sports, Deen worked for the Michigan Wolverines Athletics Department as the assistant sports information director.
Listen to "Lightning Storm Back in Game 3" on Spreaker.