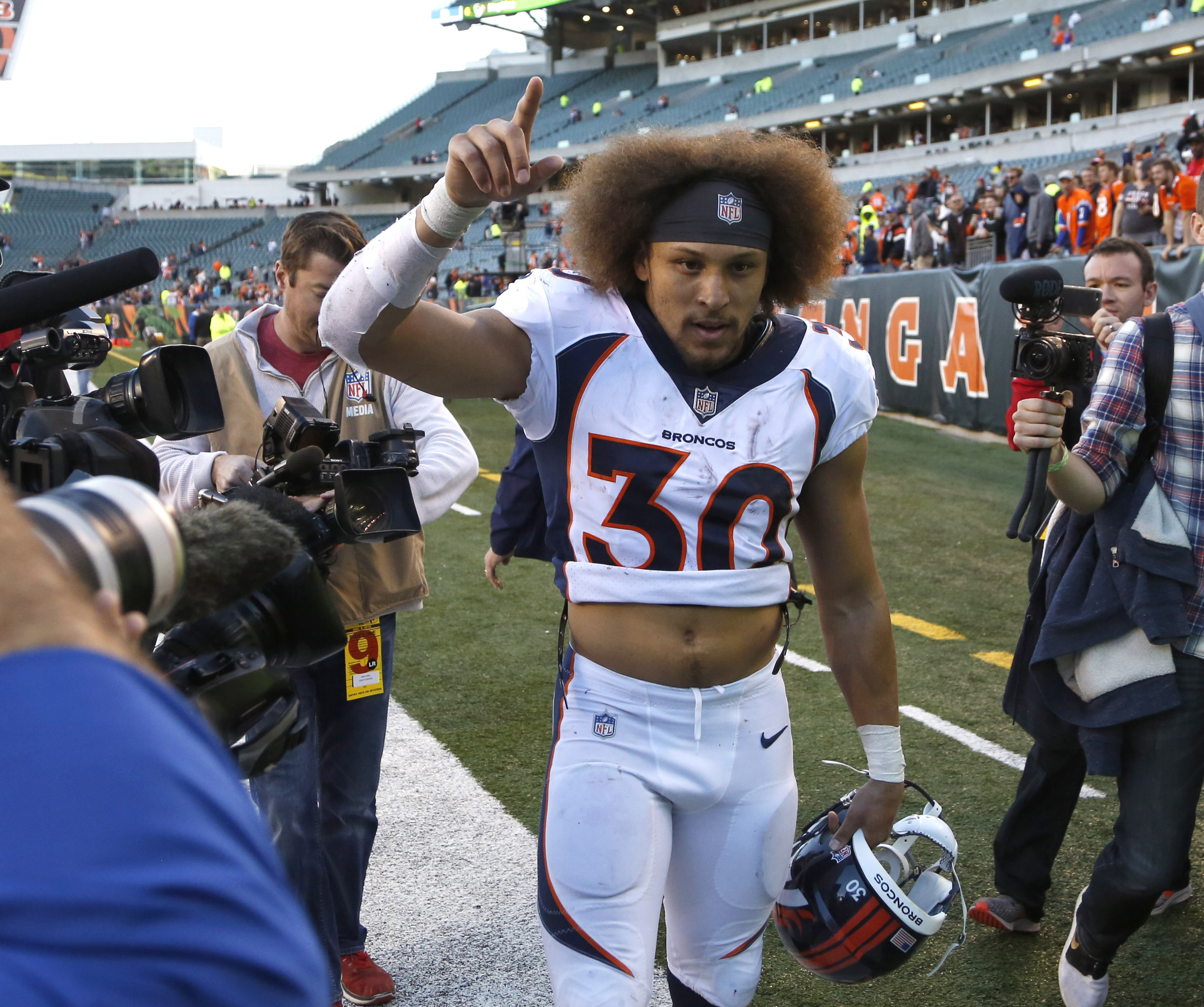 Food for thought: What if Phillip Lindsay had been drafted No. 8 overall in the 2018 NFL Draft?
Everyone knows the story. No combine invite. Not drafted. Somehow made the Broncos roster and now might be the team's most dangerous weapon. Plays with the chip on his shoulder every single time he steps on the field.
Fun. To. Watch.
But considering the fact that his draft position, and perhaps the expectations others might have had for him, what would have (could have) happened if Lindsay came into the league with not only huge expectations but the considerably larger salary that comes with being a first-rounder?
What if Lindsay was Christian McCaffrey?
Quick: Which player is being described below?
Colorado product. Highly productive in the Pac-12. Excellent speed, quickness and receiving ability, but undersized in terms of playing running back in the NFL.
How about now?
Player A earns an average of $4.3 million per season. Player B earns $575,000.
What about this?
As a rookie, Player A rushed for 435 yards on 117 attempts (3.7 average); caught 80 passes for 651 yards (8.1 average); posted a total of 1,086 yards from scrimmage and scored a total of seven touchdowns.
As a rookie, Player B rushed for 937 yards on 154 attempts (6.1 average); caught 25 passes for 189 yards (7.6 average); posted a total of 1,126 yards from scrimmage and scored eight touchdowns…
…and has four games left to play.
Pretty darn similar players – aside from that paycheck – right? They're used within their respective offenses slightly differently, but by in large, they're used a lot and used well. Both players are highly effective. If one had to lean, they might lean toward Player B.
And that would be Denver's Phillip Lindsay.
It's not a knock on Player A – aka McCaffrey – who had an outstanding rookie campaign. But Lindsay has been even better.
Back to the original question: What if Lindsay had been drafted as highly or entered the league with as much ballyhoo as McCaffrey? What if there was pressure for his team to use him early and often? What would his stats look like then?
There's nobody who would say McCaffrey didn't live up to the hype he came in with – he did. Not only did he play well, his team got their money's worth, too. In term of usage, McCaffrey was the second "most used" running back in the NFL (just one spot below Pittsburgh's Le'Veon Bell). In his rookie campaign, McCaffrey was in on 805 offensive snaps – that's just over 50 per game and 70.2 percent of Carolina's offensive plays.
This season, the Panthers are utilizing him even more. He's playing 61 snaps per game (totaling 671 thus far) and a whopping 97 percent of his team's offensive plays.
Lindsay's "snap" stats are vastly different, however. This year, the Broncos have used him 383 snaps (34 per game), which is 44.3 percent of the Broncos offensive plays.
During McCaffrey's rookie season, the Panthers, as a team, averaged 323.7 yards per game. This year Carolina has been even better, posting 370.7 The Broncos this season are averaging 366.1. Playing at a clip of 97 percent, there's no doubt that McCaffrey is largely responsible for Carolina's offensive production whether he's touching the ball or not. Participating around 44 percent, Lindsay isn't "as responsible" – but considering what he's done any time he touches the ball, one might wonder what the Broncos offense might look like if he was playing anywhere near McCaffrey's snap percentage.
The eye test suggests that when Lindsay is a big part of the offense, it's more productive. Actually, so do the numbers. In Broncos wins, Lindsay has 16.2 touches per game. In losses he's at 14.2. In Lindsay's top-four games in terms of touches, the Broncos average 397.5 yards of offense per game. In the four games when Lindsay has had the fewest touches, they're averaging 335.8 yards
Statistics or not, both McCaffrey and Lindsay are extremely important to their respective team's offense.
On draft night, the question of "Which player would you want?" was answered as concisely an decidedly as any question ever could be.
But on Monday morning, following a performance for the ages by Lindsay, with both the Broncos and Panthers sitting at 6-6, and Lindsay leading the rushing race by 74 yards on nine fewer carries, it's not a question that's so easily answered.
Who would you want… McCaffrey or Lindsay?