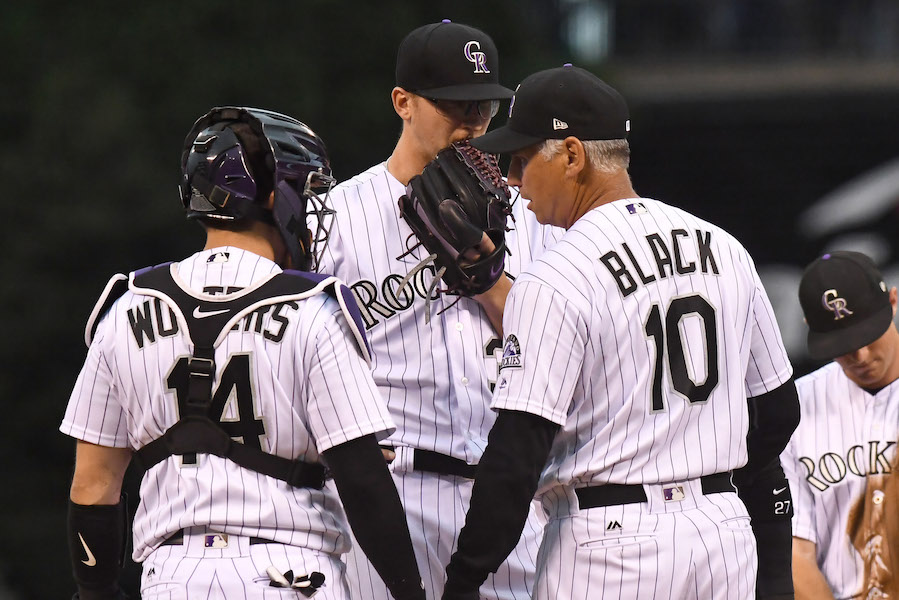 Bud Black earned high praise — including Mile High Sports' 2017 Professional Coach of the Year — for guiding the Colorado Rockies to 87 wins and Wild Card berth in his first season as manager, thanks largely to how he managed his talented but extremely young starting rotation and a surprisingly dominant bullpen.
Long a bugaboo for the franchise, pitching — especially relief pitching — was a strength for Colorado in 2017 as the Rockies made their first postseason appearance since 2009.
Black, a longtime player and manager, enters his second season at the helm with a greater understanding of how to manage a pitching staff that plays half its games at one mile above sea level in the most hitter-friendly ballpark in baseball.
"Managing the game itself wasn't drastically different," Black told reporters at the team's Spring Training facility in Arizona on Thursday, the second day of practice for pitchers and catchers in 2018. "There wasn't a lot of things I learned about managing the game. Probably, I learned more about rest and recovery and the physical aspects of playing in Denver."
Black, having managed the San Diego Padres from 2007 to 2015, was already familiar with some of the challenges of managing games at Coors Field, but suggested Thursday that handling a staff there is more about playing with the longview of an entire season in mind. Even if that means letting a pitcher fail greatly in a single outing.
"Generally speaking, you might have to stay with the starting pitcher a little longer," Black said. "Each game is different, right? You don't know. But, generally speaking, you would like your starting pitcher to pitch into the game as deep as you can because you try to avoid going to the bullpen early.
"Let's say we come back from a seven-game road trip, and here we are, we've got seven games in a row in Denver and the first game 'so and so' is pitching. We still need this guy to go. Because if we have to use five guys the first night? Heads up the next six games. So, you might have to be a little more patient with your starter. And if he has to suck it up and have a rough one, then that might have to be the case."
In other words, don't compromise the war to win a single battle.
And like on the battlefield, victory often requires being clandestine with certain tactical information.
"What I learned — and I knew this going in because a lot of discussion was made about pitching in Denver, and going in and out of altitude — is that it takes a little bit of toll on your body," Black said. "So, the communication with the pitchers and their honesty about how they were feeling came into play. Where a lot of times you [reporters] might not know that a pitcher was unavailable, but I knew it."
Although that may be a bit furtive, the results are undeniable.
The Rockies in 2017 allowed just 757 runs, their best team total since 2010, which was also their last season above .500.
Colorado ranked ninth in the National League in team ERA in 2017, an impressive feat considering their history. From 2011 through 2015, the team ranked 15th in team ERA — dead last every year except 2011 when the Houston Astros were still in the National League. The 2016 club fared only slightly better, ranking 13th in the NL that season.
The turnaround has much to do with how Black manages and communicates with his pitchers and his coaching staff, but that little bit of secrecy helped, too.
"Hypothetically, let's say Jake McGee's down or [Greg] Holland was down or [Chris] Rusin was down," Black said to make his point, "and in your mind [as a reporter] you thought he was up. I knew he was down. But [German] Marquez threw a complete game shutout. You wouldn't know. You wouldn't have known that Rusin was down, or that Holland was down. So, those are the things I knew. From our side — from the coaching side and a player side. I'll put it this way, more guys were down than you thought — on the pitching side."
It may pain those on the reporting side to not have every single piece of information available for the fans (and opposing managers), but that's how Black and the Rockies pitching staff must win the war — despite having the battlefield stacked against them playing at the toughest ballpark for pitchers in baseball.