All Images Courtesy of Denver Broncos Football Club
The Denver Broncos unveiled on Sunday night the three newest Ring of Fame pillars in the team's Ring of Fame Plaza outside Sports Authority Field. Pillars for kicker Jason Elam, linebacker Simon Fletcher and safety John Lynch were unveiled in advance of Monday's Ring of Fame induction ceremony, which will take place during halftime of the Denver Broncos game against the Houston Texans.
Jason Elam
Elam, who played the first 15 seasons (1993-2007) of his 17-year NFL career with the Broncos, is the franchise's all-time leader in field goals (395) and points (1,786)—both representing the second-highest totals in NFL history for a single team.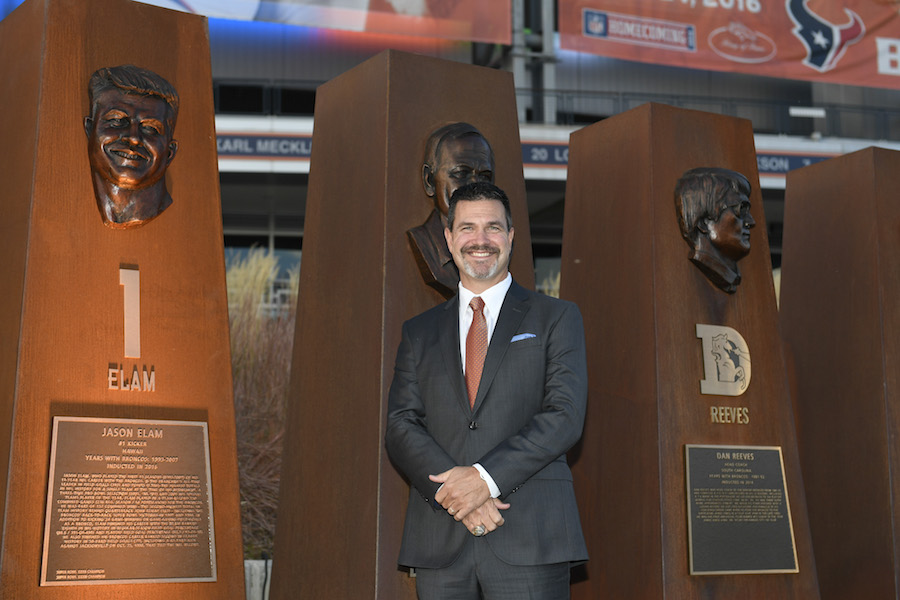 Said Elam at the ceremony: "It's a huge honor to get to go in, especially with John [Lynch] and with Simon [Fletcher], two great, great Broncos and even better people. You never come into this thing thinking that this is even possible, so to be even mentioned with the guys in the Ring of Fame is a huge honor. I just love being a former Denver Bronco."
Simon Fletcher
Fletcher spent his entire 11-year NFL career (1985-95) with the Broncos and finished as the franchise's all-time sack leader with 97.5 quarterback takedowns. A member of the Broncos' 50th Anniversary Team, Fletcher never missed a game in his career, setting a team mark by appearing in 172 consecutive contests. When asked about seeing his face on a pillar, Fletcher joked: "You should have been down there with me, that is not my face. That is my face 30 years ago (laughs). You talk about a reality check, but also gratitude for the time that has passed between then and now. The things that have happened in my life, my children growing up and now being  grandfather, and most importantly the same Broncos fans that welcomed and supported me in April of 1985 have done it in everything that I've attempted to do since I've been here, even until this day."
John Lynch
Lynch played four seasons (2004-07) with the Broncos and was named to the Pro Bowl in each season he played for the franchise. He joins safety Steve Atwater (7), tight end Shannon Sharpe (7), cornerback Champ Bailey (4), center Tom Nalen (4) and defensive lineman Trevor Pryce (4) as the only players in team history to make four consecutive Pro Bowls (he shares with Bailey the distinction of being the only two players in Broncos history to make the Pro Bowl in each of their first four years with the club).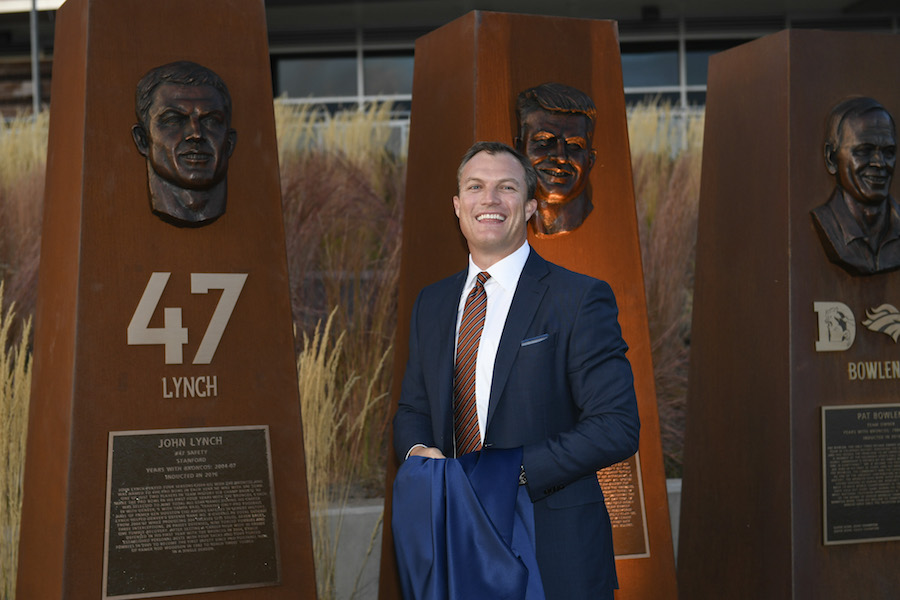 Lynch paid respect to his teammates and owner Pat Bowlen when speaking about the best part of his time in Denver: "I think the best part, in terms of football, was obviously the year we got to the AFC Championship. You also talk about leaving no regrets and that is a regret. It's the one that got away. When you have one of those at home, you have to bring it home. I think about that often. Playing with guys like Champ Bailey, Jake Plummer and the group we had, the Tommy Nalens and Rod Smiths of the world, that's what made it so special. The fact that our family continued to live here for so long, it became home for us. There were so many great things about coming here. I think just playing for an organization, one thing you learn is a lot of people pay lip service to their goal being to win championships ever year. They live it here and they breath it. That's thanks to our Owner Pat Bowlen. I got to experience that first hand. That was a treat."