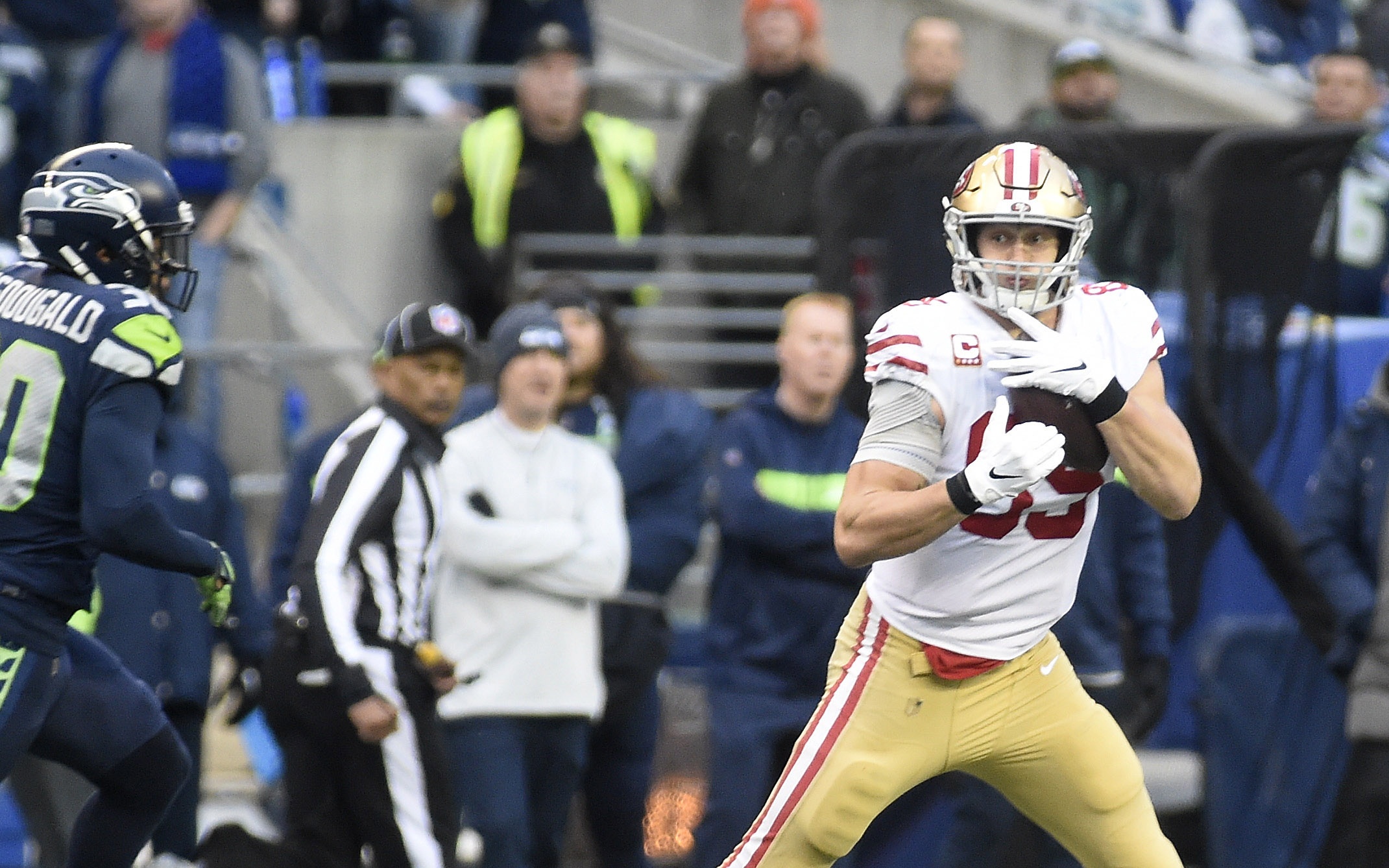 The 2018 season has been a rollercoaster of emotions for Broncos Country.
The Broncos jumped out to a quick 2-0 start before dropping six of their next seven. With a 3-6 record, the season seemed over for the mile high bunch, until back-to-back-to-back wins over three playoff contenders re-instilled hope in the season. Serious injuries to two of the most valuable Broncos, Chris Harris Jr. and Emmanuel Sanders, have sent the rollercoaster on another drop.
The Broncos now have one of the most depleted secondaries and receiving corps in the league. Now, the hope is rookies Isaac Yiadom, Courtland Sutton, and DaeSean Hamilton will continue to step up like the rest of Denver's rookie class. Fortunately, an upcoming game against the tanking 49ers should give Denver a chance to right the ship.
Strengths
The San Francisco 49ers are a team that find themselves in the earliest stages of a rebuild. They have the coach, maybe the quarterback, and a whole lot of nothing else. When quarterback Jimmy Garoppolo tore his ACL early in the year the 49ers lost half of that equation, which ended up showing just how good their offensive coaching is.
The 49ers are gaining only two yards fewer per game than the Broncos, despite playing backup C.J. Beatherd and feel-good story Nick Mullens at quarterback, with a surrounding cast of also-rans.
Their quarterbacks rank No. 29 and 30 respectively in Pro Football Focus' passing metric, their top two receivers, Dante Pettis and Marquise Goodwin rank No. 75 and 89 among the league's wide receivers, and they're down to their third running back for this week's game.
Yet, Kyle Shannahan's offense continues to produce, not among the leagues elite but far above their level of talent.
The defending Super Bowl champion Philadelphia Eagles, with Carson Wentz, Alshon Jeffery, Zach Ertz, Lane Johnson and Jason Peters have only outscored Mullens and Pettis by a field goal over the course of the season.
The 49ers do appear to have one stud on offense, though. Tight end George Kittle. Kittle was a steal in the fifth round of the 2017 NFL Draft. With all the tumult on offense, especially surrounding the quarterback position, Kittle has continued to produce and now finds himself within 73 yards of the 49ers' record for most receiving yards by a tight end in a season. A record Vernon Davis set back in 2009.
Look for Shannahan and Kittle to take advantage of the Broncos' injury-riddled secondary this week, a group who was already terrible at covering tight ends at full strength.
Weaknesses
There's a reason the 49ers are currently pegged to be picking No. 1 overall come April's draft; their roster has more holes than Swiss cheese.
There is the aforementioned hole at receiver, but even worse is the 49ers hole at running back. San Francisco's splash signing in free agency happened when they brought in former Vikings running back Jerick McKinnon to be Shanahan's version of Tevin Coleman.
Before the 49ers season could start though, McKinnon's was over as he tore his ACL, forcing the team to turn to undrafted free agent Matt Breida. Breida has been a solid back for the 49ers this season. Racking up over 950 yards in total offense so far to go along with five scores. Then last week the injury bug bit San Francisco again as Breida was forced to leave the game with an ankle injury that will keep him sidelined for this weekend's matchup with the Broncos. That means it is time for Jeff Wilson to tote the ball for the 49ers.
Even with Matt Breida carrying the ball for the 49ers this season, their rushing attack ranks among the league's worst in the eyes of ProFootballFocus's analytics. PFF grades the Niners' run game as the No. 30 unit in the league. That unit will now go from a top ten back in terms of yards per carry, to an undrafted rookie from North Texas.
Outside of Richard Sherman, the 49ers also have one of the shallowest secondaries in the NFL. The unit, including Sherman, holds a grade of 39.0 which ranks last in PFF's coverage grades by a mile and a half. To put it in perspective, only two other teams have a grade below a 62 and not a single team outside San Francisco has a grade below 50. In fact, out of all of the 13 different categories which PFF grades all teams on, across all 32 teams for a total of 416 data points, San Francisco's coverage is the only unit graded below a 40. They're one of three units, Cleveland's tackling and their own coverage being the other two, to be graded under a 45.
Even with the injury to Emmanuel Sanders, Case Keenum and this Broncos offense should be able to shred San Francisco's flimsy defense.