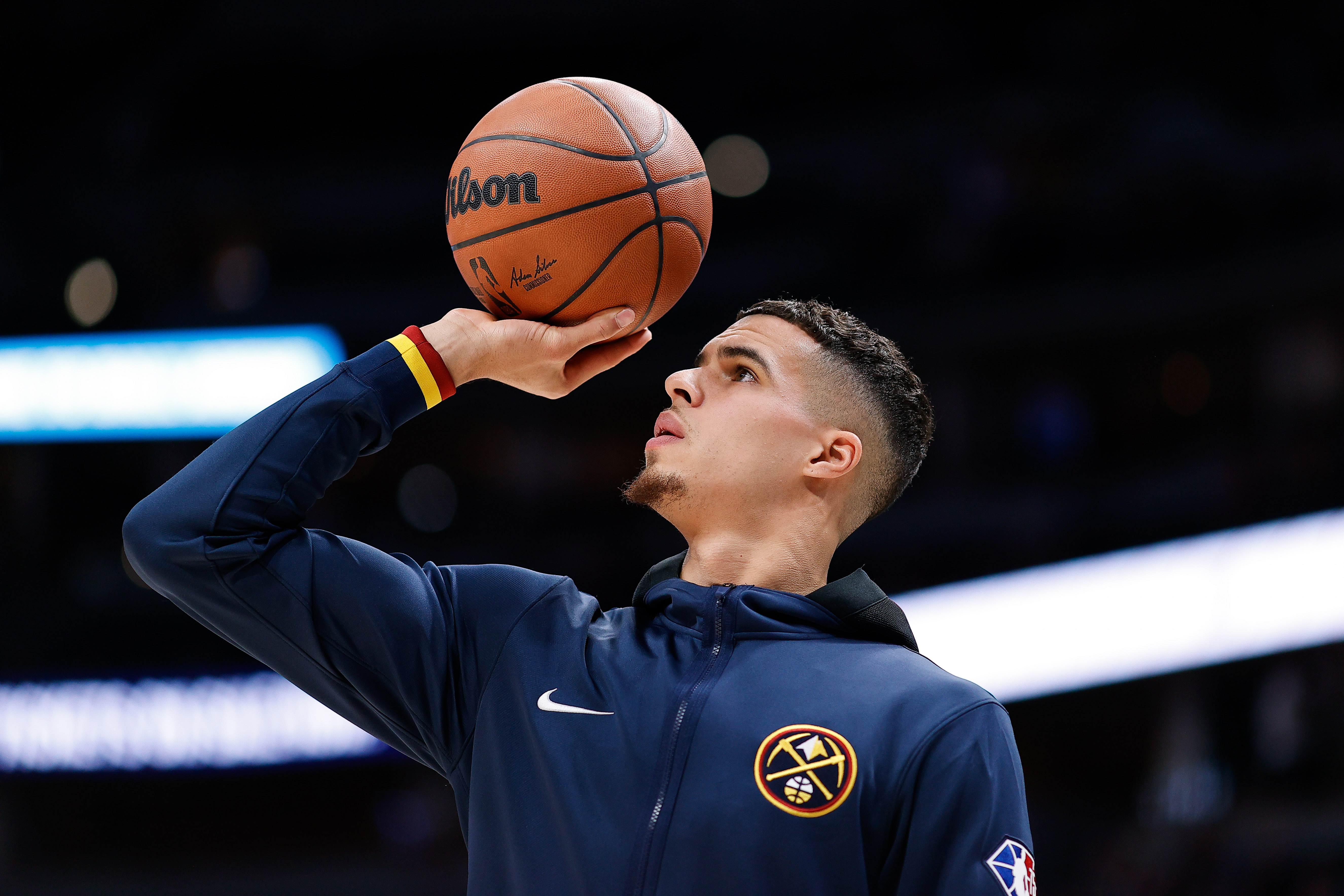 Hello everyone! Welcome in to the first mailbag of my tenure at Mile High Sports. It certainly won't be the last.
Throughout the season and the offseason, there comes a time in every NBA writer's tenure where the content well runs a bit dry. That doesn't mean there aren't still outstanding topics to discuss though, and a mailbag is the perfect medium to discuss the many takes that fans still have. Mailbags are often an eclectic collection of thoughts that I attempt to form into a coherent article. With as many questions as I received, it's easy to make that happen, so thank you!
For this mailbag, I shared my thoughts on the Denver Nuggets and their new rotation, potential roadblocks, how players' roles will shift, and much more. It was a lot of fun to answer these questions.
Without further ado, let's dive in:
---
Does the nuggets offense look any different this year than the last time they were at "full strength" (post AG trade 2020-2021)? It's been a long time since jokic/porter/Murray/Gordon we're on the court together and Jokic has had a year and a half of AG to build chemistry with.

— Noah Beck (@noahbeck3434) July 12, 2022
Ah, the golden era of Nuggets basketball: the two weeks of time before everything went AWOL.
Back when the Nuggets were healthy and whole during a 4-0 stretch, the Nuggets primary starters had the following per game averages:
Nikola Jokić: 17.0 points, 9.0 rebounds, 9.0 assists, 49.1 FG%, 42.9 3P%
Jamal Murray: 23.0 points, 5.3 rebounds, 3.5 assists, 49.3 FG%, 40.0 3P%
Michael Porter Jr.: 20.5 points, 9.5 rebounds, 2.0 assists, 60.4 FG%, 52.6 3P%
Aaron Gordon: 14.3 points, 4.8 rebounds, 2.5 assists, 64.1 FG%, 33.3 3P%
This was basketball nirvana, and it highlights the change in scoring usage for Jokić as he attempted to incorporate all of Denver's offensive weapons at once. Will Barton also averaged 12.5 points per game, and though his role will likely be replaced by a lower usage Kentavious Caldwell-Pope, the answer might be the same. Jokić might simply score less. Murray and Porter are both hoping to reestablish rhythms following lost seasons, and Gordon will be in an even better situation as Denver's primary screener and cutter.
Now, I don't expect Jokić to average 17 points per game. Maybe he's closer to 24 or 25 points per game because he's the best player in the world and perhaps the best scorer when he wants to be. He may not want to score though, and that will lead to some Nuggets blowouts where he puts up about 15 points and is cool with it. The assists are going to go up though. He will likely average a career high in assists. Maybe a triple-double?
---
What are your emotions going to be first time Jamal gets back in the court in front of the home crowd?

— JokicFeverDream (@MaptimeArcata) July 12, 2022
When Jamal Murray steps on the court again, it's going to be a big deal for me. A lot of folks know me as "the Jamal Murray guy" because I've long sung his praises. It was vindicating to see what he accomplished in the bubble, and he was on track for similar outbursts before the injury. After not seeing him play for the entire season, I will be extremely excited to see him again.
To see a single player will a team to victory in a seven-game series is truly something to behold. The Nuggets were dead in the water in the bubble before Murray put up 50, 42, and 50 points in Games 4, 5, and 6 versus the Utah Jazz. He was on Jokić's level that playoff run, perhaps even higher, and he gave Nuggets fans a glimpse of what the Nuggets can be with both players in their prime.
That vision is still viable, and I want to see Jamal achieve that after everything he's been through.
---
With the new quintessential starting 5 in mind of Murray/KCP/MPJ/Gordon/Jokic; where would you rank that in terms of the potential projected top 6 seeds in the west next year.

— austin (@austinmj98) July 12, 2022
Denver's new starting five is something to behold, but the rest of the West is also incredible.
Let's assume that in some order, the top six seeds in the West next year are the Nuggets, the Phoenix Suns, the Golden State Warriors, the Los Angeles Clippers, the Memphis Grizzlies, and the Minnesota Timberwolves. Their projected starting lineups are:
Nuggets: Murray, Caldwell-Pope, Porter, Gordon, Jokić
Suns: Paul, Booker, Bridges, Crowder, Ayton
Warriors: Curry, Thompson, Wiggins, Green, Looney
Clippers: Jackson, George, Leonard, Batum, Zubac
Grizzlies: Morant, Bane, Brooks, Jackson, Adams
Timberwolves: Russell, Edwards, McDaniels, Towns, Gobert
All of the above lineups are extremely potent. There are still some potential changes to come. If Kevin Durant goes to the Suns, that lineup will most likely vault to the top of the list immediately. Deandre Ayton is also a potential flight risk with his free agency status up in the air. Jaren Jackson Jr. also had offseason surgery and will probably miss the beginning of the season.
Assuming everything stands pat though, here's how I'd rank them:
Nuggets
Warriors
Suns
Clippers
Timberwolves
Grizzlies
I genuinely believe the Nuggets have the best starting five in the NBA outside of possibly the Boston Celtics. It may not bear out in the regular season numbers as the Nuggets attempt to figure things out with so many new and old faces changing. Still, it's a fair bet to make. The Warriors were certainly close, and they had the better depth last year and probably still do this year. The Suns are of course a juggernaut, but they also might just be a paper tiger.
The West is tough.
---
What is the craziest lineup the nuggets could deploy this season? Now that we have some versatile talent up and down the roster I feel like we can run some funky lineups. Like Brown, Braun, Porter, Green, Zeke

— z – The NHL Chicken 🐔🏆 (@NbaChicken) July 12, 2022
I love messing around with lineups because it gives me a better understanding of what the Nuggets have to work with heading into the season.
Any crazy lineup that the Nuggets run will have to involve Bruce Brown in some way. He's a utility player that will most likely be a perfect fit for what the Nuggets like to do. Pairing him with Nikola Jokić feels like a great way to confuse defenses when Brown handles the ball in a pick and roll with Jokić one possession and then screens for Jokić on the next possession.
Let's go with: Bones Hyland, Jamal Murray, Bruce Brown, Michael Porter Jr., Nikola Jokić.
Talk about fun. This is an offensive lineup if their ever was one. Bones and Murray sharing the ball with Jokić while Brown cuts to the rim and Porter takes advantage of all the open space. That lineup might have a 130+ offensive rating. It probably won't defend any team of consequence, but it's the perfect scoring haymaker to throw while Gordon and Caldwell-Pope are resting.
---
What is the ceiling for MPJ for this season? Can he make a bigger impact than he did in his last healthy season?
Can he be a plus defender this year next to Jokic and Gordon?

— Srdjan Komadina (@Srdjan1509) July 12, 2022
Michael Porter Jr. has certainly been forgotten amidst all of the hullabaloo around Denver's roster improving on the wings. While Murray will be back from a prolonged absence, Porter's absence was a bit more segmented. Though he certainly wasn't healthy for the portion of time that he played, Porter will most likely reach a higher level than Murray sooner and more consistently.
What does that mean for his numbers and production? I don't know. He averaged 19.0 points and 7.3 rebounds per game while shooting 54.2% from the field and 44.5% from three-point range during the 2020-21 season. Can he replicate those numbers during the 2022-23 season? Of course he can. He's that talented. Maybe he even improves upon those numbers.
Now, I don't really expect that statistical improvement though. I suspect Porter will be on a games played limit next year of around 60 to 65 games and about 30 minutes per game. I also suspect that though the Nuggets will want him to score and be productive, they will also ask him to continue developing as a complementary piece with better defense, playmaking, and a higher understanding of what the Nuggets are trying to accomplish. What does that look like? Probably around 18.0 points, 7.0 rebounds, 2.5 assists, and as close to a steal and a block per game as he can muster.
Is that a career year? Probably not, but it gets him closer to being a playoff caliber player the Nuggets can count on deep into a postseason run.
---
How much do you think Bones's role will change with the loss of Boogie?

— Realistic Nuggets Fan (@PSwartz11) July 12, 2022
Denver's entire bench got a facelift this offseason. Gone are Austin Rivers, Bryn Forbes, JaMychal Green, and DeMarcus Cousins, replaced in some part by Bruce Brown, Christian Braun, Davon Reed, and DeAndre Jordan. Zeke Nnaji and Jeff Green will also play somewhat critical roles, and their presence is what mostly shapes Bones Hyland into being Denver's most critical player heading into the 2022-23 season.
Bones had an excellent rookie season, averaging 10.1 points and 2.8 assists per game while shooting 40.3% from the field and 36.6% from three. After transitioning to backup point guard full-time, Bones averaged 12.1 points, 3.9 assists, and just 1.4 turnovers per game to go with a 44.0 FG% and 39.3 3P%. Bones was a higher volume player, even with Boogie out there doubling as the first or second option.
Now, Bones must be able to flourish without Cousins. He will need to be a high level creator with the ball in his hands, and he will certainly get the opportunity. Though Murray and Porter might stagger with the second unit at various points, Bones will be at least the primary or secondary option almost the entire time he's on the court. He will need to handle a higher usage, and he will need to remain efficient while doing so.
There's a very serious chance that Bones Hyland is in the running for multiple awards at the end of the season.
---
Besides Jokic, are there any other Nuggets players you can see winning any awards or all teams this year?

— Matthew Kimura (@MagicKimura) July 12, 2022
Speaking of awards, let's run through the candidates:
Both Murray and Porter will be candidates for comeback player of the year, though Kawhi Leonard or Zion Williamson will probably be the odds on favorite.
Both Murray and Porter will also have All-Star and/or All-NBA cases depending on how productive and effective they immediately are. If the Nuggets are winning a ton of games, they might deserve a second spot next to Jokić.
Both Bones and Bruce Brown could have different cases for sixth man of the year, Bones as the engine behind Denver's second unit and Brown as its glue.
Bones could have a strong case for most improved player if he's suddenly averaging 18 points and four assists per game off the bench
If he makes it into the rotation and helps Denver's bench score and defend enough, Christian Braun will have an All-Rookie team case, though he likely won't play enough minutes to get there.
If the Nuggets are a top two seed, I don't see why Michael Malone couldn't be coach of the year.
My favorite scenario is probably Denver winning 60 games, Malone winning coach of the year, Jokić, Murray, and Porter both being All-Stars, Bones winning sixth man of the year, but Jokić not getting enough votes for MVP because his team is "too good."
---
Are you feeling confident in the roster if training camp started tomorrow to see what we have? The Nuggets will still have some flexibility in season with the TPE and Jeff Green going into the deadline, is that enough?

— Ben Marsh (@chefben303) July 12, 2022
At this point, I'm feeling good about the team. It's difficult to game plan for injuries occurring again, and if the Nuggets face prolonged absences from Porter or someone else, then a hole or two might emerge in the roster.
At this point though, it's hard to come up with teams that have a more competitive top seven in their rotation than the Nuggets, which includes the starters, Bones, and Brown. Sure, the Warriors and Celtics might, especially given Boston's addition of Malcolm Brogdon. The Clippers are also lurking with a deep roster that features plenty of interchangeable wings.
I also just don't care about the other teams. If the Nuggets are healthy, they're championship contenders. Full stop. Very few teams can say that with any actual gusto, but the Nuggets can.
Could the Nuggets use another solid small forward? Maybe. Could they improve at backup center? Sure. Can those things be taken care of at the deadline? Most likely.
But heading into the 2022-23 season, the Nuggets are about as well-positioned for a title run as any team even if they change nothing. Because it's been awhile since the starters have played together, it's probably best to save the trade ammo for later too. In the meantime, the Nuggets have enough to win most of their games to open the regular season. They can start asking the hard questions after that.