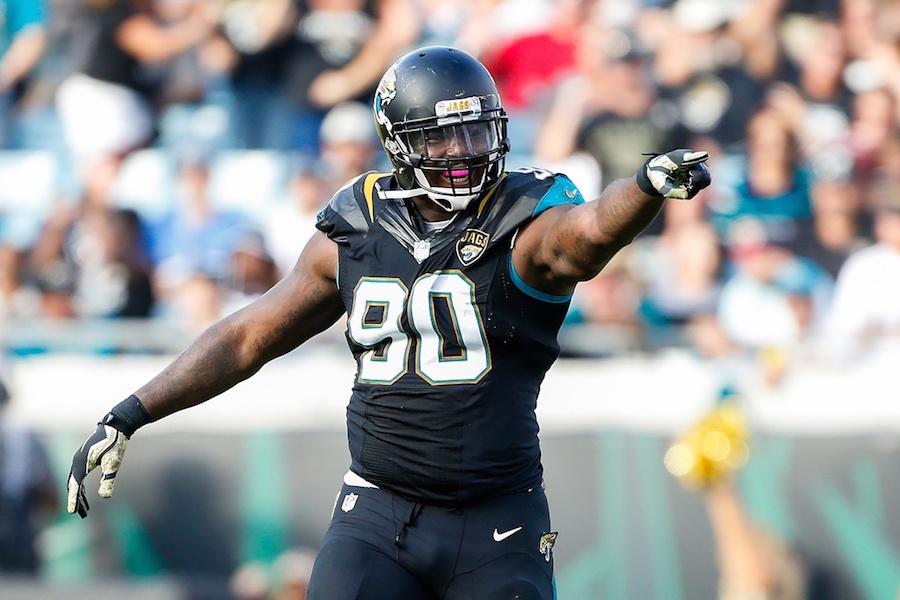 Wins have been hard to come by for Malik Jackson since he scored the first touchdown of Super Bowl 50. Since signing a six-year, $85.5 million contract with Jacksonville as a free agent this past offseason, the former Broncos defensive end has won just three game – and that includes the preseason. So, as a matchup with his former team looms, Jackson would love to play spoiler to Denver's playoff chances.
"That would be awesome," Jackson told Eric Goodman and Les Shapiro on Mile High Sports AM 1340 | FM 104.7 on Thursday when Goodman suggested that Jackson and the Jaguars could ruin Denver's season with a win on Sunday. At 7-4, Denver's playoff hopes could be cut short with a loss to Jacksonville.
Jackson chuckled and told Goodman and Shapiro that he'd be just fine with them talking about the Nuggets come January, but admitted he's still somewhat friendly with guys on the team.
"We're 'frenemies,'" he said about linebacker Brandon Marshall. "We all respect each other, but we all understand we have a job to do at the end of the day.
Jackson was a force for Denver's defense during their historic run to Super Bowl 50, registering 45 tackles, five sacks and seven passes defended during the regular season and another nine tackles in the postseason. He was one of the most effective run stoppers on a Denver defense that ranked third in the league last year against the rush.
But those days are gone. Denver could not afford both Jackson and Von Miller, not to mention raises for guys like Marshall, Derek Wolfe and, more recently, Darian Stewart. Now, Jackson is adjusting to life on a losing team.
"It's very difficult," Jackson said about playing on a team that enters this week at 2-9. "Coming down here [to Jacksonville] is really a reality check."
Still, Jackson is happy with his decision to leave Denver.
"I'm glad where I'm at. It's a young team, just trying to find our way and I think once we find that, we're going to explode."
Broncos fans, and Jackson's former teammates, hope that waits at least one more week.
Listen to the full interview with Malik Jackson, including how much it would have cost John Elway to keep him in Denver, in the podcast below…
Catch Afternoon Drive with Goodman and Shapiro every weekday from 4p-6p on Mile High Sports AM 1340 | FM 104.7 or stream live any time for the best local coverage of Colorado sports from Denver's biggest sports talk lineup.