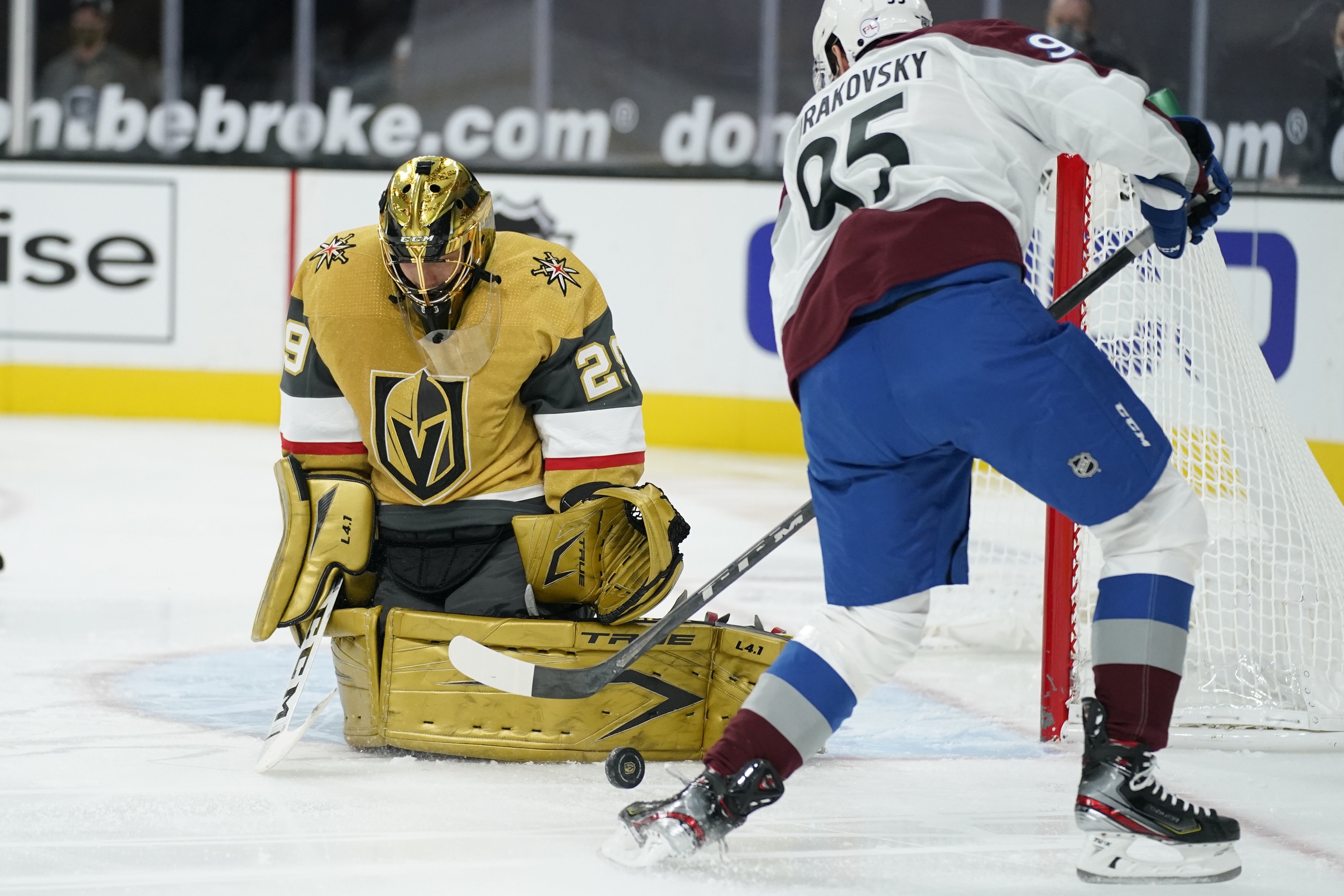 Goals were nowhere to be found in The Fortress. At least not for Colorado.
Max Pacioretty scored in the second period and Marc-Andre Fleury made 30 saves to help the Vegas Golden Knights shutout the Avalanche 1-0 Sunday at T-Mobile Arena.
Philipp Grubauer made 24 saves in goal for the Avs, who were without a number of their top players coming out of a 12-day COVID break.
Forwards Gabriel Landeskog and Tyson Jost and defenseman Samuel Girard missed the game because of COVID Protocol, forward Matt Calvert, defenseman Erik Johnson and goalie Pavel Francouz remained sidelined with injuries and young blueliner Cale Makar also missed his first game of the season with an upper-body injury.
Colorado outshot the high-powered Golden Knights 30-24.
"We had to dig in on the defensive side in order to give ourselves a chance to win the hockey game," Avs coach Jared Bednar said. "We were trying to play a smart game and limit turnovers and make them earn everything they get."
Pacioretty's tally at 1:38 of the middle frame came after Colorado had a good first period, all things considered. Colorado had a number of golden opportunities that were stopped by Fleury after Vegas had the first three shots of the game.
The Golden Knights, who have now won five of six games since a COVID break of their own, also played in San Jose on Saturday.
Meanwhile, the Avs had three days of on-ice preparation after nine days of being shut down from team facilities.
"When you're not playing games it's tough to stay in that game mode," Avs forward Brandon Saad said. "We were a little rusty with execution."
Saad was elevated to the top line to play alongside superstar center Nathan MacKinnon and winger Mikko Rantanen. MacKinnon returned to the lineup after missing one game with an injury and played 22:38 — the most among Avalanche forwards.
Defenseman Devon Toews and forward Pierre-Edouard Bellemare also made their returns to the lineup. The pair were both injured in a Jan. 28 home game against the San Jose Sharks.
Toews played a game-high 25:56.
"We probably overplayed him tonight coming off that break and that injury just because we really needed him," Bednar said. "He looked like he was starting to tire towards the end of the game. But I thought his game was still really good."
Colorado and Vegas will play three more consecutive games over the next eight days, including an outdoor game at Lake Tahoe on Saturday. Landeskog, Jost and Girard will likely be available for that game, as they are expected to come off the COVID-19 protocol list Wednesday.
The trio will miss Tuesday's game at T-Mobile Arena, often referred to as The Fortress.
Bo gets physical: Rookie defenseman Bowen Byram recorded a team-leading five hits. The career-high for the 19-year-old helped the Avs keep pace with the NHL's largest teams in the hit department. The Golden Knights outhit Colorado 34-33.
Werner enters the picture: Goalie Adam Werner was the backup goalie for the first time this season. In Francouz's absence, Colorado has often turned to Hunter Miska to backup Grubauer.
___
Hockey Mountain High: Your go-to Avalanche Podcast
Listen to "Band-Aids" on Spreaker.