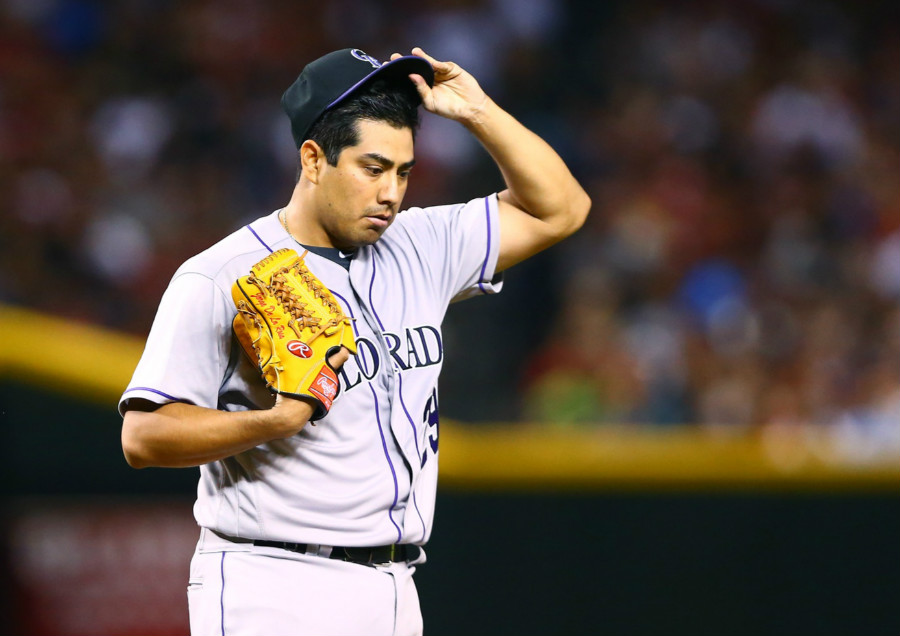 Jorge De La Rosa has been one of the best pitchers in the history of the Colorado Rockies, but it may be time for both the Rockies and De La Rosa to go their separate ways.
De La Rosa is the franchise leader in wins and strikeouts, as well as ranking third in starts. He also ranks 12th in terms of WAR (Wins Above Replacement).
This year, though, has been rough on the veteran pitcher.
De La Rosa, 35, is 1-3 on the season with an ERA of 10.18, a massive spike compared to his career ERA of 4.64. And since he hit the disabled list with a groin injury, the Rockies haven't skipped a beat, going 10-7 with a staff ERA of 4.05 in May.
Without De La Rosa, the Rockies have managed to come within a game and a half of first place, sweep the defending National League champions, have a winning record and find their groove at home, winning four of their last seven games at Coors Field.
Many had hoped that some time on the disabled list might help De La Rosa get his head back in the game, but it doesn't seem to have worked; he's been roughed up during his rehab starts down in the minor leagues.
In his second rehab start, De La Rosa lasted just 3.2 innings, surrendering three runs on five hits, walking three, all while throwing 92 pitches and only 53 for strikes.
This was a cause for concern for manager Walt Wiess.
"Reports are that he threw a lot of pitches," manager Walt Weiss told Patrick Saunders of The Denver Post. "He's got to work some things out. He's got to get to the point where he can go deeper into games here, so we can protect the bullpen."
At this point, there is no reason to rush De La Rosa back, as the Rockies rotation is beginning to find themselves.
The Rox have a nice core of pitchers with Tyler Chatwood, Chad Bettis, Jon Gray, Eddie Butler and Chris Rusin, all of which have ERAs under five.
In addition to the the solid ERA's of the Rox pitchers, they are all fairly young, with the oldest being Chris Rusin (29).
At this point it seems like trying to slot De La Rosa back into the rotation is like trying to fit a square peg into a round hole.
The Rockies have been playing better, winning baseball without De La Rosa in the starting rotation, and he may not be returning any time soon.