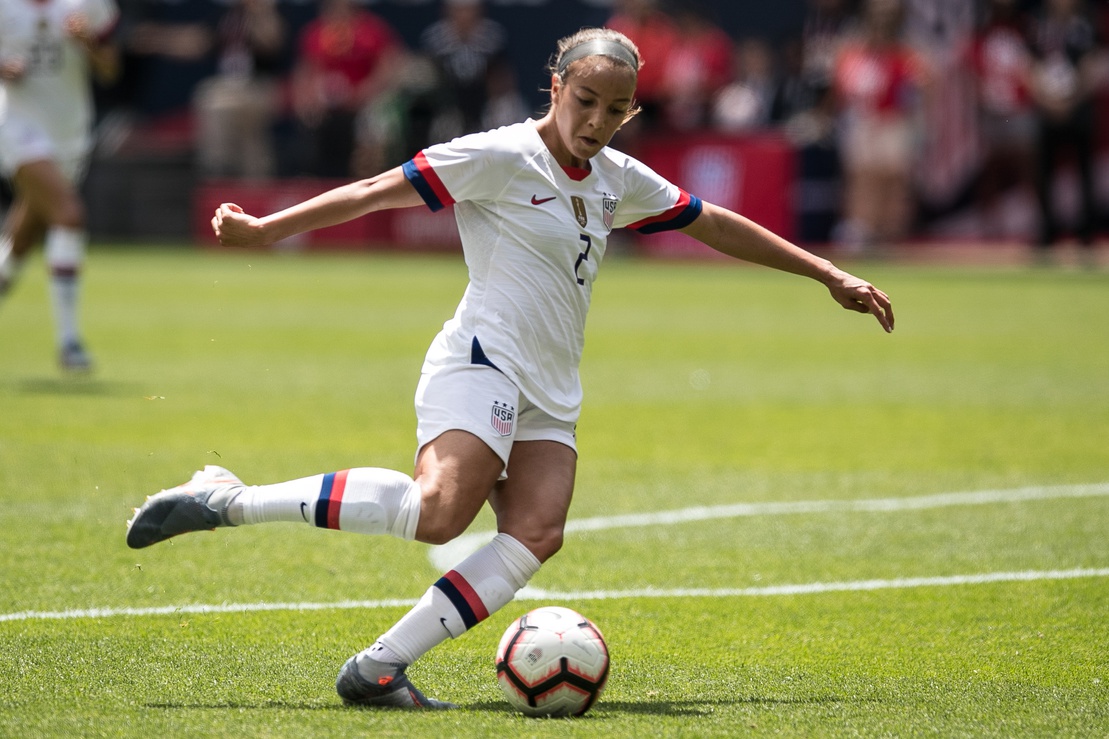 As the US Women's National Team battles in the World Cup, Mallory Pugh is looking to make her mark.
The following article is from the June issue of Mile High Sports Magazine.
By Vanessa Hughes
What do Michael Jordan, Tiger Woods, LeBron James and Mallory Pugh have in common?
They are all most certainly world-class athletes, but it's a swoosh— yes a swoosh— that ties them together. Jordan, Woods, James and Pugh are all sponsored by Nike, the most recognizable sports brand on the planet.
It's no secret what Jordan, Woods and James have accomplished in their respective sports, but Pugh is a different story. The newly turned 21-year-old signed with the iconic brand two years ago, when she was just 19. While it was impressive that she was a teenager on the U.S. Women's National Soccer Team, why would Nike sign an unproven athlete — an unproven female athlete, at that— when she wasn't yet a household name?
Because Nike saw her star power and wanted to partner with the young phenom before someone else snatched her up.
"When you look at a lot of these companies, who historically have used male athletes, she's coming along at a great time because she represents this next generation of high-caliber athletes who appeal to a wide cross-section," said Pugh's agent, Richard Motzkin. "From a marketing perspective, she is incredibly attractive to all these brands because she is a young, talented, accomplished athlete/person who I think brands would love to associate with. She's very authentic, she's a good human and is very well-rounded, too. That puts her in a really good place at the right time to capitalize on that."
Pugh, who grew up in Highlands Ranch, admits that growing up, she "always wanted to be a Nike athlete." Now, thanks to Pugh's appeal and Motzkin's guidance, Pugh has a long-term deal with the company.
Nike is not the only major brand that jumped at the opportunity to sponsor Pugh. Last June, Pugh, who's becoming the poster girl for U.S. Women's Soccer, inked an endorsement deal with Gatorade. She, along with former USWNT stars, Mia Hamm and Abby Wambach, are among just a handful of female athletes who have been sponsored by the sports drink.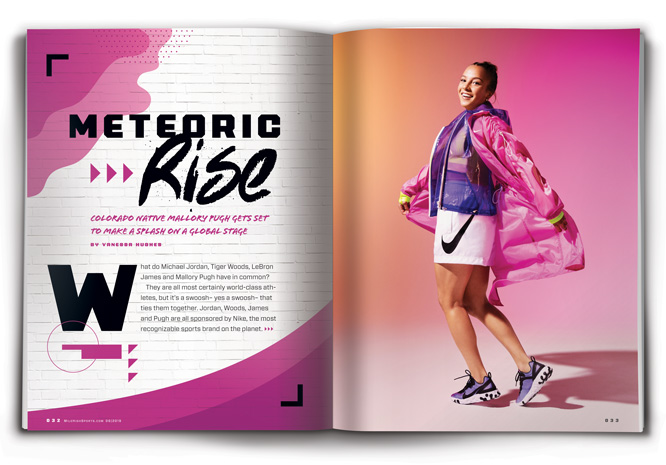 "It is crazy to think about how big those companies are, and that I am signed with them," Pugh said.
Several other brands have gotten on board with Pugh as well. In addition to Nike and Gatorade, she currently has partnerships with Neutrogena, Secret, STATSport, Johnson & Johnson, Hulu and BMW.
Pugh could absolutely land additional endorsement deals if desired, however, she and Motzkin have jointly decided to limit the number of companies she works with.
"You want to make sure there's a balance between having good marketing partners who not only help support the athlete financially, but also help to create their brand and expose the sport," Motzkin explained. "Companies also know that she's very judicious with who she chooses to work with. They're a reflection of her and also they all benefit because of the limited approach she's taking and the high-caliber group that she's working with to have that reciprocal association with her."
Pugh said having those big-name sponsors behind her is definitely a great perk of the job, but she tries not to focus on it.
"[Richard] always tells me, 'If you're not performing on the field, then all the off-the-field stuff isn't happening,'" she said. "I'm very thankful and honored that I do have partnerships and endorsement deals with those companies, but ultimately, it's about being the best soccer player that I can be. If that comes along with being one of the faces of U.S. Soccer, then that's what it is. It's a big deal, but I really don't think about it."
***
Prodigy in the Making
Pugh began playing soccer at age four or five, thanks to her supportive (and athletic) parents, Horace and Karen, and her sister, Brianna, who's five years her senior. "Bri," as she's known among family and friends, played soccer, so Mallory, aka "Mal," played soccer, too. Mal admired her big sis and wanted to be just like her. Bri went on to have an impressive career of her own, and played at the University of Oregon, but her little sister is the one who's taken the soccer world by storm.
As a youth player, Mal was part of two Real Colorado teams who won state titles in 2010 and '11. She played a key role for the U.S. Under-17 National Team in 2013 and '14, scoring the most goals (seven) and won the Golden Ball, and Golden Boot (given to the top player) at the 2015 CONCACAF Under-20 Championships.
All the while, USWNT head coach, Jill Ellis was taking notice.
"I'd seen Mal in our youth national teams and knew she was special," Ellis said. "Colorado has embraced the sport and I think this is a really rich state in terms of talent coming through the ranks."
Pugh starred at Mountain Vista High School in Highlands Ranch, and as a freshman, she helped lead the Golden Eagles to the Class 5A state title. As a sophomore and junior, she played in 18 prep games combined and scored 24 goals and had 12 assists. Pugh was also named the 2014-15 Gatorade National Girls Soccer Player of the Year. Her senior year, she practiced and suited up for each game but didn't log any minutes with Mountain Vista because the national team wanted her to stay healthy for its games. She graduated in 2016 and signed to play college soccer at UCLA, but her career took a very different path.
On Jan. 23, 2016, she made her USWNT Senior Team debut against Ireland and scored on a header in the 83rd minute. At 17 years, 8 months and 25 days old, Pugh was the youngest player to debut for the U.S. in the previous 11 years. And that summer, she became the youngest U.S. player to score a goal in an Olympic game.
Pugh just turned 21 on April 29. She's fourth all-time in caps (appearances with the USWNT) before the age of 21 with 50, fourth in starts (36), third in goals (15), and tied for first in assists (14) with Kristine Lilly.
Ellis knows she has quite a talent in Pugh and that her dynamic young forward is just scratching the surface.
"She brings a great energy," said Ellis, who's in her fifth season at the helm. "I knew that Mal was going to trend up in her play and her importance to this program. I think it's good that Mal is getting the experience she has now, because she has a bright, long-term future if she continues to work at her game. I say this cheekily, but she can't help but not continue to get better when she's going against the quality of teammates and opponents every single day in these environments."
Making the transition from high school to the professional ranks isn't an easy one. Pugh went from living at home with her parents in Colorado to being on her own and diving head-first into the world of adulting. USWNT press officer, Aaron Heifetz has been impressed by Pugh's ability to handle the big stage.
"She adjusted very well, and very quickly, to the WNT environment, even though she was just a teen playing with grown women and professionals. Not much phases her," he said.
Fellow Coloradan and USWNT forward Lindsey Horan echoed those sentiments.
"When she came to this team as a 17-year-old, she was very mature," said Horan, 25, who is one of Pugh's closest friends. "I think she should give herself a lot of credit because coming up and playing with the national team at such a young age is scary and nerve-racking and I didn't ever see that from Mal. She came in and was like, 'I love the game; I love playing and this is how I'm going to be.' And that's her attitude all the time. I thought that was really cool to see from a young player's perspective."
***
Taking a Different Path
Coming out of high school, Pugh was the nation's No. 1 recruit and could've played at any college in the country. Ultimately, she signed with UCLA to continue her soccer career, but ended up skipping the Bruins' fall season in '16 to play in the U-20 World Cup. She enrolled at UCLA over the winter and attended school for three months in early '17.
During that time, she contemplated turning pro and consulted with Motzkin, a highly regarded soccer agent and family friend who made himself available for advice and counsel. He also happened to be based in Westwood, Calif., conveniently located near UCLA. Pugh visited Motzkin's office to discuss her options. That resulted in numerous conversations; Pugh and her parents tried to decide what would be the best course of action. Pugh also talked with Horan, who passed up a scholarship to North Carolina to instead sign with a pro team—Paris Saint-Germain— in 2012. Horan provided a voice of reason and some encouragement.
"They're huge decisions," she admitted. "Mine was a little bit different than Mal's, obviously going overseas and Mal did try out college for a little bit. It was more just, 'Here's something else you can do, it's another route you can take.' I tried to help her as much as possible, but not tell her what to do."
In April, Pugh opted to turn pro and withdrew from school before ever playing an official college game. That same month, she signed with Motzkin, who is the EVP and managing executive for Global Soccer at Wasserman, to represent her.
Now the question was, where to play—the National Women's Soccer League (NWSL) or with an overseas team? She turned down opportunities from Horan's former club, Paris Saint-Germain, as well as Olympique Lyonnais, and decided to stay stateside and go to the NWSL. Pugh's first choice was Portland— which featured five U.S. national teamers, including Horan— and averaged over 15,000 fans a game. She wound up with the Washington Spirit, however, as they had first rights to her through the league's distribution process.
The move was unprecedented and made Pugh— still 18 at the time— the first American woman to skip college and join the 10-team NWSL. For decades, many of the sport's top U.S. players cut their teeth by playing NCAA soccer— Hamm, Wambach, Lilly to name a few—and before Horan, and later Pugh, there just weren't those opportunities for American women to play professionally, neither domestically nor abroad.
But clearly, Pugh is not your average footballer. She's an elite player who, by all accounts, would be best served by playing at the professional level.
"For me, it's about stepping outside of your comfort zone," said Pugh. "I knew I wanted to go to college. I got the perfect amount of time that I needed there (at UCLA). Some people say you never experienced an actual season. I didn't really need to, because I realized that I wanted to be a professional and be on the National Team, and I don't necessarily think being there [in college] would've helped me do that because I was comfortable."
During Pugh's inaugural NWSL season in 2017, she led the Spirit with six goals, and just two weeks after her debut, she became the youngest scorer in NWSL history (19 years, one month and four days). She was also voted the team's MVP that year (while still a teenager).
In 2018, she played in 15 games (starting 13) and netted two goals and one assist. She missed over two months with a knee injury, but after her return in early August, played in every game the rest of the season.
Pugh is now in the midst of her third season with Washington and lives in the DC area with two Sprit and USWNT teammates, Rose Lavelle and Andi Sullivan (both are midfielders). She's embracing life away from home and has made some key changes to her habits and routine, both on and off the field.
"I've definitely grown up," said Pugh, while still chuckling at the notion that she's "grown up." "This is my job now, even though I don't like saying it. Taking care of my body and eating right and getting enough sleep, those little things really do matter. Also, the mental side of my game has really changed a lot. At the beginning, I was just playing and not really thinking about anything. That's when I play the best. There was a time when I was overthinking everything and then I realized some of the best athletes go out there and get in this zone. When I am in the zone, I feel very confident and ready to play."
The last few years have certainly been hectic for Pugh. She's bounced back-and-forth between her national team commitments and Spirit games and practices. The NWSL season runs from mid-April to mid-October, so she doesn't have much down time. "Our schedule is super busy, but you have to switch your focus for each team. We play different styles, but I try and take every training session, whether I'm with the National Team or the Washington team, as a chance to get better. That helps me stay more balanced."
***
Bring on the World Cup…and Her 20's
Since 2014, Pugh has gone from high school wunderkind to bona fide star-in-the-making. She's ascended up the ranks of U.S. Soccer and is expected to fill a key role in the United States' efforts to defend its World Cup title in France this summer.
She has played on one of the world's biggest stages— at the 2016 Olympics in Rio—which offered global soccer fans an introduction to Pugh. Now, three years later, she's eager to represent her county again— this time in her first World Cup— and brings a more poised and polished game,
And more maturity, as well.
She can't wait to take part in a soccer experience that's at the epicenter of the sport.
"I've heard it's crazy, but I'm really looking forward to playing," said Pugh. "I believe that afterwards, women's soccer is really going to take off. Women's soccer has boomed in the U.S., so I think it's going to boom in Europe and the popularity is going to grow."
And it's expected that Pugh's popularity will also explode, as she will no doubt be one of the most marketed and recognized athletes in the world this summer and beyond. She already has an avid fan base with over 304,000 followers on Instagram and nearly 71,000 Twitter followers. In the sport of women's soccer, there's still plenty of room to grow, too. Teammate Alex Morgan, for example, who's been on the USWNT since 2008, has 3.5 million followers on Twitter and 5.7 million on Instagram. Fellow Nike athlete LeBron James, tops Twitter and Instagram with 42.6 and 49 million followers respectively.
One of those fans is 32-year-old Jordan Spira. Spira was sporting a No. 22 "Pugh" jersey when the USWNT played Australia on April 4 at Dick's Sporting Goods Park in Commerce City, and will again be wearing it proudly when she attends the USWNT's first two World Cup games, June 11 against Thailand and June 16 versus Chile.
The Denver resident is eager to cheer on her favorite player and says she appreciates what Pugh brings to the pitch.
"I like that she's the up-and-coming new star and she's fun to watch," said Spira. "Her speed on the wing is awesome and she can blow by [defenders] and get in the mix and score some goals, too. I'm looking forward to seeing her rise. I think it's so special that she got the opportunity to join this team at such a young age. She has a whole career ahead of her and this is just the beginning."
At the end of the day, all Pugh really wants is to have fun playing the game she loves. Mix in some time with her friends and family and her baseball-playing boyfriend (Atlanta Braves shortstop, Dansby Swanson), Netflix, music—R&B and hip-hop are her favorites—fashion, charity work and cooking— she bakes a mean banana bread— and she's content.
And even more important than the big-time endorsement deals, the awards and the recognition, Pugh simply wants to be known for being a good person. From those closest to her, she's already mastered that skill.
"She's just a super nice person from a great family," Heifetz said.
"Mal is a very selfless individual," echoed Motzkin. "She's incredibly team-oriented and incredibly generous. She cares about others and is just a really terrific human being."
Oh, and she wants to be a trailblazer, too. She hopes that her unorthodox path to the pros will inspire other girls to consider it as well.
"It's okay to be different and go away from the norm," Pugh said. "I did take a different path to get where I am. I was going back and forth and (wondering), 'What are people going to say?' Ultimately, it was my life and my career. Who really cares what other people say?
"As long as you're doing what you love and you're trying to get better and be a good person along the way."
***
*For more from Mile High Sports Magazine, subscribe here!