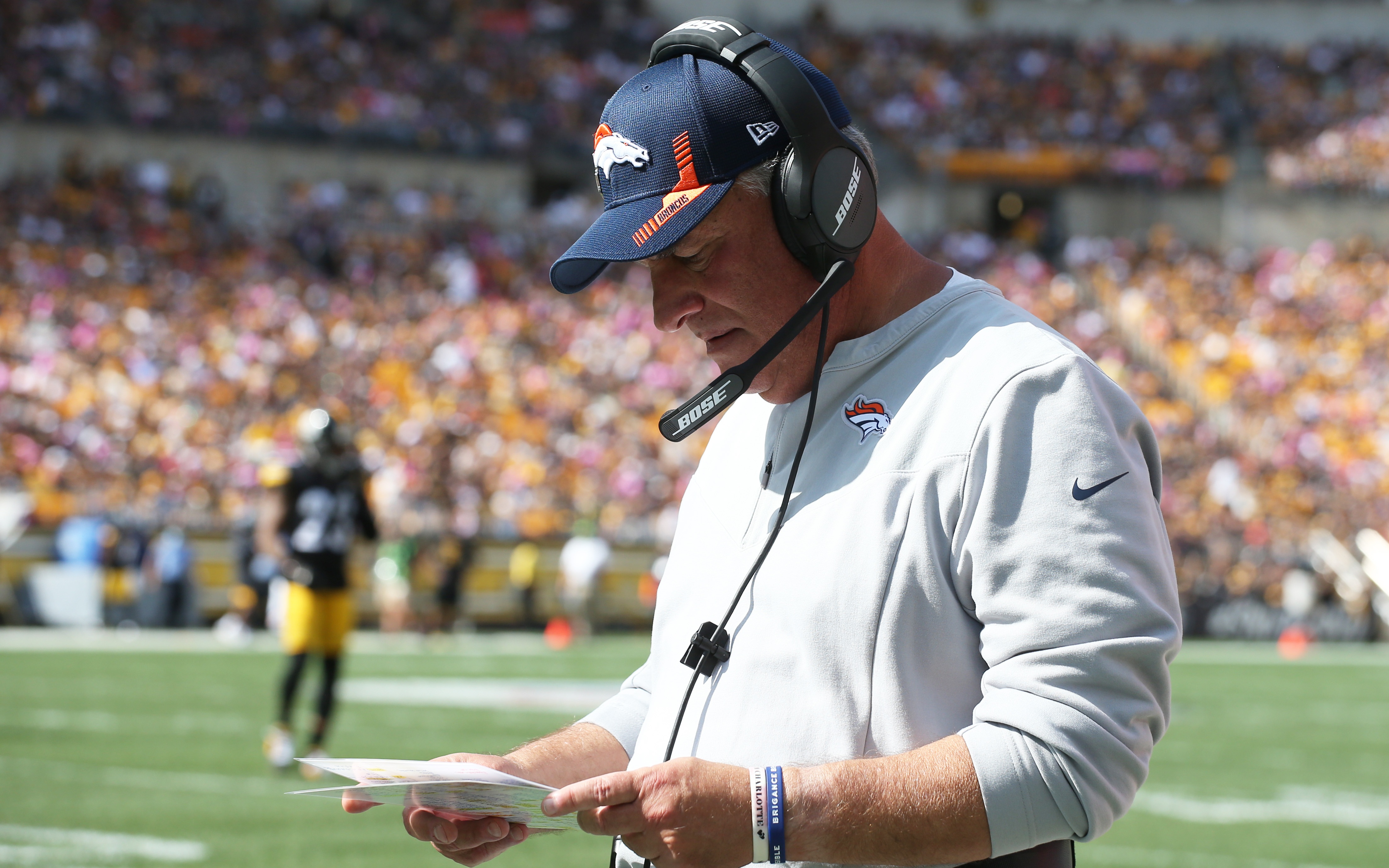 The Denver Broncos are desperate for a win against the Las Vegas Raiders after a disappointing loss to the Pittsburgh Steelers
Will the Broncos rebound against the Raiders as drama surrounds Las Vegas? What does our team think the final score be?
Another week and another discussion from the Mile High Sports Broncos team. Here is what they think about Denver's upcoming matchup against their longtime AFC West rival.
On a scale from 1 (low) to 10 (high) how worried are you about this team after two straight losses and why?
Rich Kurtzman (@RichKurtzman): About a 7. The offense has been awful to start games and the team was out-physical(ed) by Baltimore. But, a win this week lowers that worry level at least a few notches.
Lindsay Bebout (@lindsaybebout):
The Steelers went into Week 5 with the worst running offense in the NFL by a LONG shot, and yet Denver made Najee Harris look like Barry Sanders. I am at a 7. If the Broncos can't beat a team that everybody has been making fun of for being a shell of their old selves, how can I not be worried? This is especially true when you're in the same division as Herbert and Mahomes. It'd be higher if not for the fact that they do have some easy matchups left on the schedule.
Nicholas Manning (@Dr_NManning):
I'm at an 8. My optimistic view of this team has diminished. Not by the losses, but by the lack of preparedness of the players and coaches. If a sense of urgency is not running rampant through the halls of Dove Valley, it should be. The Broncos need to get right and in a hurry.
Joey Richards (@JRDrafts): I am about a 7. I think players returning from injury at some point this season will help a ton but the Broncos' inability to score early or in the red zone is worrisome, to say the least. Offensive coordinator Pat Shurmur has to make things easier for the offense with the Broncos lacking much of any wide receivers that excel at separating.
JT Matthews (@JTMatthews01): I would say we are at about a 6 on the worry scale. I am not ready to give up on this team but they are going to have to show me they can compete with the more talented squads in the NFL. A win this week would be a step in the right direction, a loss would be extremely concerning.
Zach Segars (@Zach_Segars): It's a 7 for me right now, but if they lose to the coachless Raiders on Sunday, it will be a 10. I'm so concerned because Denver is playing below their talent level, and they're struggling despite quarterback not being the problem for the first time in a half-decade.
Who should shoulder the blame for the Broncos' rough performance against the Steelers?
Lindsay Bebout: The coaching staff.  What a group of hot messes. Terrible game planning, terrible play-calling, and terrible clock management. The issue starts from the top. I understand Vic Fangio isn't calling all the plays, but he's enabling poor play with his hiring choices.
Nicholas Manning: The head coach, Vic Fangio. As the leader of the team, one he had a big hand in building, Fsngio has to answer for the team's poor play. We can point fingers at assistants or players, but in the end, the headman has to be accountable for not having his team play up to their capabilities.
Rich Kurtzman: Pat Shurmur is partly to blame. His conservative play-calling slowed the offense's production for three-quarters of the game.
Joey Richards: I think a lot of the blame falls on Pat Shurmur and his offensive play calling. Last game the Broncos started their first offensive series with a delay of the game then went run, run, pass on the next two possessions. There are plenty of examples to give but it is just not getting the job done.
JT Matthews: The coaching staff has not done this roster any favors. This team is full of dynamic athletes and they seem to be wasting the upper-end skill that is available to them on the offense as well as the defense.
Zach Segars: The coaching staff. The Broncos nearly erased an 18 point lead in 10 minutes, which is remarkable, and exemplified how superior their roster is, even with all their injuries. However, they were thoroughly dominated for the first 50 minutes and showed up flat. That's a product of coaching.
Who needs to step up for the Broncos to beat the Raiders?
Nicholas Manning: The play-callers, Fangio and Pat Shurmur. This team is too talented to have their players be used in ways that do not highlight their talents. Von Miller in coverage with a wide receiver? Dionte Spencer on the field in goal-to-go? Noah Fant used as a primary blocker versus T.J. Watt? They can miss me with being cute and start utilizing guys in ways that accentuate what they do.
Lindsay Bebout: The entire rush defense. If they can't stop the run game, they're never going to win games.  I still haven't recovered from what I had to watch last week.
Rich Kurtzman: Tim Patrick and/or Courtland Sutton. The Broncos are injured at receiver and need their two best guys at the position to help carry the offense this week.
Joey Richards: The Broncos need Courtland Sutton to be explosive. His box score numbers aren't bad as he is being targeted plenty, but he is lacking the downfield presence we once were accustomed to seeing.
JT Matthews: This is Teddy Bridgewater's shot to come in and make a statement as a Denver Broncos and not just as a journeyman quarterback in the NFL. If he can come in and handle himself against a divisional foe and win this game for his team in a strong fashion, this team will be so much better for it.
Zach Segars: Pat Shurmur. His game plans and playcalling strategies each of the last few weeks have been so inept that it's truly embarrassing. Denver's offense will have to show up to hang with the Raiders, as Derek Carr is sure to put up some points.
With a loss to the Raiders (who lost their head coach mid-week) is their season lost?
Lindsay Bebout: As lost as the missing dog on the flyer stapled to the light post by my house.
Rich Kurtzman: No, but a fourth straight loss to Cleveland the next week would mean it's getting closer to lost. However, 17 games is a long, grueling season. We're not even halfway yet.
Joey Richards: In the AFC West, every game counts. This is a game the Broncos should win and make the playoffs, they have to. While the Chiefs have started poorly, you can never count them out and the Chargers are playing their best football in years.
JT Matthews: If Denver loses to Las Vegas then that will most likely be the beginning of the end for this season. Denver has largely beaten the teams they should beat so far but the Raiders are vulnerable having lost their coach mid-season and are just starting to regroup. This is a golden opportunity for the Broncos. It is for all intents and purposes a "must-win game".
Zach Segars: I think so. The momentum from the first three games will be fully lost, the coaching staff will have been thoroughly exposed, and the Broncos road matchups with the Browns and Cowboys in the subsequent three weeks.
Nicholas Manning: Yes, point-blank period. Denver would have suffered three straight losses and a short week against Cleveland coming. This is a must-win game and they must treat it that way. A loss and we can start Mock Draft Szn.
What is your final score prediction this week and why?
Lindsay Bebout: 20-17 Broncos. Maybe it's naivety, maybe it's wishful thinking, or maybe we can beat a team that doesn't even have a head coach. Whatever the case, I'm sticking with it.
Nicholas Manning: I think the Broncos win because they have to. From the coaches to players, they hear the murmurs. The Broncos squeak a win against a feisty and defiant Raiders team 26-21.
Joey Richards: 21-23 Raiders. I'm not sure whether having the game off of Gruden's firing is a good or bad thing but the Raiders are a better team than anybody could've expected. Carr is playing the best ball of his career and the Raiders are simpler just a tough team to beat.
JT Matthews: The Denver Broncos will get the job done against Derek Carr and the Raiders. This defense is still full of fantastic talent. Denver can hurry opponents when they are allowed to do so by the coaching staff. I am anticipating a 24-14 win for the Broncos.
Zach Segars: 26-20 Raiders. As much as I want to pick the Broncos like I have every week so far in this column, I refuse to do so until they prove they can at least show up on Sunday and not thoroughly embarrass themselves.
Rich Kurtzman: Broncos will win 31-10. The Raiders are reeling and won't win this week without a head coach. Denver knows it's a must-win and they won't leave any doubt they are better than Las Vegas.
Catch Mile High Sports' Orange and Brew Podcast discuss these questions and more!
Don't forget to check out @Dr_NManning and @JTMatthews01 discuss the State of the Broncos!

Check the link in our bio!@MileHighSports pic.twitter.com/IVCzdnHuPN

— Orange and Brew Podcast (@orange_and_brew) October 15, 2021