Turnaround Artist: Out of nowhere, Todd Casebier put Castle View football on the map
The following article is from the December issue of Mile High Sports Magazine. Subscribe here!
In many ways, Todd Casebier is no different than any other high-school football coach in Colorado. At one point or another, they'll all sit in a room as players file in, one-by-one, to return all their gear.
It doesn't matter if it's at the conclusion of the regular season or after a state championship run.
"It's all part of the job," Casebier says.
As Casebier went through the process of checking in the gear from his players this year, he didn't get to do it while thinking of a state championship run. He didn't even get to look back on the feeling of playing in the Class 5A championship game at Broncos Stadium at Mile High.
Like most coaches, he was done in mid-November. But his journey in his first year as coach of the Castle View Sabercats was more remarkable than any other coaching job this year. Giving the program its first winning season since 2011 was the primary reason that Casebier was a lock for the Mile High Sports High School Coach of the Year.
Simply put, no coach had a more measurable impact on his team – even if it means he didn't come away with a state title.
In the three years before his arrival, Castle View won a grand total of six games and failed to reach the playoffs.
While this was going on, Casebier had made a name for himself as a coach who could revive football programs on the Western Slope. He won a 3A title at Palisade before taking the job at Montrose. At the time, the Indians were struggling to be competitive on the gridiron. In 2013, Montrose made it to the 4A title game, ultimately losing to Pine Creek.
Casebier then moved on to Fruita Monument, another program in desperate need of a turnaround. In 2017, Casebier's final year with the Wildcats, Fruita went undefeated in the regular season and lost to Vista Ridge in the opening round of the playoffs.
Having made the Wildcats competitive, Casebier ventured to Castle View, another struggling team in search of a significant turnaround.
Challenge accepted.
The first thing he wanted to make sure of when he got the job was that the kids knew that while he was known for turning things around, he wasn't going to be able to do it without their help.
"Your history helps some," Casebier said. "But really, the message was pretty straightforward. If you love football and you're tired of the way things have been, then we all have to do some things differently then you have. If you jump on the bus, then we have a chance. If you don't jump on the bus, you're not playing here."
Measuring immediate results was going to be tough. The Sabercats won their first game in 2017 before losing the next nine. Starting 1-0 wasn't a new feeling to this group of kids.
They went out and beat Fossil Ridge, 35-28. Casebier maintains that the first win of the year was huge, especially since it wasn't at home. The next week's game against Arapahoe ended with a very different result, but now able to look back at Week 2, it was an important lesson for the team to experience, as well.
"We won our first game, which was a big deal," Casebier said. "They've hardly had any success on the road. We were feeling pretty good, and then we came home and laid an egg against Arapahoe. The first part of the year there was some growth about learning how to win and learning how to lose."
And more importantly, learning how to bounce back from a loss. Castle View welcomed an out-of-state team for its third game of the year. Wasatch High School from Utah made the trip to Castle Rock, and at that point, Casebier saw the potential of his team materialize on the field.
Trailing the entire game, the Sabercats faced 4th-and-goal from the two-yard line. They punched it in on the final play of the game and came away with a win against a team that Casebier believes would've made noise in Colorado.
"They were good. Really good," Casebier said. "They would've been a top-16 team in Colorado. We beat them on the last play of the game, so that got us going."
After that, the Sabercats started rolling. They won their homecoming game against Douglas County and followed that up with a 21-point win against Legend. After a loss to Valor Christian, Castle View started another three-game winning streak that included a big win over Highlands Ranch. The Falcons had been a preseason top-10 team and would go on to make the 5A playoffs.
"Every week was a new challenge, because these kids had never done it," Casebier said. "Winning at homecoming is quite the challenge if you're heading in the wrong direction. I felt like we got better as the year went on, which is what you're always looking for, but Wasatch got us going early."
In 2017, it was common to see the Sabercats on the wrong end of a lopsided score. Of their nine losses a year ago, only one of them came by just one score. One year and a new coach later, the Sabercats had eight times as many wins as they did in the previous season. Of those eight wins, six of them came by more than one score.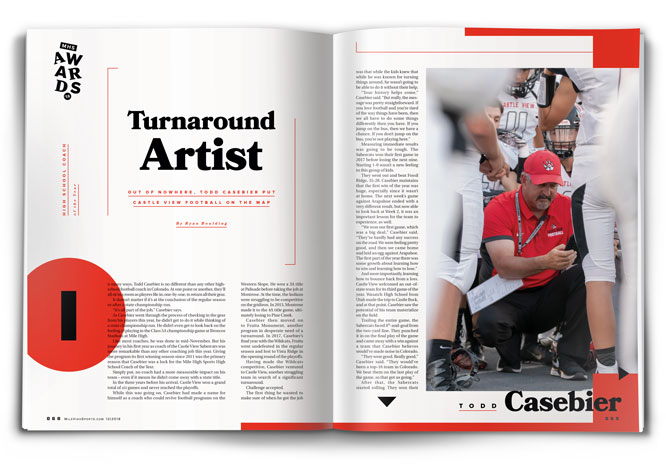 Casebier's arrival resulted in what can only be described as a complete turnaround. Even when he first arrived and started putting the team through workouts and going to camps, he saw that his kids were capable of success at that level. He and his staff were just determined to get them to buy into the work that needed to be done in order to generate positive results. They started seeing progress in those lopsided wins, because they weren't lopsided the entire time.
"Where we saw the progress in these games is that it would be tied at halftime," Casebier said. "Sometimes, we would even be down. That mid-third quarter is when our offense was able to physically take its toll, and that's how we took games that were close and win them by two or three scores in some cases.
"We were pounding people."
And like a true coach and a true builder of a program, his focus wasn't just on the varsity team. Casebier put every bit of emphasis on his junior varsity and freshman teams as he did the varsity. The results showed at those levels ,as well.
"We took a group that was 1-9 as freshmen and made them 7-3 as a JV team," he said. "Our freshmen went 6-4, but they didn't get hammered by anyone other than Valor. You feel good, because there's progress at all levels. It's not just about your varsity. All three levels were making strides, and that's what you want to do. Nobody wants to be a one-year wonder."
Casebier has never been a one-year wonder. He takes his time, he builds a foundation and he brings success to any program he touches.
At the conclusion of the 2018, he was like every other coach in that he sat in a room and checked in jerseys and equipment one player at a time.
The difference with Casebier is that he had a greater impact on those players than any other coach in the state.
***
FINALISTS
Josh Ulitzky
Grandview
Girls' basketball
All that was asked of Josh Ulitzky was to lead his team to another Class 5A girls' basketball title after his star player graduated and took off for UCLA. He accomplished that task, and did it in an impressive manner. The only in-state loss the Wolves suffered was a 53-51 thriller to Regis Jesuit. Grandview would get a shot at redemption, and it came in the state championship game. Ulitzky made the necessary adjustments, and the Wolves won their second-straight championship.
Michael Rogers
Grandview
Boys' Basketball
There was a long list of reasons why Grandview wasn't going to win the 5A state basketball title last year. Heck, they didn't even win the Centennial League. Losses to Smoky Hill, Eaglecrest and Overland gave pundits plenty of excuses to lean toward Rock Canyon or George Washington. Michael Rogers ignored the naysayers and had his boys playing their best basketball at the right time. The result ended in the first basketball championship for the Grandview boys and a program sweep on championship Saturday.
Casey Miller
University
Baseball
A 21-year drought is unacceptable when it comes to baseball at University High. The Bulldogs entered the 3A baseball tournament as the No. 3 seed, but quickly put themselves in the driver's seat heading into the second weekend. After losing to No. 1 Lamar on Friday, Casey Miller's team responded with a 21-1 beatdown of the Savages in the state championship game, giving University its first baseball title since 1997.
***
*For more from Mile High Sports Magazine, subscribe here!