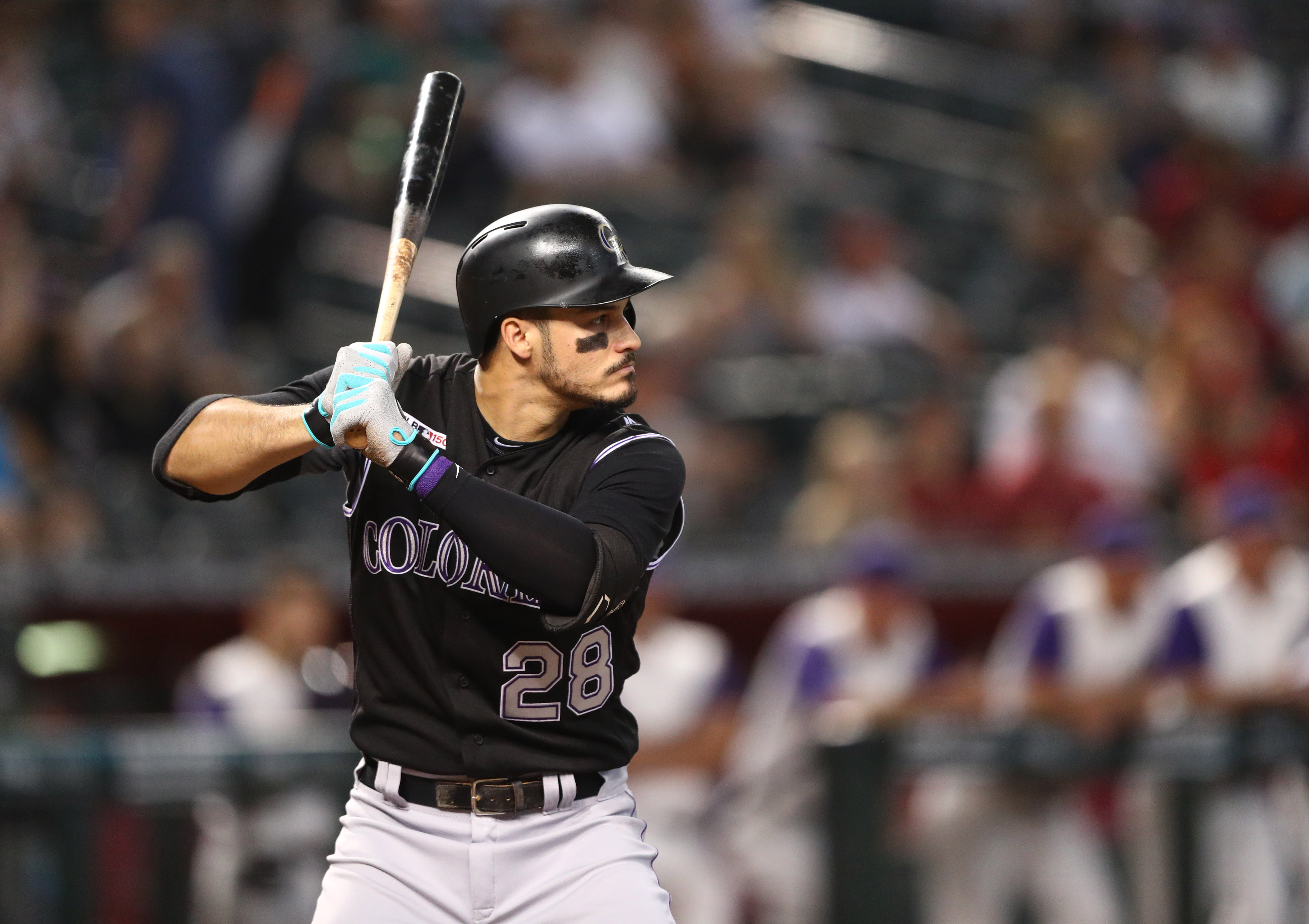 The Colorado Rockies' time for reflection has come. A rocky start has given way to an offensive surge, rivaling any run in franchise history.
At 44-40, those results have bypassed last year's mark at the same point. The bullpen has been a travesty recently, costing them even more chances to increase their odds of a playoff berth.
Ahead, the Mile High Sports' staff takes a look at overlying questions stemming from the club's opening half and looks ahead to the pivotal second-half stretch.
1. Who's your Rockies' MVP so far?
Aniello Piro: While Nolan Arenado and Trevor Story have been fantastic for the team this season, I feel like Charlie Blackmon has been the club's most valuable player. After starting the season off on a sour note, Blackmon has evolved into one of the best hitters in the sport, owning the league's highest batting average since April 18.
Additionally, Blackmon has been an ideal table-setter atop the Rockies' lineup this season and has been instrumental in the club's recent success.
Nate Lundy: To me it has to be either Jon Gray or German Marquez. With Kyle Freeland's struggles, this team could not afford to have another "go-to" starter fail them. If either had found themselves in a rut like Freeland, this team would be dead.
Ronnie Kohrt: Arenado has been special and quite frankly, you could name him the MVP every year, but another special year from Charlie Blackmon can't go unnoticed. Blackmon's bat is alive and well, smashing his average well into the .300's and on-pace for nearly 40 home runs.
His bat sets the table out of the lead-off spot and allows guys like Story, Arenado and Dahl to flourish, and in clutch situations with RISP and two outs? His .380+ batting average is getting it done, to say the least. Arenado is their best player, make no mistake, but Blackmon deserves a lot of credit with so much pressure put on the lead-off role.
Luke Zahlmann:
 After a historic month of June, it's hard to argue that any player has provided more for the club than Charlie Blackmon.
As a leadoff dynamo, he's allowed Nolan Arenado, Trevor Story and others to thrive behind him, a key to the club's run-scoring efforts. He's currently on pace to break his previous career-high in hits, RBIs, batting average and slugging percentage.
At the ripe age of 33, Blackmon may be having the season that will be placed in Rockies' lore after his career comes to a close. For the Rockies, they'd hardly be afloat without it.
2. Can the Rockies nab a wild-card spot?
Piro: I do think the Rockies can snag a Wild Card spot; however, when it is all said and done, I think Colorado will be on the outside looking in.
There are a few reasons for this, but most notably, the Rockies lack of depth is a major issue. Just two of the original five arms the Rockies opened the season with, in the starting rotation, remain and the club has seemingly exhausted all of their other options. Colorado is currently rolling with Chi Ch Gonzalez and Peter Lambert at the backend of the rotation, and I do not know if that combo will hold up over the course of the season.
Should the Rockies address their pitching staff, and say, add an arm or two at the deadline, my perspective will likely change.
Lundy: Can they? Yes. Will they? Right now my gut says no.
The "glass half-full" people will say that they are still in a good position despite all the injuries. But for me, those people are acting like if you get through these injuries that no other injuries will happen. And that's just not sports. Injuries are not finite. Just because you've had two or three doesn't mean the baseball gods are done with you. And they need the 2018 version of Kyle Freeland and I'm not sure where that guy is right now.
Kohrt: Absolutely. For as bad as the season has gone, the Rockies are actually in a pretty solid position. Well within striking distance of the wild card, the Rockies have endured injuries to major positions, their 'ace' in Kyle Freeland having the worst year you could possibly imagine and yet, still hanging in there at the halfway point. I fully expect Colorado to contend well into September and eventually, snag a wild-card spot.
Zahlmann: As I wrote over the weekend, I think that the Rockies are perfectly placed to snag a spot in the Wild Card matchup once again this year. Within the National League East, each club is limiting the win totals for one another.
With the Cubs, Brewers, Cardinals and Pirates all holding each other back, the Rockies are in prime position to take advantage. Once the Giants decide to sell, the club from 20th and Blake will once again have an easier path to division wins as well.
The only problem for the Rockies is seeding. If they are forced to go on the road once again in the play-in game of the playoffs, the results will likely be negative.
3. Who will be the key to the second half?
Piro: I think Jon Gray is the key to the second half this season. Gray has been the Rockies best pitcher throughout 2019 and he will need to continue to perform at a high level should the club want to remain in the postseason conversation. Gray has pitched to a 9-5 record to pair with a 3.84 earned run average and has looked like a completely different pitcher this season. Gray's secondary pitches have been electric and his fastball has remained crisp.
With Kyle Freeland's struggles this season, Gray has stepped up, along with German Marquez, to form a solid 1-2 punch at the top of the rotation. Bud Black spoke about how he's excited to see what Gray does in the second half based upon his performance through the first 81 games. At one point, Gray was tabbed as the future of the Rockies' rotation and he is showing why he was previously garnered with such praise.
Lundy: Johnny Bullpen. I'm serious. It's not one guy. It's the entire bullpen. This team is going to score runs and will continue to be in most games. But as we all know, you can't score eight, but give up 10. The bullpen MUST stop letting teams back in the game and then praying that the offense can bail them out.
Kohrt: I'm going to name the entire starting rotation because they're always the key to Colorado's success or failures. If Colorado can get average starting pitching, they'll win many games. Anything better is gravy, but it starts and stops with the starting rotation. We know this team will hit and the bullpen will go through ebbs and flows, but the starting pitching has always been the live-or-die needle that sways for Colorado year after year for better, or worse.
Zahlmann: The man who was the key to the club's run last year: Kyle Freeland.
He has been plugging away in Triple-A Albuquerque, working on adjustments to get back on track. In his stead, the Rockies have relied on Chi Chi Gonzalez, Jeff Hoffman and Peter Lambert. As the season stretches on, that trio figures to wear down.
Freeland is unlikely to replicate his numbers from his fourth-place finish in the NL Cy Young race last year. Inching back to serviceable, as an addition to the duo of Jon Gray and German Marquez, could actually serve to make the club's rotation more sturdy than last year.
The offense will continue to hum, while the bullpen serves as a roller coaster ride. Without a third starter to throw in a five-game playoff series, it will end up being all for naught.