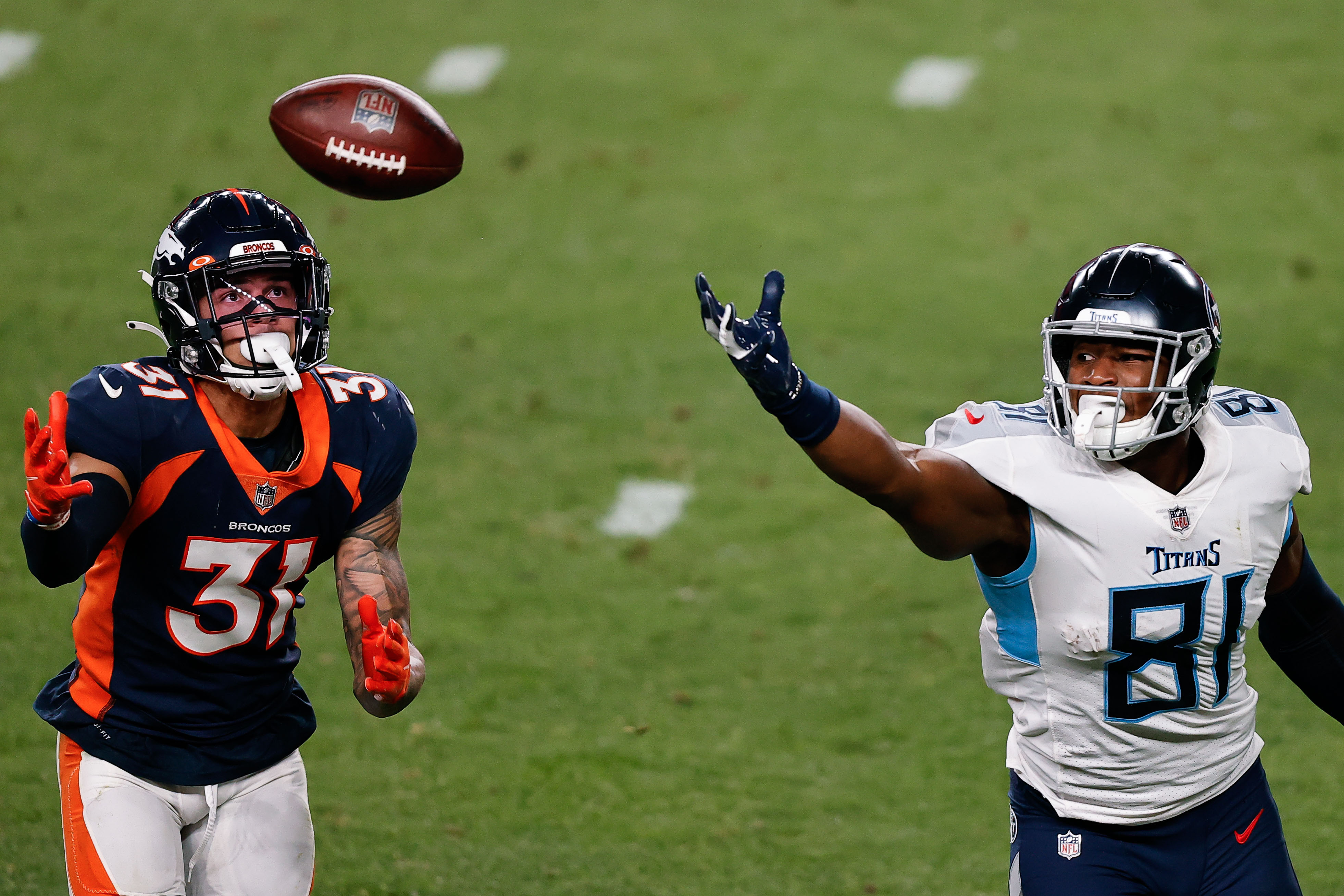 The Broncos have their backs up against the wall as they sit at 0-3. It seems like every day, word comes out yet another player has suffered an injury that will remove him from the team for several weeks, if not the rest of the season. Can this depleted Broncos roster get their first victory of the season against the Jets?
On a 1-10 scale, how confident should Broncos Country feel about getting their first win this week?
Nate Lundy (@NateLundy): Am I allowed to use negative numbers? Adam Gase may get fired if he loses on Thursday night so I fully expect the Jets to throw everything and the kitchen sink at Denver.
Doug Ottewill (@Dottewill): 2. Road trips to the east coast rarely go well for even some of the best Broncos teams. And this team is not one of those.
Ronnie Kohrt (@RonnieKRadio): More confident than any other opponent on the schedule, but not confident regardless. A strong 4 at best.
Zach Segars (@Zach_Segars): 7. Yes, they've suffered a ludicrous amount of injuries, and yes, Brett Rypien is starting at quarterback, but the Broncos are better everywhere else on the roster and the Jets' coaching staff might be the worst in the league.
Rich Kurtzman (@RichKurtzman): About a 2. Yes, the Jets are awful. They may be the only team worse than Denver in the league. But, the Broncos are so inept offensively, even a win this week is far from guaranteed.
If you're the Broncos, how bad do things have to get for you to consider moving off Fangio and/or Lock, or are you already there?
Nate Lundy: I'm willing to accept what injuries, especially to your key players, does to a season. But, this season is a loss and they should be deciding now what they will do with the #1 overall pick. And yes, if they get it they should take Trevor Lawrence.
Doug Ottewill: If the Broncos don't make the playoffs – and they won't – I think there's enough evidence to suggest that Fangio is not really head coaching material. Yes, he's been handed a tough hand, but he's never helped himself either. As for Lock, he needs to show us one of three things: He can play, he can't play, or that he's too injury prone to depend on. I can't show Lock the door just yet, but if he can't get back on the field, and the Broncos are terrible, I'm definitely open to taking a quarterback with a high draft pick.
Ronnie Kohrt: No. Denver should not be moving away from either because injuries happen and neither are to fault for that. This is a conversation to reopen later in weeks 12-14.
Zach Segars: If the Broncos have a top 5 pick come season's end, both should be on the hot-seat. Lock will have a shot to right the ship in the second half of the season, and if he's unable to do it, everything should be on the table. If Fangio loses on Thursday night to less-talented roster coached by Adam Gase though, his seat might become toasty earlier than expected.
Rich Kurtzman: The Broncos would have to go 0-16 to move away from either of those two. Luckily, Denver isn't quite that bad. Lock hasn't been given a full shot yet because he's injured himself twice. Let's see what he can do in the second half of the season. As for Fangio, he's building something here and, with or without all these injuries, he needs to be given one more year at the least.
What is the biggest key to a Broncos victory this week?
Nate Lundy: The best way for the Broncos to catch a win is to force Sam Darnold into mistakes. He had 3 interceptions last week and the entire team looks out of whack. The Broncos may have just enough left on defense to do it again this week.
Doug Ottewill: Being "less bad" than the Jets. That sounds like a cop-out answer, but it's not. Neither team is good. Neither team is going anywhere. So, competency could be all it takes to win. Don't turn the ball over. Don't give up big plays. That's really all it should take. This might be the worst nationally televised game the Broncos have ever been a part of – they basically just need to be the least embarrassing team on the field.
Ronnie Kohrt: Move the ball on offense. Cliche, but they need points and badly. It'll start in the trenches and work it's way outside.
Zach Segars: Give Brett Rypien a little bit of time. Denver's quarterbacks have been under constant pressure the last two weeks. To give Rypien a chance, they have to play better.
Rich Kurtzman: Scoring points. The offensive line has been awful — outside of Garett Bolles who's finally improved — and they've nearly gotten two QBs killed back there. New QB Brett Rypien needs to be given some time to find open receivers and make plays. The Broncos' defense should be able to stop the Jets; can the offense score enough to win?
Who will be Denver's player of the game?
Nate Lundy: Melvin Gordon. If there's ever a week that you need MGIII to turn back the hands of time and run like he's 24 years old again, it's this week.
Doug Ottewill: Call me crazy, but I'll go with Michael Ojemudia. New York will try to pick on him and if he's up for the task, an interception or two could win the game.
Ronnie Kohrt: Jerry Jeudy. I expect a big day from the rookie.
Zach Segars: Justin Simmons. He's been disappointing so far this season, but against a turnover-prone quarterback without a supporting cast of any kind, he should have plenty of opportunities to make big plays.
Rich Kurtzman: Bradley Chubb. Chubb has been quiet this year and following Shaq Barrett dominating and then imitating his sack dance, Chubb should be hungry this week to prove he's also a baller.
What's your score prediction?
Nate Lundy: Jets-20 Broncos-17
Doug Ottewill: Jets-16 Broncos-13. And if there's a late field goal from either team I'll already be asleep.
Ronnie Kohrt: Broncos-20 Jets-17
Zach Segars: Broncos-20 Jets-10
Rich Kurtzman: Broncos-9 Jets-3