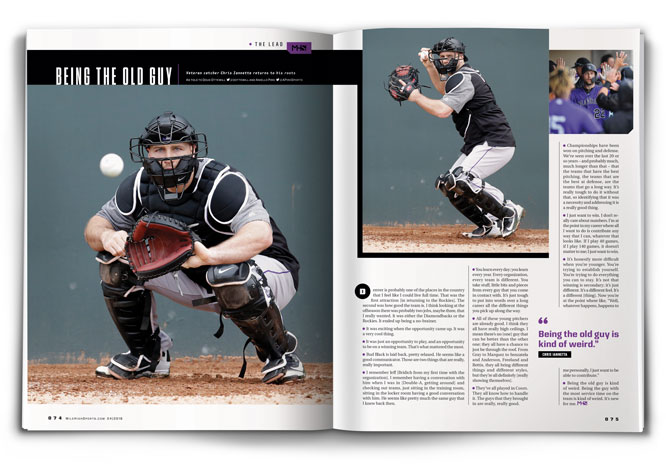 This story originally appeared in Mile High Sports Magazine. Read the full digital edition.
Each month Mile High Sports Magazine sits down with an important figure in Colorado sports. For March, Doug Ottewill and Aniello Piro spoke with Colorado Rockies catcher Chris Iannetta, who this offseason returned to the team that drafted him in 2004.
***
On signing with Colorado as a free agent this offseason…
Denver is probably one of the places in the country that I feel like I could live full time. That was the first attraction [in returning to the Rockies]. The second was how good the team is. I think looking at the offseason there was probably two jobs, maybe three that I really wanted. It was either the Diamondbacks or the Rockies. It ended up being a no-brainer.
It was exciting when the opportunity came up. It was a very cool thing.
On the biggest reason he signed…
It was just an opportunity to play, and an opportunity to be on a winning team. That's what mattered the most.
On Rockies Manager Bud Black…
Bud Black is laid back, pretty relaxed. He seems like a good communicator. Those are two things that are really, really important.
On memories of General Manager Jeff Bridich from his first stint with the Rockies…
I remember Jeff [Bridich from my first time with the organization.] I remember having a conversation with him when I was in [Double-A, getting around] and checking out teams, just sitting in the training room, sitting in the locker room having a good conversation with him. [Now] he seems pretty much the same guy that I knew back then.
On what he learned in his six seasons after leaving Colorado…
You learn every day; you learn every year. Every organization, every team is different. You take stuff, little bits and pieces from every guy that you come in contact with. It's just tough to put into words over a long career all the different things you pick up along the way.
On the Rockies young starting pitchers…
All of these young pitchers are already good. I think they all have really high ceilings. I mean there's no [one] guy that can be better than the other one; they all have a chance to just be through the roof. From Gray to Marquez to Senzatela and Anderson, Freeland and Bettis, they all bring different things and different styles, but they're all definitely [really showing themselves].
On the new arms in the bullpen…
They've all played in Coors. They all know how to handle it. The guys that they brought in are really, really good.
On the keys to competing for a championship in 2018…
Championships have been won on pitching and defense. We've seen over the last 20 or so years – and probably much, much longer than that – that the teams that have the best pitching, the teams that are the best at defense, are the teams that go a long way. It's really tough to do it without that, so identifying that it was a necessity and addressing it is a really good thing.
On his personal goals for 2018…
I just want to win. I don't really care about numbers. I'm at the point in my career where all I want to do is contribute any way that I can, whatever that looks like. If I play 40 games, if I play 140 games, it doesn't matter to me; I just want to win.
On the challenges of being an older player vs. a younger player…
It's honestly more difficult when you're younger. You're trying to establish yourself. You're trying to do everything you can to stay. It's not that winning is secondary; it's just different. It's a different feel. It's a different [thing]. Now you're at the point where like, "Well, whatever happens, happens to me personally, I just want to be able to contribute."
On being the oldest player on the team…
Being the old guy is kind of weird. Being the guy with the most service time on the team is kind of weird. It's new for me.