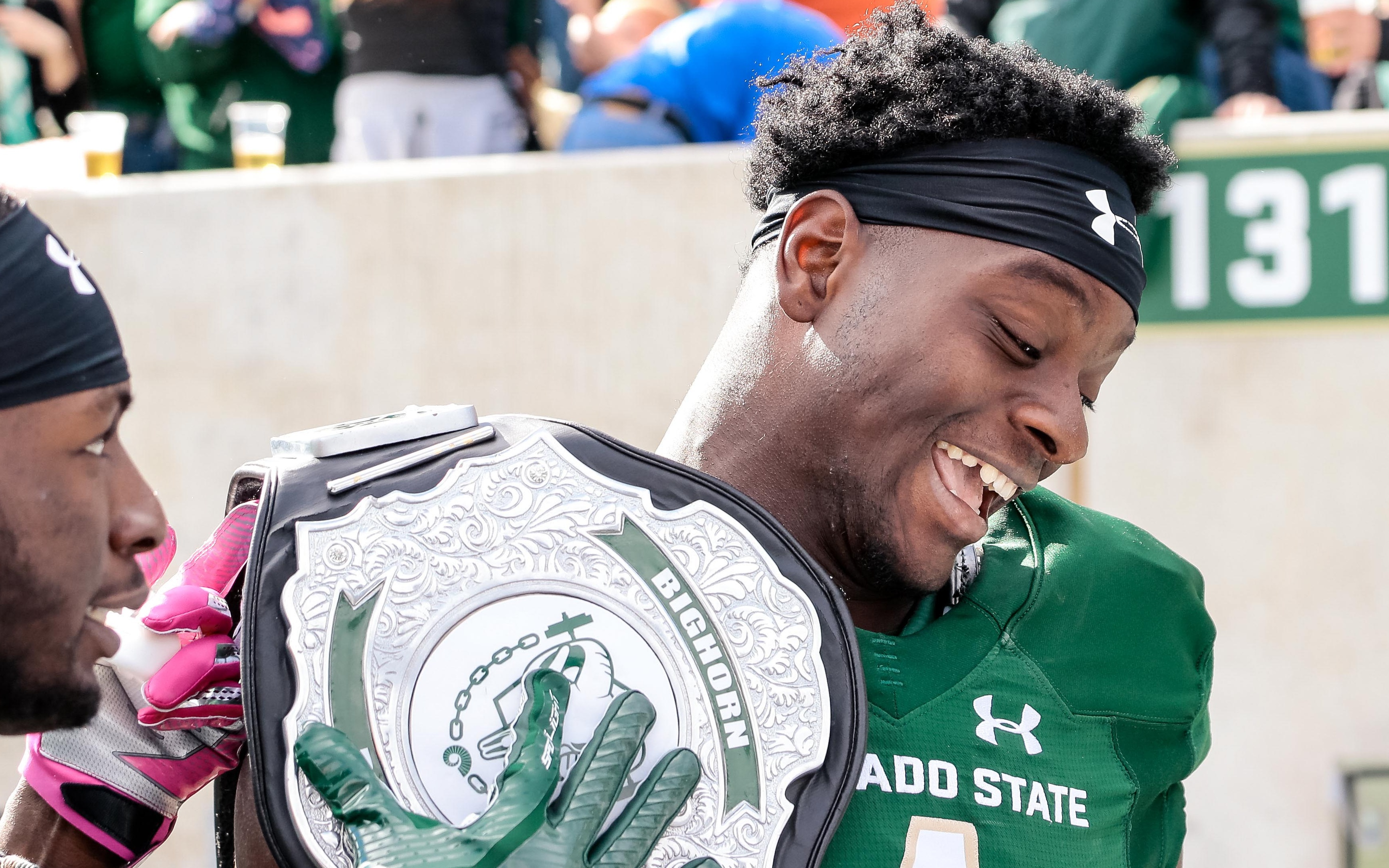 Congratulations are in order for Mr. Michael Gallup, the humble, smiley star from Colorado State.
The "Galluping GOAT" was drafted No. 81 overall in the third round on Friday night by the Dallas Cowboys, a team who had great interest in Gallup in the months leading up to the NFL Draft.
Gallup's journey to the NFL is nothing short of spectacular, as an adopted child and a young man who had to take the junior college route before getting a chance to play at Colorado State. When he did get his opportunity at CSU, his rawness was evident, both in practices as well as during games.
Of course, the Rams playing three different quarterbacks in the first two games of the season likely didn't help Gallup's development either, but he did finally start catching onto the D-I level of play about halfway through his junior year.
From then on, Gallup took a giant leap, from raw JUCO player to elite, Belitnikoff Award finalist, in only a year and a half. His rise was meteoric, and his big-play ability was out of this world. It took the tall, strong receiver until Week Six of the 2016 season to see his first 100-yard receiving game. But from that point forward, he had 100-yard performances in 11-20 games to end his career as one of the greatest receivers in Rams history. Three of those were 200-yard games, and he also had three games with three touchdowns.
Gallup finished with 2,690 yards and 21 touchdowns in a mere two years at Colorado State, becoming more defined in his route running while taking on a leadership role with the team as a senior, too. If it weren't for a few drops in the end zone, as well as many over and under-thrown balls all season long, Gallup likely would have enjoyed an even greater senior season and possibly would have won that Belitnikoff Award.
Dallas recently cut ties with longtime stud receiver Dez Bryant, and along with Gallup, the Cowboys drafted three receivers this year. All told, there are nine receivers on the roster for the Cowboys, including Cole Beasley, Terrance Williams and the addition of Allen Hurns from Jacksonville.
Simply, Gallup will have to compete to earn a spot on the field with Dallas, but everyone who watched him the last two years in the green and gold know he's ready to impress at the NFL level.
Gallup's biggest fan, Lance Krisl's son, was sure excited to see the Rams star drafted:
Been waiting all night in his @mg4dontplay jersey for this moment! pic.twitter.com/ijZosUGwPZ

— Lance Krisl (@bvp4mvp) April 28, 2018
Notes: Many other Rams were invited to NFL camps or offered contracts and UDFAs. Wide receiver Detrich Clark signed with the Atlanta Falcons, lineman Zach Golditch signed with the LA Chargers and long snapper Trent Sieg signed with the Baltimore Ravens. Lineman from 2016 Nick Callender was invited to Seattle Seahawks camp. Offensive lineman Trae Moxley will compete at Arizona Cardinals camp while quarterback Nick Stevens will compete at the Washington Redskins camp. Also, center Jake Bennett has been invited to the Tampa Bay Buccaneers' rookie camp per Mike Brohard.
What up big bro! Coming to see my guy!

— Nick Stevens (@stevens7nick) April 29, 2018