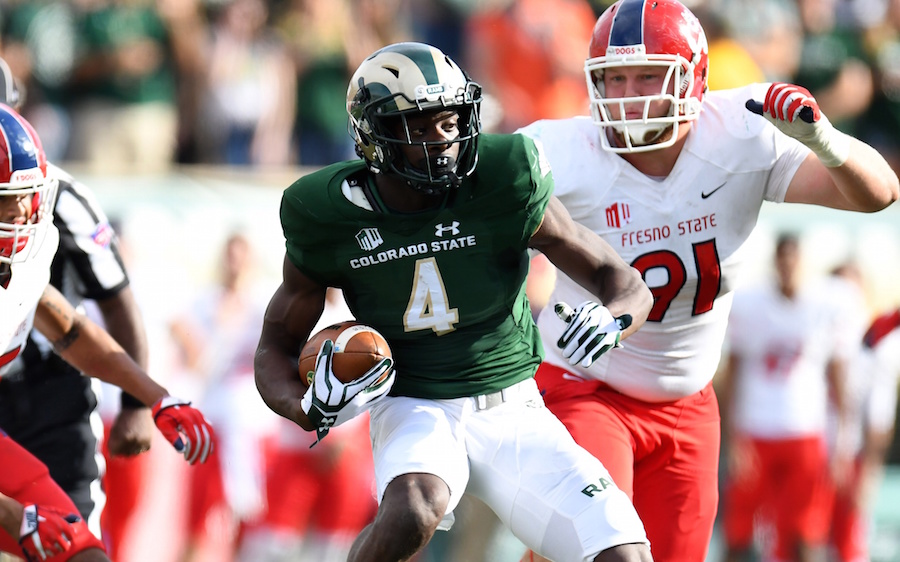 After finishing the 2017 football season with a 7-6 record, the Colorado State Rams have seen some of their players declare for the NFL Draft — but only one of them was invited to the combine: star wide receiver Michael Gallup, who finished the 2017 season earning first-team All-Mountain West accolades with 76 receptions for 1,272 yards and 14 scores.
The last time a player from Fort Collins was drafted was in 2016, when wide receiver Rashard Higgins was selected in the fifth round by the Cleveland Browns. During his combine appearance, Higgins performed admirably, running a 4.64 40-yard dash, doing 13 reps at the bench press, a 32-inch vertical jump and a 116-inch broad jump, giving him a 5.48 combine grade out of 10, according to nfl.com.
In his second season with the Browns, Higgins saw the field much more often than his first, finishing with 27 receptions for 312 yards and two touchdowns. These numbers don't overwhelm, but Higgins was tied for most receptions by a wide receiver on the team and was only a few yards shy of the most receiving yards as well. Until the Browns figure out the quarterback position, they don't know what they have in Higgins, but it's evident that he deserves to be on the field.
On Gallup's combine day, he ran a 4.51 40-yard dash, did 10 reps at the bench press, logged a 36-inch vertical jump and a 122-inch broad jump — good for a 5.72 combine grade, slightly better than Higgins'. In a draft filled with talent, these numbers didn't blow anyone away, but do suggest that he has the ability to be an NFL starting wide receiver as soon as this season, with the capability to improve with some more fine tuning.
With numbers better than Higgins and a 6-foot-1, 205-pound build, NFL teams can expect Gallup will at least match Higgins' skill and success and become a viable option as a number one or two wide receiver.
Michael Gallup 40 time: 4.52 pic.twitter.com/epdjMupuc1

— Cameron DaSilva (@camdasilva) March 3, 2018