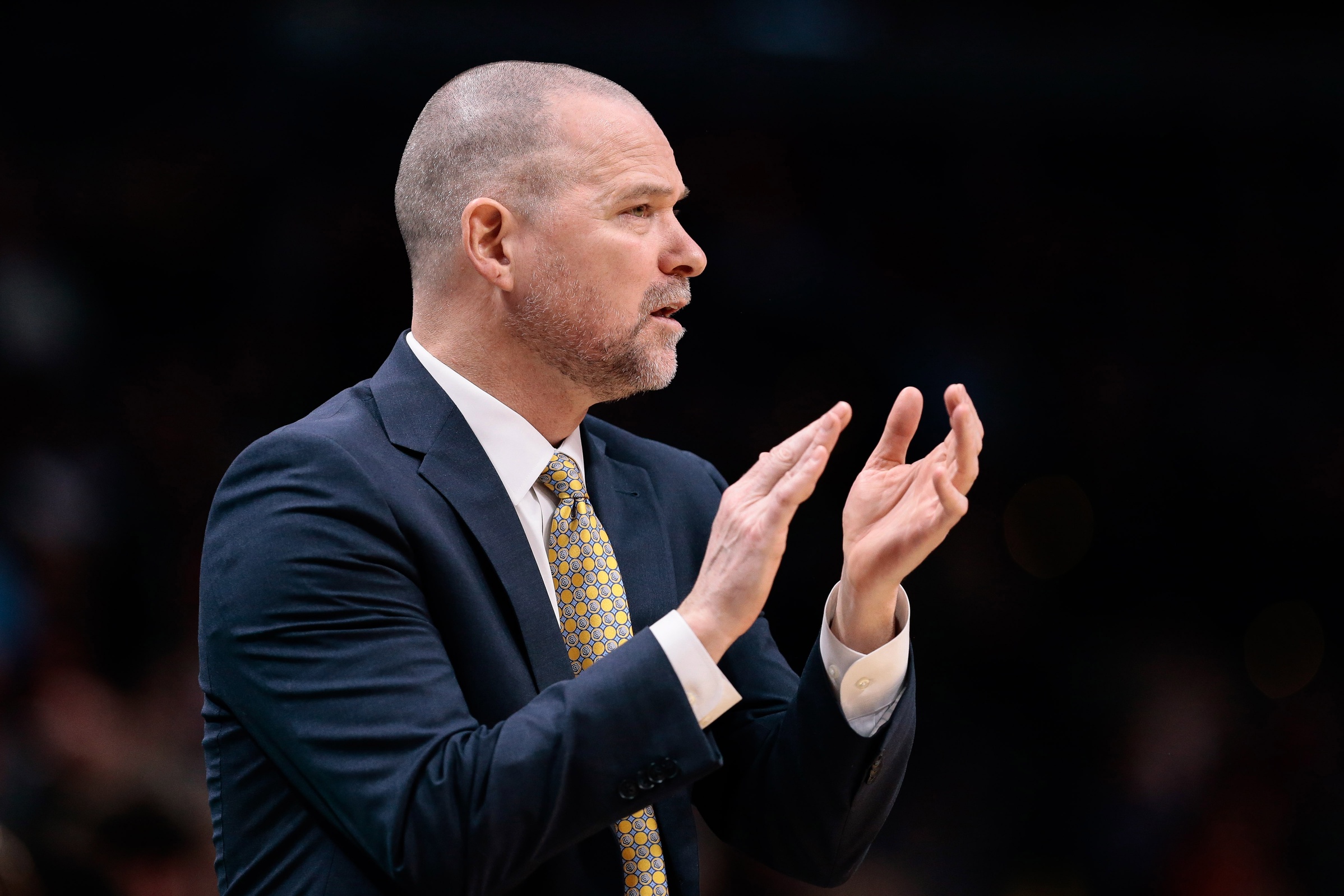 The Denver Nuggets are riding high following a thrilling 127-124 victory over the Oklahoma City Thunder on Thursday night that featured a game-winning, buzzer-beating three from Gary Harris. It was a much-needed win; one that followed two heart-breaking losses to Boston and San Antonio on consecutive nights.
This stretch has been an emotional roller-coaster ride for the Nuggets; two heart-breaking losses against top teams that featured poor late-game execution, and one brilliant finish to what was one of the most entertaining games of the year.
Their reward for three taxing, yet impressive, performances in a row? A date with the defending champions, the Golden State Warriors.
"It should be easy," Michael Malone joked with the media after shoot-around today. "They're fried, obviously, (so it) should be an easy game for us."
He was kidding, of course, but perhaps keeping the mood light is all one can hope to do when facing such a brutal stretch of the schedule.
"I don't think anyone has played a tougher schedule than us," Malone confessed. "But we've never looked at it like, 'oh my god, what are we going to do?' We've got NBA players man, we've got guys with pride who play hard, and they've met the challenge."
That was the theme of today's shootaround: staying positive through adversity; acknowledging the challenges they face, but refusing to make any excuses.
"Obviously, January was an up-and-down month for us," Malone said. "We played really well at times, other times we struggled, but through it all — I think myself, all the way down the players — we never let negativity (seep in)."
The team is aware of what they've had to overcome and what lies ahead in the coming weeks, but they won't be throwing themselves any pity parties — nor will they allow themselves to unravel in such a crucial part of the season.
"We're not going to start fraying at the seams here because we lost a couple games or we are in a tough patch," Malone explained. "Every team goes through it. The best teams in the NBA to the teams that are at the very bottom of the NBA; you're going to hit adverse situations. How do you handle it? I think by staying together; by staying positive and by communicating with each other."
That's something that this team has managed to do — at least according to Malone. He made that clear when he was asked about Thursday's win being his 100th victory as the head coach in the Mile High City.
"100 wins doesn't mean much. I'm more worried about the big picture, the direction we are headed in. That's what excites me," Malone said when asked about the milestone. "When you have a locker room full of players that have genuinely bought in and come to work every day with the right attitude and mindset. I love where we are headed, and I hope to be here to see this team kind of come together."
Malone has overseen the growth of a particularly young core for almost three full seasons now. While the Nuggets have failed to make the playoffs under his leadership, they've developed and grown each and every year.
"Three years ago, when I first got here, I was taking over a team that had not been playing well," Malone said in the scrum. "So, you come in here, you try and instill a culture and change things around. I think we've done that."
Given the lofty expectations for Denver and the mixed results they've seen so far, Malone's job security has entered the national conversation. Questions of his ability to help this team turn the proverbial corner have permeated the NBA Twitter-verse and it's no secret that he faces relative pressure to get this team into the playoffs.
That's what made Malone's comments about the state of his team so poignant. He stressed that the future remains bright, no matter how frustrating the present may be, and made it clear that he'd like to be a part of that future.
"When you think about what we have potentially in the making," Malone reflected. "I'd love to be here to see that through, because of who they are, the talent that they have, and how much joy I get from working with them."
Malone's team may have bought in, but his status as this team's head coach is contingent upon positive results — not just a positive attitude.
Denver will have their work cut out for them as they try to get their coach win number 101 against a full-strength Warriors team on Saturday night. That game tips off at 7:00 pm MT.