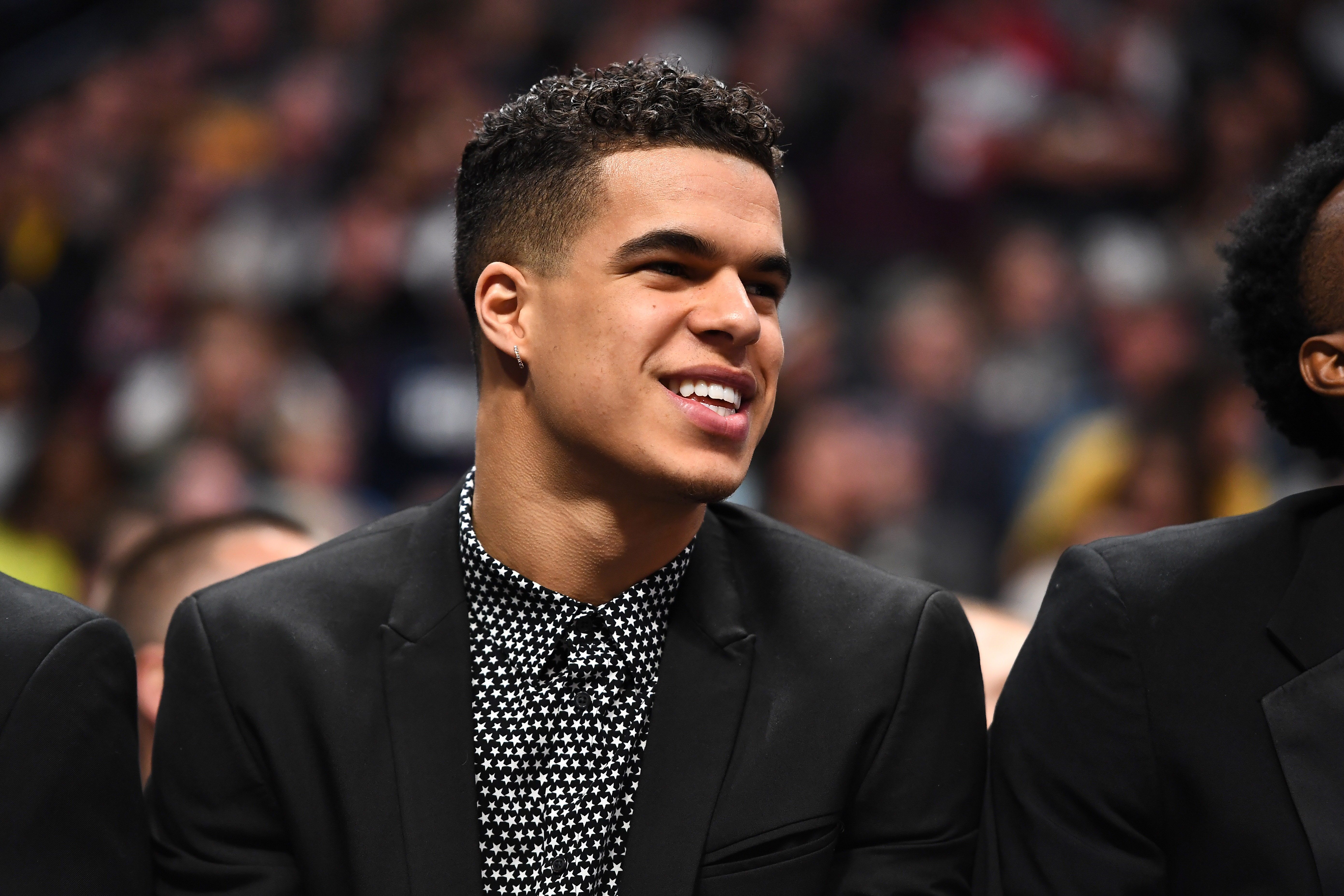 It took 571 days before Michael Porter Jr. was finally able to play organized basketball for the first time since the final of his three collegiate games at the University of Missouri so, naturally, there was a lot of hype surrounding the NBA debut of the former second-ranked high school basketball player in the nation.
As the preseason battle between the Denver Nuggets and Portland Trail Blazers began, many fans were watching the Nuggets bench waiting to see when Porter Jr. was going to get up off the bench and go to the scorers table to check in for his very first time as a NBA player.
Unfortunately, Denver Nuggets head coach Michael Malone had different plans. The entire first half came and went without Porter entering the court which left many people confused.
When Porter Jr. finally entered the game, there was four-and-a-half minutes remaining in the third quarter. After traveling calls on back-to-back possessions, Porter Jr. finally got his first true possession with the ball in his hands and he did not disappoint.
Once Porter Jr. saw Jerami Grant get the ball on the wing, he came sprinting to the ball to run a dribble handoff. Thanks to Grant's screen, Porter Jr. got Zach Collins switch onto him and Porter Jr. saw his opportunity.
He sized Collins up, used an in-and-out dribble with his left hand to get Collins on his heels, stepped back to create space, and drilled his first career NBA jump shot.
At six-foot-10, Porter Jr. is a matchup nightmare because of his ability to play like a guard. Very few players his size have the coordination and skill level to size up a seven-footer and hit a jump shot that tough over him with ease.
Still, Porter was just getting started.
All the way back on media day — the first day of the year that media gets to interview the team, head coach Michael Malone, and president of basketball operations Tim Connelly — Malone said that Porter Jr. needed to buy in on the defensive end of the floor.
Porter has never been known as a dedicated defender, but in his first preseason game, his effort and mental engagement on defense was evident.
Most rookies struggle defending when off the ball more so than on the ball. It is incredibly easy to either ball-watch or lose focus when not involved in the play, but Porter Jr. showed constant awareness on defense even if he was a step or two slow reading the play.
Porter Jr. has fantastic height and length which gives him the ability to be extremely disruptive on defense. While Porter Jr. is undoubtedly still learning the ropes on defense, plays like this show how bought-in he was on defense in his debut.
He is defending Mario Hezonja off the ball, but is making sure he is keeping a close eye on Anfernee Simons as the play develops. Porter Jr. never strays too far away from Hezonja, but also is making his presence felt as Simons looks to probe the defense.
Then, once Simons commits to the drive, Porter Jr. comes from behind Simons to contest the shot which makes the attempt even more difficult. Once the rebound is collected, Porter Jr. is already off to the races. His end-to-end speed catches Portland off-guard and he draws a foul despite his wild layup attempt.
Yes, the layup attempt was beyond ill-advised, but it's the intention that is important. Porter Jr. was able to help force a stop on defense and quickly got out in transition. If Porter Jr. is constantly able to put that kind of pressure on defenses in transition, it is going to make the Nuggets even more difficult to defend.
In addition to Porter Jr.'s effort on defense, he also worked hard in another facet that Malone had mentioned — rebounding.
Yes, Porter only finished with three rebounds in 16 minutes of action, but his effort cannot be faulted. He made a point to attack the glass on offense and defense.
In the clip above, Porter Jr. once again gets out and fills a lane in transition. Once he gets the ball, he attacks the body of his defender looking to either score through him or draw a foul. Yes, he misses the shot, but he stays in the restricted area and fights for a potential offensive rebound.
Even though he was not able to corral the offensive rebound, his presence gave the Nuggets an opportunity for a second possession (which they got anyway from Jerami Grant).
So long as Porter continues to involve himself on the offensive glass, he will eventually find success due to his athletic ability, height, and length.
Porter Jr. was also able to show off the rest of his offensive skill set and reminded people that he is much more than just a shooter.
In the clip below, Porter Jr. grabs the uncontested rebound and elects to push the ball up the court himself. This is where he becomes especially menacing because if Denver can push off of a missed shot quick enough, they can create mismatches in mid-transition.
In the play above, Porter manages to get Nassir Little — who is six-foot-six and four inches shorter than Porter Jr. — to pick him up and Porter Jr. immediately takes him down to the baseline. From that point forward, Porter Jr.'s length and shooting touch is just too much to contend with for Little. Despite playing strong defense, Porter Jr. makes the baseline jumper look easy before talking trash to the Trail Blazers bench on the way back up the floor.
Again, very few players who are six-foor-10 can grab a rebound, take the ball up the floor, create a mismatch, and nail a fading baseline jumper. That type of skill set is incredibly unique.
Even with all of the undeniable potential during Porter Jr.'s debut, there was still a few hiccups along the way.
Yes, Porter Jr.'s ability to the run the pick and roll at his size is fantastic, but despite his ability to get into the paint and finish through contact, there is a large issue with this possession.
Once Porter begins to drive into the teeth of the defense, Hezonja — who is guarding Juancho Hernangomez — cheats in looking to slow Porter Jr.'s drive to the rim which leaves Hernangomez wide open in the corner. Instead of making the easy pass to his right, Porter Jr. pump fakes and takes a tough and contested layup in between three Trail Blazers.
It is great to see Porter Jr. not shy away from contact, but unselfishness is a major aspect of the Nuggets offensive attack. Porter Jr. has to learn how to manipulate a defense, read who is open, and make the pass to an open teammate.
Porter Jr.'s issues did not stop there and no sequence was as rough as this one.
The first mistake Porter Jr. made was making a dangerous cross-court pass to Hernangomez, but he escapes that issue unscathed. Then, Porter cuts into the lane, but once he gets the ball he choses to take a tough fadeaway jump shot– that he misses — with 18 seconds left on the shot clock. As a cherry on top, Porter Jr. commits an unnecessary goaltend on the other end of the floor.
Those are the type of rookie mistakes that Porter Jr. is going to have to get out of his system, but that process can be slow. Porter Jr. has not played organized basketball in nearly two years. Rust manifests itself in plays just like the one above.
Regardless of everything else, the most important development of Porter Jr.'s debut was that he started the game healthy and finished the game healthy. Porter Jr. attacked the paint, rebounded the ball, and even threw down this run-out dunk in his 16 minutes of action.
Porter Jr. started the game healthy, stayed healthy, reminded everyone just how talented he is as a scorer, and also displayed a newfound dedication to the finer details on both offense and defense.
Overall, his debut could not have gone much better. If this is just the start of Porter Jr.'s growth as a member of the Nuggets, the future looks even brighter than many could have imagined.
Video credit to FreeDawkins YouTube page.