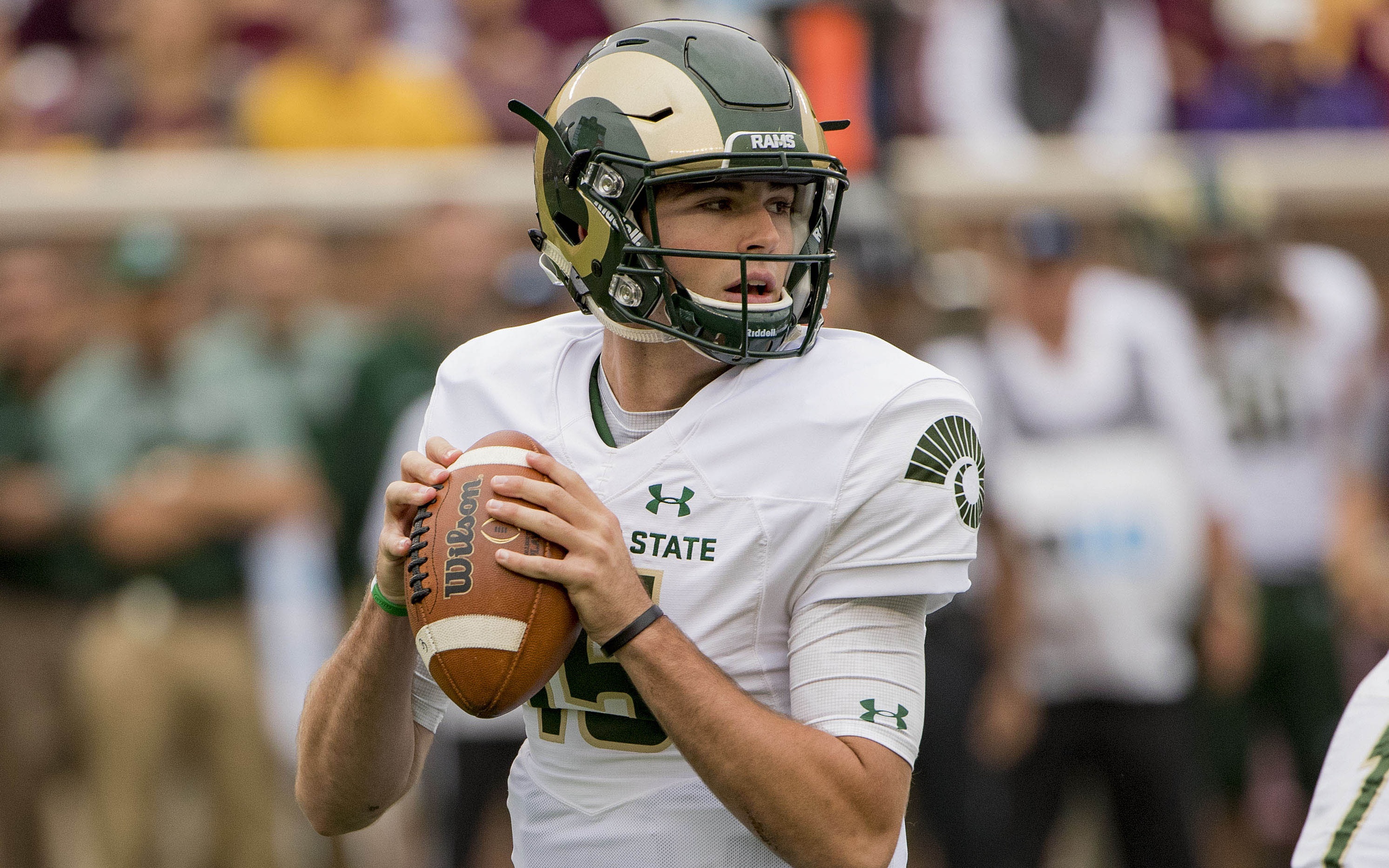 The good news is, Collin Hill is a determined, hard-working player for Colorado State.
The bad news, though, is that Hill tore his ACL for the second time in under two years in February while playing pickup basketball.
When that was announced by Rams head coach Mike Bobo during the National Signing Day presser, it seemed like there was basically no chance of seeing Hill on the field this year. But, as time has progressed, optimism about the quarterback taking the field this year has grown.
"Collin Hill is four months out (from his surgery)," Bobo said Tuesday in Colorado Springs per CSURams.com. "He had his checkup yesterday and is ahead of schedule. I'm excited to see where he is in three more weeks (when practice begins). We just have to determine, 'is he healthy enough to compete.'"
That's a huge first determination, which will be judged throughout the fall camp. That would put the Rams starting camp date near the end of July or beginning of August, about one month ahead of their "Week 0" season kickoff date of Aug. 25 versus Hawaii.
For the second straight season, the Rams scheduled a home game at Canvas Stadium one week before the usual, early September kickoffs. It's great for the team and the stadium, as CSU plays a home game to start their year instead of playing in Denver, against CU, to kickoff the year. But, that earlier-than-usual kick also means it's less likely the Rams will have their star quarterback in time for the season's beginning.
"I do think, at some point, he will be ready to play this season," Bobo explained. Which, is a positive update for fans, but also a more realistic expectation of "some point."
"He is a remarkable young man," Bobo continued. "I feel very disappointed for him, going through his second ACL surgery, but he has worked extremely hard. But it is good to have competition. I am excited about the competition in the room. We lost a very good player in Nick Stevens, with a lot of production and a lot of leadership in the room. We have to find production and leadership, and a lot of that is happening this summer with our guys with what they are doing on their own, but a lot will happen in fall camp before we play our first game."
Of course, during that same National Signing Day presser, Bobo explained they didn't recruit a quarterback this year. That ended up being somewhat a blessing in disguise, as Bobo was able to go out and land graduate transfer KJ Carta-Samuels, formerly of Washington.
"We were very fortunate to get (graduate transfer) K.J. Carta-Samuels (from Washington) to come to Colorado State," Bobo said via the team's official website. "We just kept recruiting him throughout the process, and, obviously when the injury happened to Collin Hill – just being totally transparent – it kind of helped us a little bit more to convince him to come to Colorado State. He's been on campus since May and done a great job with the guys."
Carta-Samuels has been on campus for nearly two months now, learning the offense and working to build chemistry with his teammates. Each are incredibly important as the season draws nearer by the day.
In all likelihood, Carta-Samuels will get the start in Week 0, and probably in the next few weeks after that, too. If he's excelling, it may be more and more difficult to bench him for Hill. If the transfer struggles, though, it may mean seeing Hill sooner in the season.
It's a massive bummer for Hill, who played his freshman year when Stevens and then-graduate-transfer Faton Bauta each struggled in 2016. Hill played well that freshman year — not perfectly, holding onto the ball too long at times — but then injured his ACL the first time in a win against Utah State.
He redshirted last year, Stevens' redshirt senior season, and was in-line to start in 2018. Since Hill's second ACL injury, the Rams signed Carta-Samuels and also signed Patrick O'Brien, formerly of Nebraska, who will be eligible in 2019.
So, next year is anything but guaranteed for Hill, as well.
Which is the reality at any DI football program; players aren't guaranteed anything, they have to work to get what they earn. But, it's still a sad situation for Hill, Bobo and the rest of Ram Nation who waited patiently last year and wanted to see Hill on the field again this fall, full-time.
Quarterback importance
We all know quarterback is the most important position in American sports for multiple reasons; they must know every teammate's assignment on every play, and they must throw the ball well. Plus, leadership is a needed characteristic, too.
But, the importance of having a skilled, consistent quarterback this season will be even more key for Colorado State, who possesses probably the most athletically gifted trio of wideouts in Rams history. Olabisi Johnson is a homegrown stud, while Warren Jackson and Preston Williams are physical freaks of nature, at 6'5″ and 6'4″ respectively.