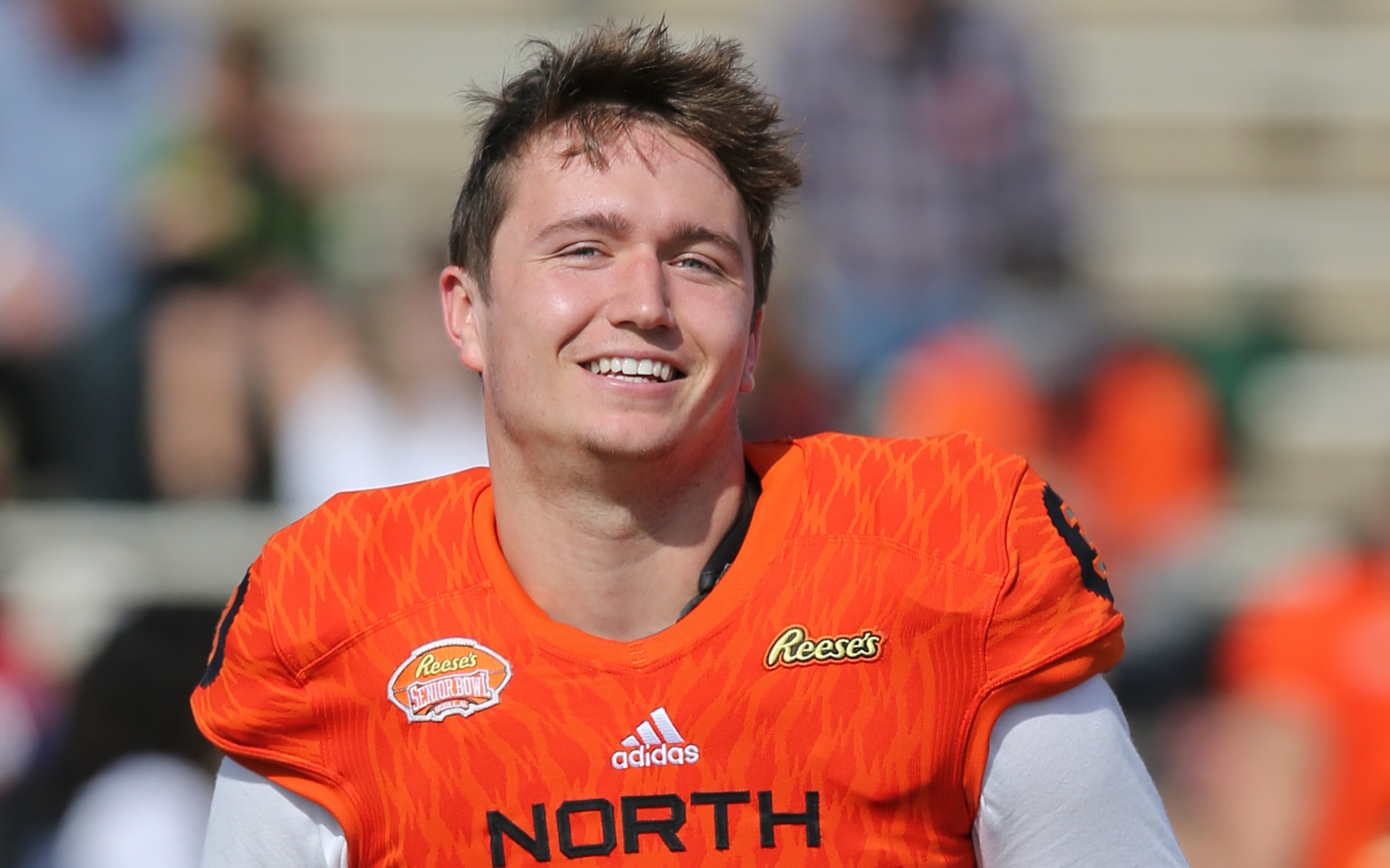 We are almost two months away from the 2019 NFL Draft, making it the perfect time to release our first mock draft.
This year's selection process will be a busy one for Denver Broncos fans, as the team is riddled with holes that need to be filled this offseason. Luckily they have seven picks to do so.
Neither Joe Flacco nor Case Keenum inspires much confidence as the quarterback of the future, and the defensive backfield is stacked with question marks, as is the offensive line. Meanwhile, Brandon Marshall, Domata Peko, Shaquil Barrett and Matt Paradis will most likely suit up for one of the other 31 franchises in 2019.
So, let's just dive in.
Round 1: 10th pick overall.
Drew Lock, QB, Missouri: This mock draft will focus on what we think the Broncos will do and not what they should do. Never will that be more evident than here. Drew Lock fits John Elway's preferred quarterback mold; an athletic quarterback with a live arm and stocky build. Lock is raw and will need time to fix his footwork, accuracy and develop behind Flacco.
Mike Leach on how accuracy is most-critical QB trait & biggest mistake HS through NFL coaches always make is pretending they can fix it. "You can go get the shortstop & teach him to play QB easier than you can make someone accurate." Starts :30 in: https://t.co/iAqiNwzkgL

— Evan Silva (@evansilva) February 15, 2019
He doesn't have the high-end upside, ceiling or athletic abilities to match raw prospects of the past like Josh Allen, Patrick Mahomes, Paxton Lynch or Carson Wentz. The comparison for Lock would be Jay Cutler, as they both have a well above-average arm, an awful tendency to throw off their back foot, and their measurables are almost identical.
Other Possibilities:
Devin White, LB, LSU: If the Broncos decide to kick the quarterback problem down the road until the loaded 2020 quarterback draft class, then Devin White would make tons of sense here. White is a quick, rangy and explosive linebacker who isn't afraid to hit. He's also been described as someone with off-the-charts leadership abilities.
Most analysts consider him to be a top-five player in the draft, but because of the devaluation of off-the-ball linebackers, it's likely that he'll be on the board when the tenth pick comes around. White is incredibly comparable to Myles Jack in terms of athleticism, size, playing style and the fact that they both played running back, though White has a much cleaner injury report on his side.
White would not only start at linebacker from Week 1, but would he would be a considerable upgrade on what the Broncos have had in recent years. Matt Miller put it best, "Devin White is the ideal linebacker prospect for today's NFL. He's running-back fast, linebacker tough and has the range of a safety."
Greedy Williams, CB, LSU: Much like Drew Lock, Williams would be more a pick of need than a pick of value. Williams has fantastic length, man coverage abilities and great ball skills. His stats don't blow you away, but that's because college quarterbacks refuse to throw his direction. It also doesn't hurt that he's out of LSU, often dubbed "DBU" for their tendency to produce great defensive backs. He'd also be a perfect fit for Vic Fangio's scheme and would start from Day 1.
The Broncos could likely trade back if they wanted to take Williams, as most draft analysts don't regard him as a top-ten prospect and three quarterbacks are almost guaranteed to go ahead of him as well. Scouts worry about Williams' speed and his physicality, as NFL refs are often more strict on pass interference than college refs, making some wonder if he can hang with NFL receivers. Our comparison for Williams would be Richard Sherman, though Sherman plays with much more grit and toughness on the field.
Round 2: 41st pick overall
Dalton Risner, RT, Kansas State: Since his stellar showing at the Senior Bowl, the Colorado kid has been flying up the boards and would make perfect sense for the Broncos if they take a quarterback with the tenth pick. Even if the Broncos don't take a quarterback in the first round, Risner would be a great selection here.
The Broncos could have a hole to fill at center, guard and tackle this offseason and Risner has the versatility to play all three at a high level. Plus, given Flacco's immobility in the latter stages of his career (especially in comparison to Keenum) the Broncos will need a stable offensive line.
Risner's toughness is superb, and it almost got him into a fight with Boston College's defensive lineman Zach Allen, making him a perfect fit for the Broncos' new identity. Risner also had the lowest percentage of pressure allowed among Big 12 centers in guards in 2018.
Round 3: 71st pick overall
Joejuan Williams, CB, Vanderbilt: Joejuan Williams is a cornerback similar in style to LSU's Greedy Williams, and Kentucky's Lonnie Johnson. Both are long corners with great ball skills, but Joejuan will require some more development, especially in man coverage.
What really excites about Joejuan Williams, though, is his toughness and was how productive he was against the best receivers in college football. Going up against the nastiest one-two punch in Ole Miss' A.J. Brown and D.K. Metcalf, he was at his absolute beast, breaking up four passes and intercepting another.
Round 4: 125th pick overall
David Long, LB, WVU: West Virginia's David Long is one of the biggest sleepers in this draft class. He'd be a great fit next to Josey Jewell at linebacker and would fill a need if the Broncos don't take a linebacker early.
Long has high-end athleticism, length and coverage abilities similar to White but Long doesn't have the same level of consistency on tape. Long also lacks the off-the-charts intangibles that White has.
Long would be a developmental prospect with high upside who could sit behind Todd Davis for a season before eventually taking the job.
Round 5: 148th pick overall
Austin Bryant, EDGE, Clemson: Bryant was the fourth wheel on Clemson's stacked defensive line, which was headlined by Christian Wilkins, Dexter Lawrence and Clelin Ferrell. He would be a great pick to help replace the rotational edge rushing presence of Shane Ray and Barrett, with the help of Jeff Holland. Bryant has a low ceiling but a high floor, and shouldn't require much development.
Round 5: 156th pick overall
Isaac Nauta, TE, Georgia: Isaac Nauta is the best tight end prospect that no one is talking about in this year's draft class. Nauta was a highly recruited tight end out of the IMG Academy in Florida, who was often a victim of Georgia having too many mouths feed across their skill positions. He could certainly give more effort as a blocker, but if he was on a different team that gave him more opportunities and targets, I'm confident he would be a Day 2 pick instead.
Round 6: 182nd pick overall
Preston Williams, WR, Colorado State: Williams is a high-risk, high-reward prospect, who the Broncos can't let get out of the Centennial State. The need at wide receiver currently isn't dire, but Emmanuel Sanders could be on a different team sooner rather than later.
Preston Williams' body is very reminiscent of Julio Jones' when he was coming out of Alabama. Williams is raw and has off-the-field issues that the Broncos' front office will have to take into account, but he could very well be the player in this year's draft that leaves fans going, "How on earth did that guy go in the sixth round?"
Round 7: 237th pick overall
Mitch Hyatt, OT, Clemson: The second offensive lineman we have the Broncos taking is Mitch Hyatt. Much like Risner, Hyatt has the flexibility to play either guard or tackle at the next level. A little more than a year ago Hyatt was considered a first or second round tackle, but his stock has fallen after his play regressed over the past and a half. If the Broncos have faith in Mike Munchak to fix the problems recently plaguing Hyatt, he could be an excellent value.