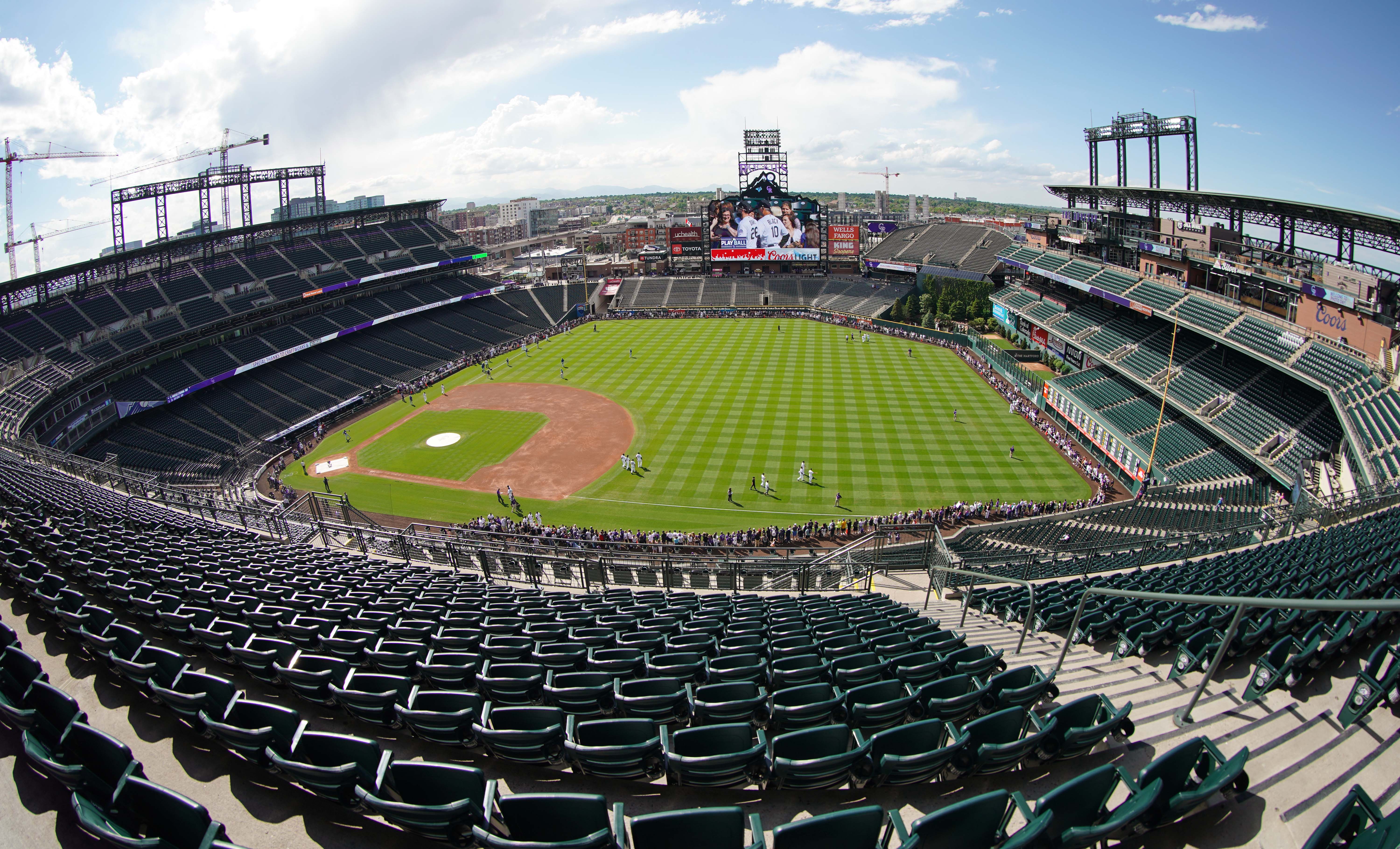 The future of the Colorado Rockies will once again take shape behind the efforts of Jeff Bridich and company with the 2019 Major League Baseball Draft.
Among their last five first-round picks, the Rockies have selected four starting pitchers, headlined by Riley Pint and Kyle Freeland. In three of the last four drafts, the franchise has picked high school prospects. Brendan Rodgers is the first of the pre-collegiate picks to make his MLB debut.
Ryan Rolison, the club's most recent first-round selection, is currently playing for Single-A Asheville. Through three starts, he has a 0.61 earned run average and has struck out 8.6 batters per nine innings.
The Rockies enter the draft with three picks on the first night. Their 23rd overall pick headlines the haul, while a pair of second-round picks (62nd and 77th overall) make up the back end of the organization's selections.
Ahead are live updates of the club's picks, as well as analysis and a scouting report.
23rd Pick: 1B Michael Toglia (UCLA)
Scouting report from MLB.com: "Talented and a bit raw out of the Pacific Northwest high school ranks in 2016, Toglia was taken in the 35th round by the Rockies, but he went on to UCLA. Good success in two years of starting with the Bruins had him poised to be one of the better college bats to be considered in June.
Toglia is a solid athlete, especially given his 6-foot-5 frame that he's still growing into. And as a kid from the Northwest, he's still growing into the game. He's shown huge raw power from both sides of the plate, with some scouts putting a 70 on his raw power, but there are some questions about his ability to make enough contact to tap into it consistently. Athletic enough to handle an outfield corner, he's a plus defender at first who can save runs at the infield corner.
Just 20 when the Draft rolls around, he's one of the youngest college juniors in the country, He's a rare college bat with projection, one who could be a run producer in the future if he can refine his approach."
Analysis: The Rockies have three first baseman in their top 10 prospects, a position of depth for the club. Once Daniel Murphy and Mark Reynolds depart, the franchise will likely have to rely on in-house replacements with Trevor Story, Kyle Freeland and others looking for extensions.
Bridich and the rest of the scouting department clearly liked Toglia as he was already drafted by the franchise once before.
Josh Fuentes, Tyler Nevin and Grant Lavigne will all likely get a shot to crack the big league club prior to Toglia's debut, but with a ton of power to spare (14 home runs his junior year), he could make an impact down the road. He's a very large athlete and could add further power with increased training:
CRUSHED. Michael Toglia with a 3-run homer to extend @UCLABaseball's lead.

Watch #Pac12BSB live on the app: https://t.co/ZhZuI5ezsa pic.twitter.com/XRO53vWQkA

— Pac-12 Network (@Pac12Network) April 22, 2018
With the power, Toglia was also able to hit .311 en route to an All-Pac-12 selection for the second consecutive campaign.
As a switch hitter, Toglia could be a great addition to an infield of right-handed hitters like Story and Nolan Arenado. With his 6-foot-5 frame, Toglia likely has to stick at first base or in an outfield corner, slightly limiting his versatility to the club. He has drawn comparisons to Mike Moustakas from draft pundits.
He's the eighth infielder selected with the franchise's opening pick in their history and the first since Brendan Rodgers in 2015. The last first baseman taken by the Rockies with their first pick was stalwart Todd Helton in 1995.
62nd Pick: 3B Aaron Schunk (Georgia)
Scouting report from MLB.com: "One of the best two-way players in college baseball, Schunk has doubled as a third baseman and closer for a resurgent Georgia program the last two years. Though he ranks among the NCAA Division I saves leaders thanks to an 88-92 mph fastball and an effective slider, pro teams want him solely as a position player.
Schunk makes consistent line-drive contact from the right side of the plate and has improved offensively in each of his three seasons with the Bulldogs. He has the strength and bat speed to hit for more power, and he shows at least solid raw pop in batting practice, but he'll probably top out at 12-15 homers per year unless he adds more loft to his swing. He puts the bat on the ball so easily that he rarely walks, another adjustment he'll have to make at the next level.
Schunk has fringy speed out of the batter's box but a quicker first step that helps make him at least a solid defender at third base. He also has soft hands and a strong arm, though he needs to improve his defensive consistency. If everything comes together, he could be a .270 hitter with 20 homers who's an asset at the hot corner."
Analysis: Aaron Schunk is an extremely interesting prospect.
As both a hitter and pitcher for the Georgia Bulldogs, Schunk succeeded at both. Alongside his 2.49 ERA, he's also hit .336 on the year. He has served as the club's closer for much of the year, registering 12 saves.
It will be interesting to see where the franchise goes with the 6-foot-2 multi-faceted talent that Schunk possesses. Third base, with Colton Welker, Ryan McMahon, Arenado and Fuentes is also a very deep position for the franchise.
Due to his 'stuff' lacking true major league ability, the Rockies will likely put Schunk on the same track as Taglio, with the two manning the corners at the bottom of the organization's totem pole for now.
As a soft-hitting third baseman, the club will have to either add muscle and more launch angle to his swing or transition him to a role that embraces contact as his primary skill, with a position change to match. The path will likely have several changes through Schunk's career, with his versatility being his lone area of excellence.
While pitching is always a high priority for the Rockies given their struggles, the club appears to be confident in Pint, Rolison and others developing into quality arms.
77th Pick: RHP Karl Kauffmann (Michigan)
Scouting report from MLB.com: "Kauffmann was the top prep prospect in Michigan in 2016, but a disappointing spring and a college commitment to the in-state Wolverines left him undrafted. He has performed steadily since moving into Michigan's rotation as a sophomore and allowed two earned runs or less in his six of his eight Big Ten Conference starts this spring.
Kauffmann owns one of the livelier fastballs in the college ranks, usually operating at 91-94 mph, topping out at 96 and holding his velocity deep into games. Its running and sinking action mirror that of his solid changeup, which he sells well and has good separation from his heater. His slider ranges from 81-86 mph and can be an above-average pitch at times, though it lacks the consistency of his other two offerings.
While Kauffmann has some effort in his delivery, he repeats it well and doesn't have any difficulty throwing strikes. He has a relatively high floor as a three-pitch starter with a track record of performance. His ability to generate ground balls will make him useful as a reliever if he can't cut it in a pro rotation."
Analysis: In 2019, Kauffmann had a sterling 2.62 to go along with 93 strikeouts in 106.1 innings. Across three seasons with the Wolverines, he had a 2.76 ERA across 44 appearances (30 starts).
While he doesn't have an overpowering fastball, the ability to keep velocity through games gives reminisce of a Justin Verlander-type pitcher. In nine separate starts, Kauffmann was able to go seven-or-more innings. He also allowed only five home runs throughout his entire junior campaign, a quality that Rockies' pitchers must embrace at altitude.
Sinking action in Kauffmann's fastball will also play a key role in keeping the ball out of the stands and on the ground. At 6'2″ and 200 pounds, he likely has limited room for weight gain but has shown the ability to utilize his current weight well.
Kauffmann was the first pitcher taken in the draft by the Rockies among a second-round flurry of pitching selections across the league.