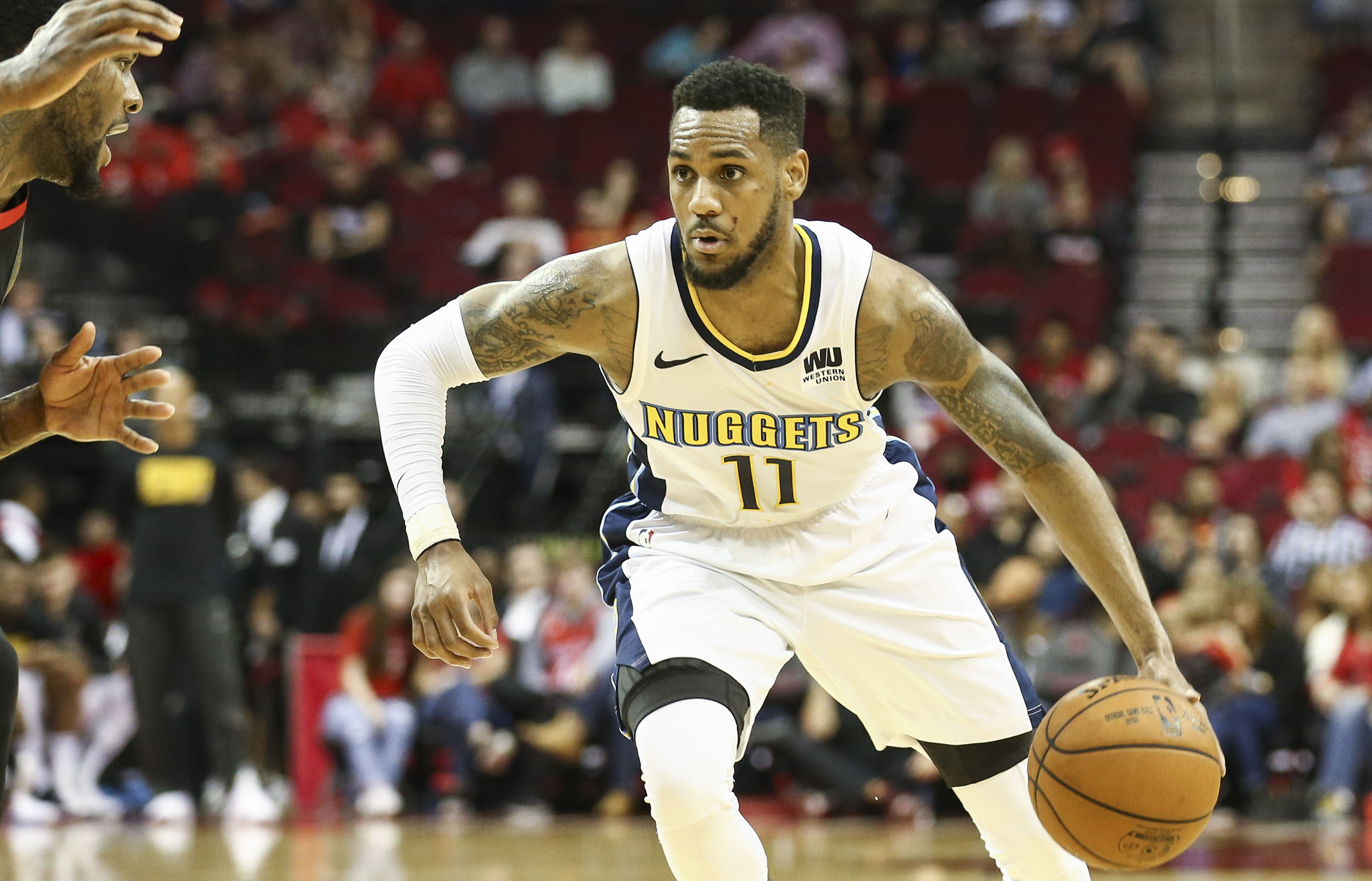 While most NBA players head for different variations of paradise on earth once the NBA season ends, Monte Morris has been getting in multiple practices a day at the Pepsi Center with the understanding that he is in the midst of the most important offseason of his entire life.
The Nuggets have been hosting round after round of pre-draft workouts this summer and every single time that the media has been invited onto the practice court, there is Morris getting shots up or lifting in the adjoining weight room before and after every workout.
"I just want to stay around Denver this summer and put in an extreme amount of work, change my body, and show them that I can be that guy," Morris told Mile High Sports in an exclusive interview.
The work that Morris has been putting in is no joke. The four-year Iowa State product will sometimes get three separate workouts completed in the span of one 24-hour period. At this point, if you are anywhere near the Nuggets' practice court, you will run into Morris. It has become inevitable. He is the living and breathing embodiment of the phrase 'live in the gym' and he wouldn't want it any other way.
Morris' incredible drive and work ethic that he has displayed this offseason shows that he completely understands and accepts the challenges and pressure that awaits him from essentially the start of Summer League until the final buzzer of the 2018-19 Nuggets season. Morris needs to prove that he is worthy of a full NBA contract, and, inversely, the Nuggets may be depending on him becoming a player that is worthy of a full NBA contract.
First of all, the 2018-19 season is the final year of Morris' two-way contract with the Nuggets that allows him to play in the G-League and also spend a total 45 days with Denver. Once the 2018-19 season is up, he will be a restricted free agent with his future in the NBA hanging in the balance. He needs to prove himself and he needs to do so now.
On the Nuggets' side of things, Denver is projected to be over $9 million into the luxury tax if Wilson Chandler opts into the final year of his contract and once they give Nikola Jokic a max contract. That is also without resigning any of Devin Harris, Will Barton, or Torrey Craig. Denver is in desperate need of more playmakers and a backup point guard, but may not have the money to sign one.
This is where Morris and the Nuggets can help each other out, and Morris knows it.
"I want to be that guy that they can depend on to come in as a backup whenever Jamal goes out," Morris told Mile High Sports.
Morris knows his path to playing time rests on his ability to be the backup point guard that the Nuggets can depend upon and he has dedicated himself to improving this offseason so that he can admirably fill that role — regardless of if that means he is playing with or without his workout partner Jamal Murray.
"In practices, we would always be on the same team and we would be balling," Morris told Mile High Sports about his relationship with Murray. "Our chemistry is good. He would run the floor and I can hit him because he is a great shooter. He doesn't have to be on the ball so much. It is something that is coming to light now, but we have been on each others' teams a lot in pickup and things like that and we always play well together."
Morris is doing everything he can to become the ideal backup point guard for the Nuggets. He sees his opportunity and is attacking it relentlessly. So what is step one for Morris on his path to improvement? Well, if you ask him what part of his game he is most looking forward to showing off, this is what he will tell you.
"My jump shot," Morris told Mile High Sports. "At Summer League, I am looking forward to shooting at a high clip. I have been putting in the work so I trust my mechanics."
The other focal point of Morris' offseason is continuing to push the pace faster and faster.
"I want to be like a Westbrook — once the ball goes in or misses, I want to push it up the court every single time," Morris explained to Mile High Sports. "I want people to say, 'Monte's pace is phenomenal. He pushes on makes or misses.'"
The biggest reason for Morris' effort towards playing with more speed is because he has been in constant communication with Nuggets' head coach Michael Malone. It is Malone who is imploring Morris to speed up the game and play faster.
"Coach Malone said, 'you have a crazy amount of speed, man. Use it. I want you to fly up the court and attack. If you dont have anything then get us into an offense'," Morris explained to Mile High Sports when asked if playing faster came up in his end-of-the-season meeting. "They want me to play at a high level which means pushing the pace to keep the defense on their heels. That is my main focus."
Morris and Malone always communicating has been huge for Morris. Their dialogue has led to an understanding of where Morris needs to improve the most and how he can force his way into Malone's regular season rotation. Malone has been around for many of Morris' workouts just taking in the session.
"Throughout this summer, he has watched me work out on numerous occasions and has been telling me that he likes my game and to keep trusting the process," Morris explained to Mile High Sports. "He has told me that he wants me up the whole year next year — no G-League — because I am an NBA player. When you hear that from a coach — that he speaks highly of me — I just want them to know that I am a blue collar guy and a hard working guy that will come in every day and give them my all."
Malone has embedded a level of confidence within the young point guard — a level that Morris has never experienced before. Because of that connection and belief, Morris has taken substantial steps forward in his development.
"It is better when the coaching staff is talking to you, trusting you, and telling you what to do," Morris explained to Mile High Sports. "They believe in my talents to be successful. Once you hear that, it takes your confidence to a whole other level. My confidence is at an all-time high right now because I am putting in the work and am seeing results."
Now all that is left is waiting for July 6th to roll around so Morris can take the Summer League floor and tip off against the Minnesota Timberwolves looking to prove that he is without a doubt an NBA player. Morris does not need anyone to explain the importance of his performance at Summer League. He has been waiting for this opportunity and all that is left is handing him the basketball and letting him go to work.
"They don't need to tell me that," Morris told Mile High Sports when asked if the Nuggets have spoken to him about how important his performance at Summer League is. "I know it's my second year. I know what I have to bring to the table and do. If I have the ball in my hands, than I can do what I do best by getting my teammates involved."
Morris understands the enormity of his situation for both him and the Nuggets. He has been calmly waiting for the opportunity to come around, and now that it is finally here, the confident Morris is ready for the moment.
"I know that I am an NBA player, but I just need to be patient," Morris told Mile High Sports. "I know that I am proven. I went to the G-Legaue and averaged almost 20 points a night on a team stacked with scorers. I just have to be patient. Not everything happens when you want it to, but I pray on it every night that they convert me over and whenever that time is, I will never lose confidence in my skill because I know how good I am."