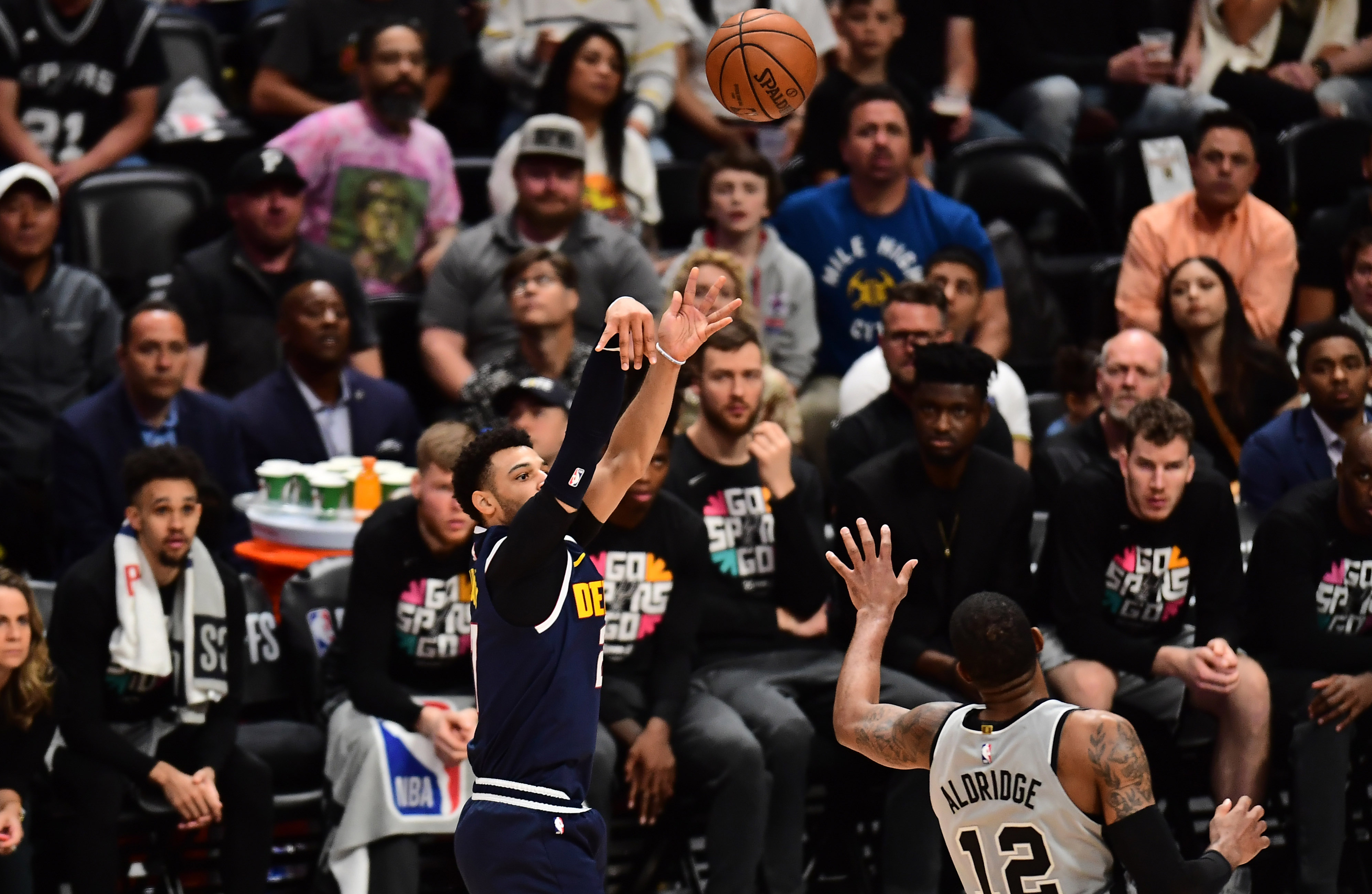 It was nearly midnight on Saturday, April 27th and Jamal Murray was sitting at the podium after earning the first Game 7 victory of his young career. It was a moment that was full of reflection after a, "hard-fought series," as Denver Nuggets head coach Michael Malone put it after Denver's 90-86 win over the San Antonio Spurs.
The last two weeks were nothing short of a whirlwind for the Nuggets. They were competing in their first playoff series since 2012-13 and were battling with the Spurs, who had been to the playoffs for 22-straight seasons and were led by Gregg Popovich, who is arguably the greatest basketball coach of all time. Not only was Murray trying to help push Denver past San Antonio in the first round of the playoffs, but he also ended up facing many challenges of his own along the way.
In Game 1, Murray missed a potential game-winning jump shot from the elbow — a shot he has made thousands of times — in the closing seconds of what ended up being a Nuggets loss. That missed jumper haunted Murray so much that, instead of showering and heading home, he was found up on the Nuggets practice court with his father working on every single shot that he missed in Game 1.
Just three days later, Murray proved that practice makes perfect as he came alive in the fourth quarter to help the Nuggets capture their first playoff victory in six years. Murray went into the fourth quarter of Game 2 with two points and then erupted for a 21-point fourth quarter to carry Denver to a 114-105 win.
That fourth-quarter explosion from Murray gave the Nuggets the confidence they needed to bounce back from a deflating Game 1 loss which resulted in Denver losing homecourt advantage after just 48 minutes of play. For Murray individually, he desperately needed a big fourth quarter after shooting 8-of-23 from the field and 0-of-6 from three-point range in Game 1 and also struggling in the first three quarters of Game 2.
Murray was lucky enough that his head coach stuck with him and gave him a chance that most coaches might not have granted. Denver has Monte Morris as an extremely viable replacement if needed even if he does not have the upside that Murray does. Still, Malone stuck with Murray. That says a lot about Malone and how he trusts his players which bodes well for the Nuggets future success.
"I was going with him. He needs this. This is so important for all of our guys, but especially for Jamal," Malone said after Game 2 when asked if he ever thought about sitting Murray for the fourth quarter. "A young player, third-year, even though he was out there struggling, trying to play the right way I felt. Regardless, I did not foresee the fourth quarter he was going to have, but I knew in my heart he needed to get these minutes. He needed to be out there; I needed got show him that I believed in him. That's powerful. If I pull him, 'Does coach really believe in me? Does he have my back?' So I had to stay with Jamal, make or miss, because he is our guy and I care about him and he came through in a big way. Never once did I think about pulling him from the lineup."
That game was a turning point for the Nuggets in their first round series. Murray showcased that he can be who Denver can build around for the future next to Jokic not just in the regular season, but in the postseason as well. Malone's belief in Murray was a catalyst for his improved play which led to Murray emerging as Denver's X-factor against San Antonio.
In Denver's three losses, Murray averaged 13 points, two rebounds, and 2.7 assists against three turnovers while shooting 35.4% from the field and 18.8% from three-point range.
In Denver's four wins, Murray averaged 23.5 points, 3.3 rebounds, and 3.8 assists against 1.3 turnovers while shooting 51.5% from the field and 47.4% from three-point range.
Nikola Jokic was unstoppable for virtually the entire series, but it became clear that he is not able to carry Denver by himself. Despite putting up only the fourth-ever playoff game of 43+ points, 12+ rebounds, and 9+ assists, Denver lost Game 6 by 17 points. Denver relies on Murray's production to supplement Jokic and when Denver got it in their series against San Antonio, the Nuggets came out on top.
What Jokic gives Denver that Murray does not is consistency. Jokic will be Jokic almost every game which is the level that Murray is trying to reach. The production has been there throughout the postseason for Murray, but now he has to learn how to put it all together on a nightly basis.
Murray is Denver's wild card. If he plays up to his potential, Denver will have strong odds to advance past the Portland Trail Blazers and make the Western Conference Finals. If Murray continues to struggle with consistency, Denver will have a much tougher task ahead of them.
Through seven playoff games, the Nuggets now know that is they go as Jokic and Murray go. Sure, Gary Harris and Paul Millsap have huge roles in this teams success, as do role players like Malik Beasley, Torrey Craig, Monte Morris, Will Barton and Mason Plumlee, but Denver will only go as far as their two stars will take the,.
If Denver wants to make it to the promised land and get past an incredibly tough Portland team, well Jokic and Murray are going to have to continue rising to the occasion.