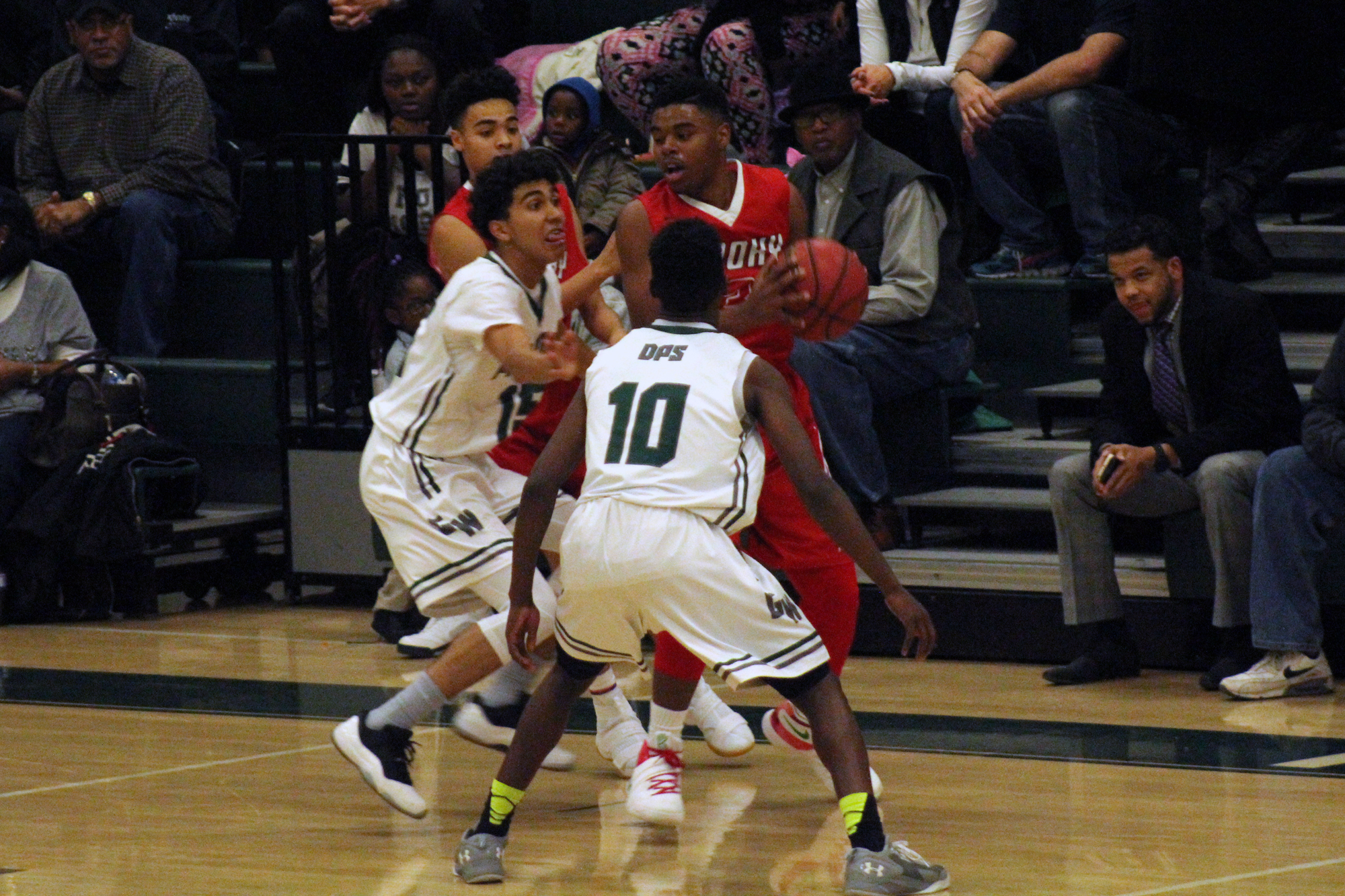 Denver (CO) – Heading into the 2015-2016 season George Washington was everybody's pick to compete with Overland for a state title. 6 games into the season and those discussions of GW being a title contender evaporated. "Last year we lacked chemistry, we didn't defend consistently and we did not hold one another accountable," junior guard Jon'il Fugett said after their impressive 80 – 73 win over Smoky Hill.
GW again was regarded as a favorite to compete for a state title by most this season. Unlike last season, this year they have lived up to the hype, now sitting at 6-0 after their win against Smoky. "We committed ourselves all spring, summer and  fall to developing chemistry and finishing strong," senior guard Calvin Fugett said. "We do everything together off the court, as a result we feel comfortable calling each other out and holding one another accountable, which has improved our play on the court."
GW's new found team chemistry was evident Tuesday night. The teams were even mid-way through the first quarter as Jahwan Phillips drained a three pointer to give Smoky Hill a 9 – 7 lead. That would be Smoky's last lead. George went on a 15 – 0 run to lead 22 -9. Fugett finished the quarter by drawing a foul on a three point attempt. His ability to sell the foul and get to call would have made GW alum Chauncey Billups proud.
Both teams played zones during the first quarter. GW effectively penetrated the Smoky zone and was able to score in the paint, crash the glass and put back their misses, or, get into the paint off the dribble and kick it out for rhythm threes. Smoky, on the other hand was completely taken out of rhythm and could never get their perimeter shots to fall.  At the end of one GW lead 27 – 12. George remained aggressive in the second quarter. On the offensive end they were fueled by the Fugett brothers.  Calvin routinely carved up the Smoky defense and finished in traffic. He'd elevate with defenders, and rely on his superior athleticism to hang in the air and finish over defenders. While he did his damage in the paint his younger brother Jon'il was connecting from the three point line.
After Smoky Hill coach Anthony Hardin was assessed a technical foul George lead 37 – 20.  Smoky Hill cut the lead to 10 at 38 -28 and went on a 8 – 1 run with 1:35 remaining behind talented sophomore Kenny Foster and active junior big man Will Becker. George responded with a 7 -0 run of its own to close the third quarter and lead 43- 28 at halftime.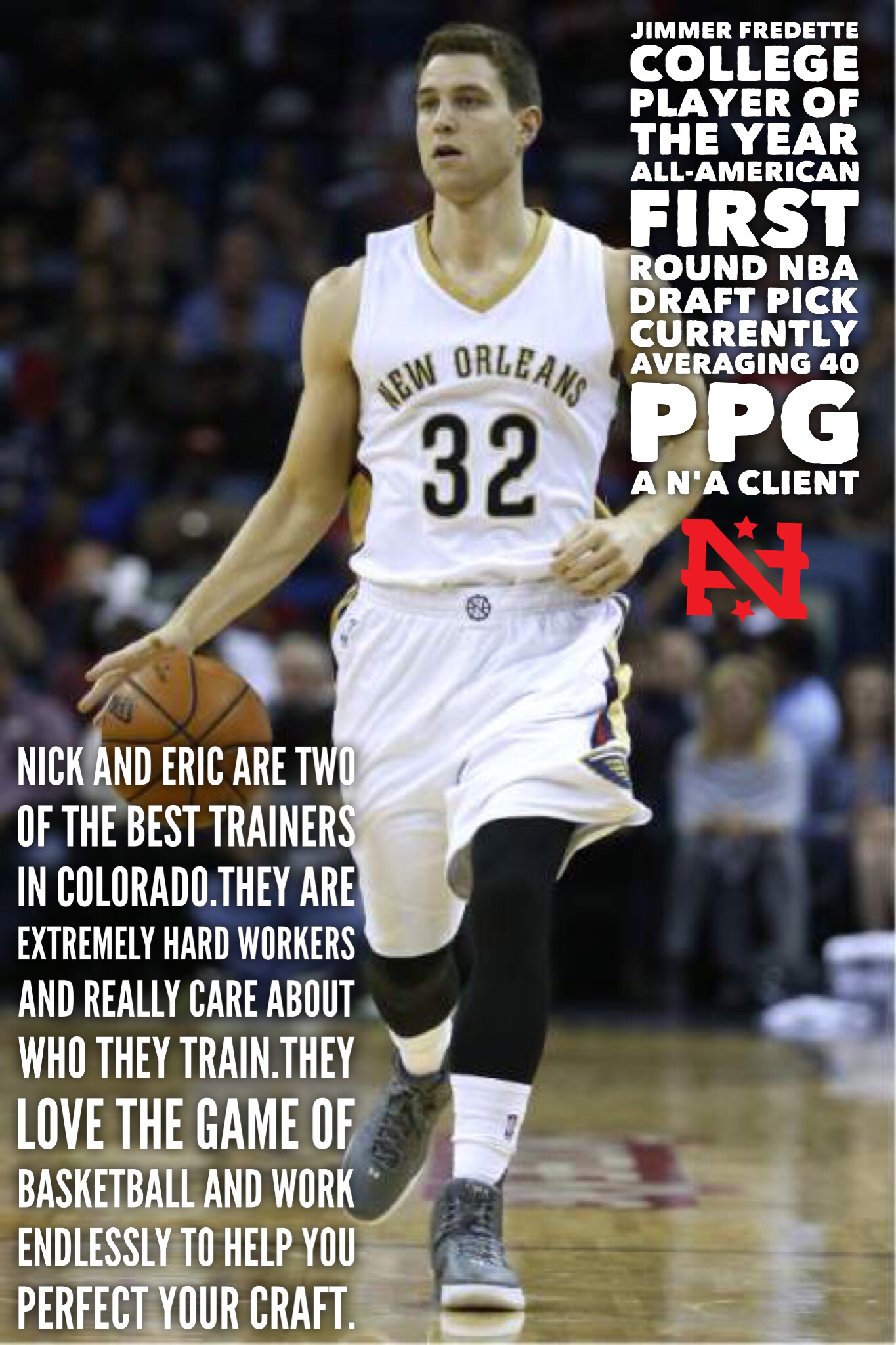 Jon'il Fugett opened up the third with a three pointer, one of his four on the night. He connected a few possessions later to give GW a 51 – 35 lead. George extended the lead to 18 points, but Smoky closed the quarter strong on a 7 – 0 run, again fueled by Becker. Becker was everywhere, he protected the paint on defense, made shots, created second chance points, and threaded the needle on a three quarter court pass to cut the GW lead to 9 points at 56 – 47 going into the final quarter.
Smoky opened the quarter with a hard drive by junior guard Mue Muwwakkil which cut the lead to seven points. GW's pressure caused back to back turnovers and four straight points by Jon'il Fugett ballooned the lead back out to 11 at 60 – 49 with 6 minutes left.
Smoky fought hard but would never pull any closer than eight points. Everytime they attempted to make a run GW responded with stops on the defensive end and timely baskets on the offensive end. George won by a final score of 80 – 73 to improve to 6 – 0, while Smoky Hill dropped to 4 -2. Jon'il Fugett lead all scorers with 27 points, which included four three pointers. Calvin Fugett finished with 22 and Jervay Green finished with 14 points. Kenny Foster led Smoky with 19 points, Mue Muwwakkil added 15, and Jahwan Phillips had 14 points.
Room for improvement: George is ecstatic to be 6 – 0, but they feel they have a lot of room for improvement. "We've got to get better on defense. We can't have effort lapses," head coach Reggie Hammond said. "If we want to beat East, and teams like that moving forward we have to put 32 minutes together.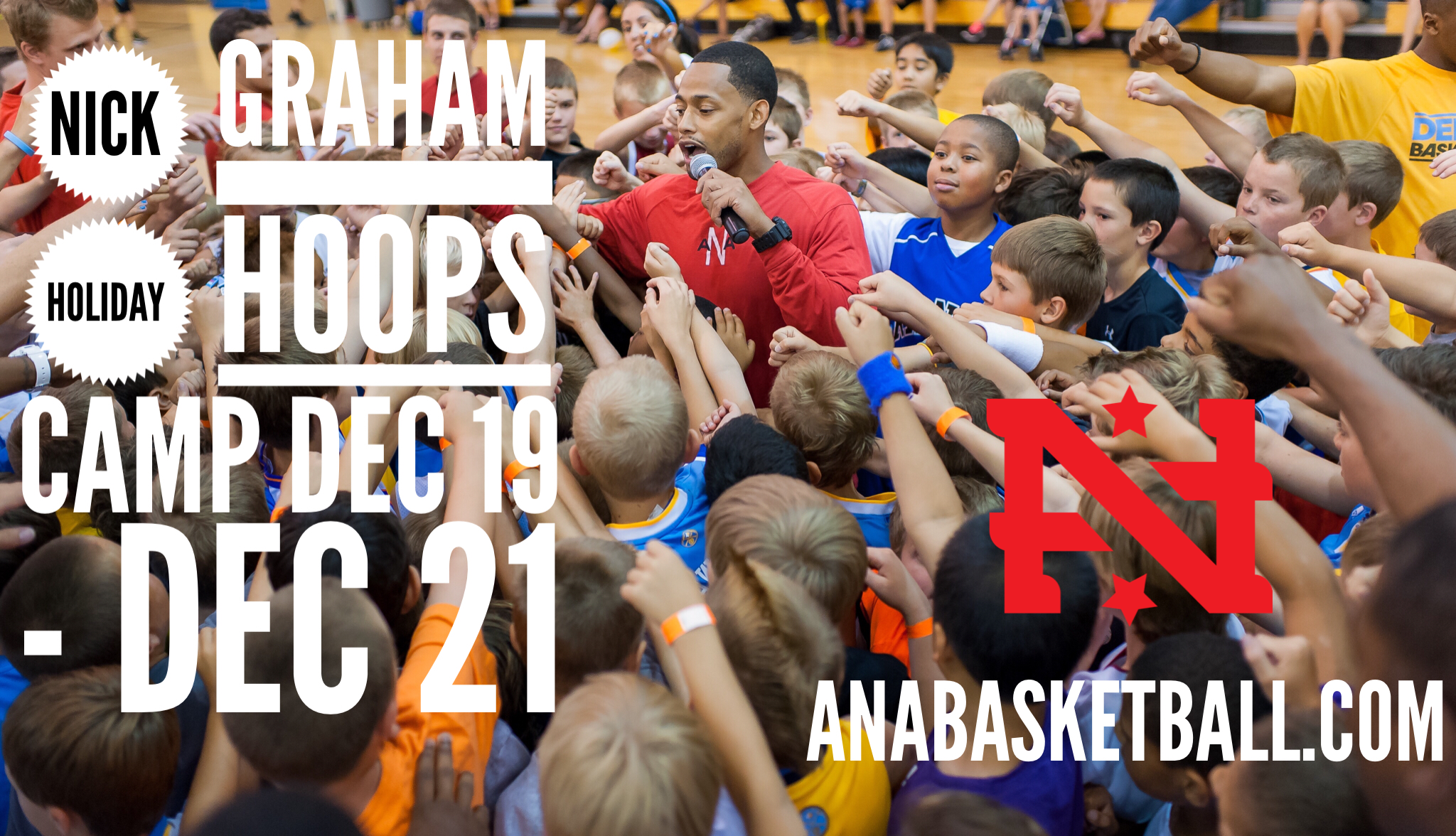 Harge out: Smoky was without the services of standout junior big man John Harge. Harge attempted to play through flu like symptoms but was not able to play. "He was in bad shape," Smoky Hill head coach Anthony Hardin said. "He was dizzy, he had a fever. He should have never even been out there, but he's a tough kid who loves his teammates."
Smoky will continue to improve: Smoky's top players are all underclassmen; Jahwan Phillips, Mue Muwwakkil, John Harge and William Becker are all juniors. Kenny Foster's a sophomore and is already regarded as one of the top players in Colorado and Quinten Rock is just a freshman and he already has an offer from the University of Denver.
With so much talented youth you can expect Smoky to continue to grow and improve with every game.
College prospects: Between the two teams there were 8 – 10 that have a chance to play at the next level.
About the Blogger: Through A N' A basketball, which Nick founded in 2009 he has trained youth, prep, college, and professional players from all over the world. Nick has been featured in Slam Magazine, developed and starred in interactive training videos for Spalding. Nick traveled to the 2016 NBA All Star game to provide youth players in the Toronto community with NBA All-Star training. Nick also led camps for NBA stars Chris Paul, DeMar DeRozan, and Chauncey Billups. During the off season Nick trains Ty Lawson, Jimmer Fredette along with many other college and professional players. Nick is mentored by Chauncey Billups and also assists Chauncey in training NBA All-Star Kyle Lowry. Nick's A N' A program has training programs for players of all ages and skill levels.
Visit ANAbasketball.com to find out more, or follow Nick on Twitter @DreamLiveBall & on Instagram @DreamLiveBallNick