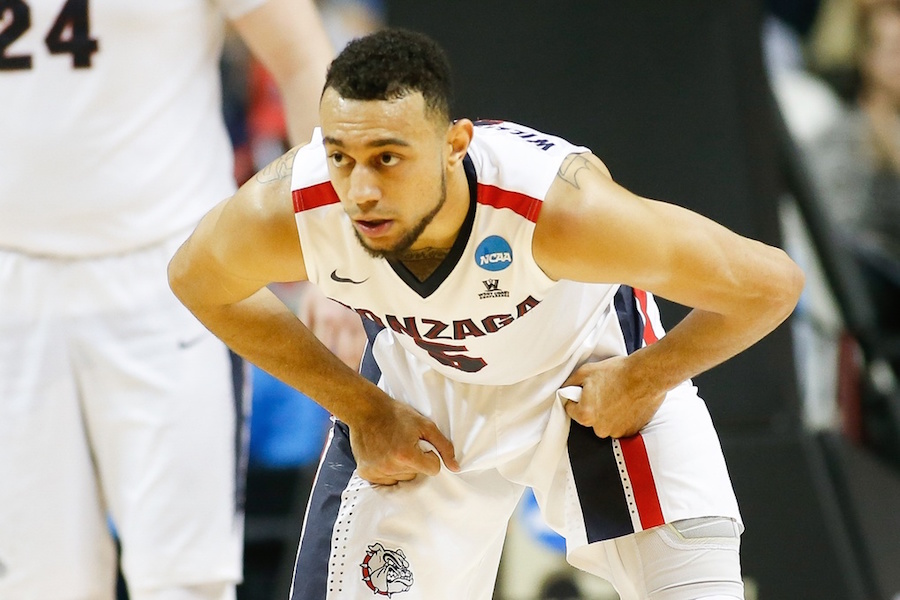 The Denver Nuggets will host their next pre-draft workout on Thursday, headlined by Colorado native Canyon Barry and Gonzaga standout Nigel Williams-Goss.
Players scheduled to participate* are as follows:
Thursday, June 15th
Canyon Barry – G, 6-6, 215 – Florida
Hayden Graham – G, 6-5, 195 – Air Force
Kamari Murphy – F, 6-8, 220 – Miami (FL)
Johnathan Motley – F, 6-9, 230 – Baylor
Kobi Simmons – G, 6-4, 170 Arizona
Nigel Williams-Goss – G, 6-3, 195 – Gonzaga
*Players subject to change, per Nuggets PR
Williams-Goss had a strong finish to his collegiate career, leading the Bulldogs to the national championship game before falling to North Carolina. He averaged 16.8 points per game, 6.0 rebounds per game, and 4.7 assists per game for Gonzaga in the 2016-2017 season. He was a consensus second-team All-American and the WCC Player of the Year in 2017. He was also a first-team academic All-American.
Barry had the most efficient season of his collegiate career in 2016-17 after transferring to Florida from the College of Charleston. He averaged 11.4 points per game on 42 percent shooting from the field for the Gators. Barry also made 88 percent of his free throws with the underhand form that made his father, Rick Barry, famous in the NBA.
Hayden Graham, the other local product scheduled to attend the workout, averaged 29.4 minutes per game for the Falcons in 32 starts as a senior. The Austin, Texas native led the Falcons with 12.6 points per game and 19 blocks.
Johnathan Motley was a double-double machine for Baylor last season, picking up 15 of them last season, including a 20 rebound effort against Texas and double-doubles in two of the Bears' three NCAA tournament games.
Kamari Murphy played two seasons for the Miami Hurricanes after sitting out a year following a transfer from Oklahoma State. He started 97 of 131 total career games played at OSU and Miami, while averaging 5.6 points, 5.9 rebounds, 0.9 blocks, 0.6 assists and 0.3 steals in 24.6 minutes for his college career. As a redshirt senior in 2016-17 he was one of two players for the Hurricanes to start all 33 games.
Kobi Simmons played just one year for the Wildcats. He scored 14 or more points on ten occasions, leading his team in scoring in five of those games.