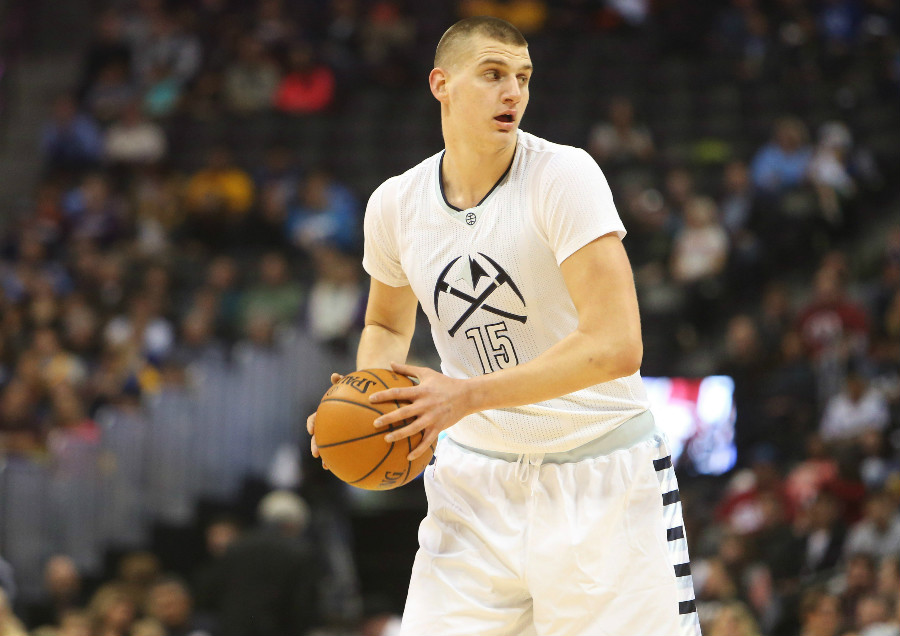 The Denver Nuggets defeated the New York Knicks Tuesday night, and one of the more intriguing match ups in the game was Nikola Jokic vs Kristaps Porzingis.
Jokic and Porzingis are arguably the two best foreign rookie big men in the game right now, and whenever they match up on the hardwood, a show is in store.
Tuesday, the two squared off and the Nuggets' big man clearly came out on top.
Jokic, 21, had 20 points, nine rebounds and three assists in the team's win. Porzingis only managed to score six points, grab five boards, and notch three assists.
Even with the dominance of the Spurs and Warriors, the emergence of Porzningis has been one of the biggest storylines of the NBA season, while Jokic's rise has been muted at best. Pound for pound, though, the two skinny Europeans are very similar.
Porzingis stats per 100 possessions: 25.8 points, 2.2 assists, and 13.5 rebounds.
Jokic stats per 100 possession: 24.2 points, 5.1 assists, and 15.7 rebounds.
So aside from roughly a point, Jokic lines up better statistically per 100 possessions than Porzingis.
Jokic, however, does not get the credit he deserves. Why? Well, simple. One plays in New York and was a top-five pick; the other plays in Denver and was drafted in the second round. Swap places, and you may not know the differences.
Well … to be fair, Porzingis can dunk a lot harder than Jokic, and everybody loves a good dunk.
Nevertheless, if Jokic keeps it up and his team continues to get better, he will get the recognition he deserves, one way or another.
As for what it felt like to play against Porzingis, Jokic said it was just like any other matchup.
"I just play my game." Jokic said. "I think that is the way you need to play in the league"
Jokic stayed true to himself, which allowed him to put up a solid performance against the Latvian sensation.
Jokic has been one of the brightest spots on this Nuggets team this year, averaging 9.7 points and 6.3 rebounds per game; however, what is really impressive about Jokic is his stats per 36 minutes: 17.4 points, 11.2 rebounds, 3.6 assists, 1.7 steals and 1 block.
Not bad for a kid that hasn't been thrown into the national spotlight. As Jokic's career continues, and his minutes rise from the 20.4 he's getting this season to somewhere between 30 and 35, he'll be a household name.