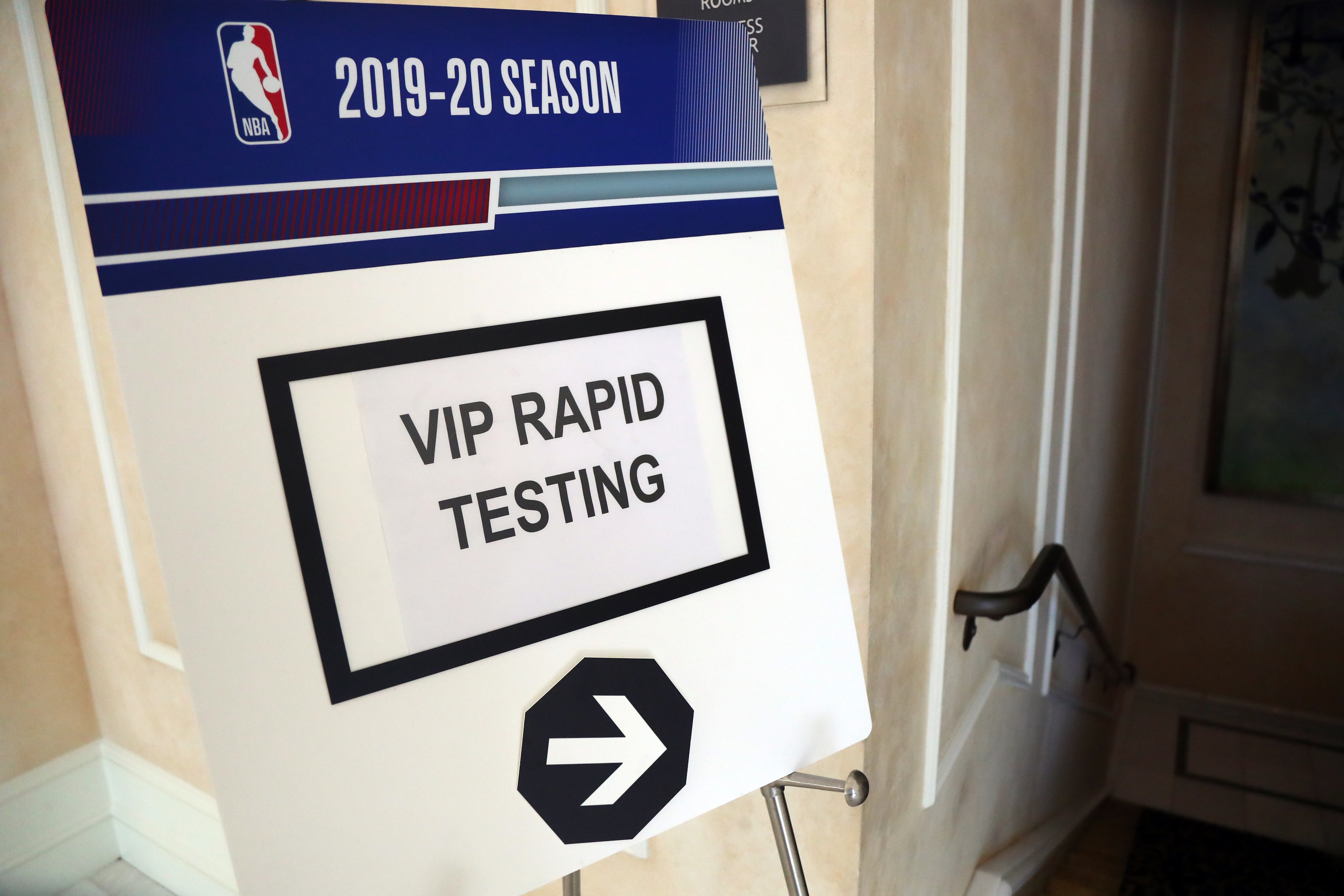 My oh my. So many great topics to talk about this week, but I've covered a lot of them here already. Broncos ownership disaster: check. The Rockies management being the worst in all of sports: check.
But COVID? COVID is the gift no one wanted that keeps on giving anyway. And after the debacle in our own backyard with the Broncos this past week, it's back, baby. And worse than ever.
But you can't really say COVID is back when it never really went anywhere.
Every week, football fans are greeted by news of the latest positive COVID test from their favorite teams. The feeling of dread, first that more people are sick, and second that, god forbid, a football game gets canceled comes over you fast.
While the virus is very serious and as a rising number of people lose their lives every day, we still need a distraction and that's what sports are. A distraction from the horror that grows more and more commonplace everyday. We know it's out there and we don't want anyone else to get it, but watching sports has been a nice diversion from it.
If you recall late spring and the early stages of summer, we were desperately looking for streams of Russian table tennis, so you can't tell me sports weren't needed then. And they're needed now. So the fact that the NFL can't get it together and keep these cases to a minimum doesn't bode well for the rest of the sports we watch.
So what does this mean for the new NBA and the NHL seasons that are supposed to start at the end of the year?
If you recall, those sports retreated to their respective bubbles and were able to, without a single case of infection, finish their seasons. But bubble life was rough and there are no plans currently to go back to a bubble to start these leagues back up. And that is a mistake.
MLB had several months to plan, decided to not go into a bubble and it almost cost them. If not for the ability to schedule doubleheaders, there would have been no way baseball could have made up the games lost to COVID infection.
Football doesn't really have that luxury and the Broncos, as you know, didn't have the horsepower to keep themselves from starting a WR at QB who hadn't thrown a pass in three years. It kind of worked out so far for the NFL, but like a plane sliding to a stop without landing gear, you can't help but feel the league is getting lucky.
We're not even close to being out of the woods yet with NFL COVID cases, and hockey and basketball don't want to tangle with the bad look that football has had to contend with. So the NHL and NBA should consider adopting a quasi bubble so they don't have their respective seasons derailed by COVID. Players could live like your grandparents do now: stay in, have things brought to you and your only outside contact is going to the rink/arena. One would assume that's how NFL players are doing it now, but brother, that aint' working. With a properly implemented system, they could still be with their families but adhere to a strict isolation that would keep them on track to play. It's the bubble but without all the homesickness.
If these leagues don't do this, they're going to have issues with players getting sick until there's a readily available vaccine. Sure they could ride it out for a few months, but it's a bad look. It's not healthy and lowers these sports to the level of baseball which is lucky it even got to play a half season.
Scores of people are dying every day from COVID so it may seem a bit callous to be concerned if a bunch of well paid athletes get to do their sportsball. And that we get to watch. But while we patiently wait out these last few months before a vaccine kicks in, we do need something to focus on as we stay in, stay isolated and keep it from spreading. Let's hope the NBA and NHL hold up their end of the bargain.
The bad beat felt 'round the world:
That Seattle/Philadelphia game has soured me on spread bets for the most part. But we forge ahead with picks for this weekend.
Raiders (ML -375) @ the Jets 
Raiders are a -8 favorite here and I think that's pretty safe. Keep an eye on whether Josh Jacobs is playing but I'd prefer to go moneyline on this with some other favorites.
Cincy @ the Dolphins (ML -560)
An even higher spread with the Dolphins an 11.5 favorite. That's too high right? The Bengals almost won against the Giants last week, but I cannot see them keeping this close while FitzMagic is afoot. Again, another good moneyline bet to parlay with some faves.
JAX (+10) @ the Vikings
Another large spread with the Vikings a 10 point favorite. Jacksonville is bad, but they always seem to hang in there and Minnesota isn't anything to write home about. I'll take the Jags covering this 10 points.
Giants @ Seattle (ML -500)
Another 10 point whopper with Seattle enjoying the favorite role. The Giants are bad, are without their starting QB (maybe not a bad thing?) and have to travel all the way across the country to face a Seahawks team that has underperformed lately. After that Philly debacle, I wouldn't put it past the Giants to keep it close. Bundle this with your moneyline parlay on the Seahawks.
Broncos @ Chiefs (-13.5 o/u 50.5)
Chiefs are a 13.5 favorite and if it wasn't for a fresh batch of Broncos defensive injuries, you might want to take a look at the Broncos there. But don't. There's no way the Chiefs are letting off the gas so this is going over the 50.5. The weather will be fine and the Chiefs may hit that themselves.