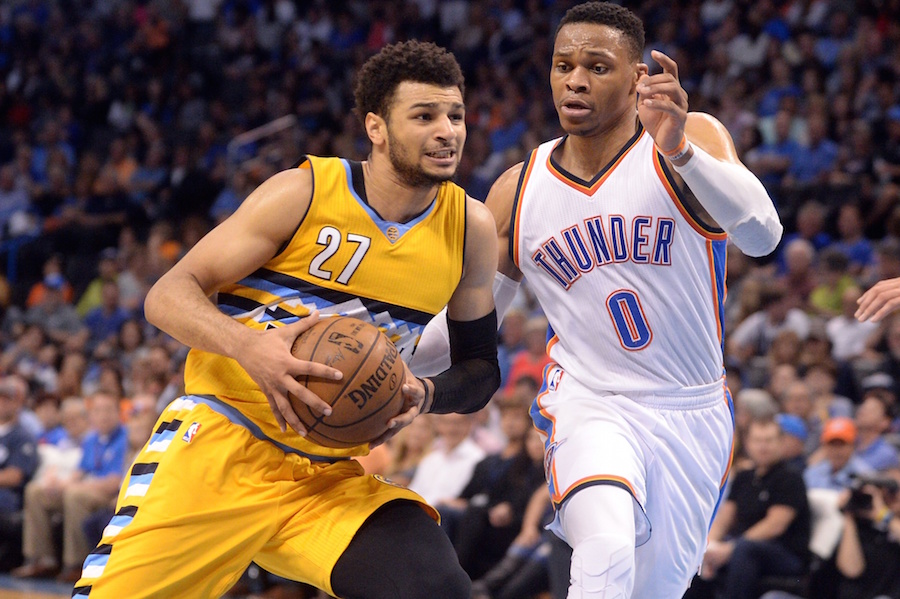 The Denver Nuggets play the Warriors on Saturday night in Golden State.
Most wish that was case a little more than five months ago.
Yes, it's just preseason, but after missing out on a golden opportunity to take on the Warriors in round one of last year's playoffs – missing the dance by just one game – it'll be refreshing to see the Nuggets back on the court.
And while not even the craziest of gamblers would have given the Nugs a chance in that series, this year feels different.
The NBA season is rapidly approaching, just like Denver's expectations around the league are rapidly rising.
The Nuggets are no longer a "secret" to well-educated basketball fans. People think – and know – this team can be really good.
With a core of Nikola Jokic, Paul Millsap, Gary Harris and Jamal Murray, and role players like Wilson Chandler, Mason Plumlee, Will Barton, Kenneth Faried, Jameer Nelson, Darrell Arthur and Juancho Hernangomez (among others), there's no reason they can't win 50 games.
Or more.
And while plenty is made of the Western Conference and how difficult it will be (rightfully so), Denver has a legitimate shot at its first Northwest Division title since 2009-10. Winning it doesn't guarantee a top-4 playoff seed like it used to, but considering the competition, it'd still be one hell of an accomplishment.
It'd also put the Nuggets comfortably in the playoffs, with a chance to win a series or even two.
Here's the league-wide outlook for each of Denver's four foes in the division, along with why the Nuggets can finish above them in the standings.
The Favorite – Oklahoma City Thunder (Last Year: 47-35)
General Outlook: After a monster offseason, most assume the Thunder will run away with the division. The team traded for Paul George and Carmelo Anthony and, by many accounts, didn't give up all that much in return to acquire two stars. The expectations are sky high.
Why The Nuggets Will Be Better: Anthony's never been great at deferring during his career, and right now both Westbrook and George are better players than him. An unhappy Melo, peeved he's not getting enough touches, will derail OKC's season before the group eventually breaks up next summer.
The Rival – Portland Trail Blazers (Last Year: 41-41)
General Outlook: Largely considered underachievers last season, many expect Portland to bounce back led by Damian Lillard, C.J. McCollum and public enemy No. 1 in Denver, Jusuf Nurkic. First-round pick Zach Collins is also primed to make a big impact as a rookie.
Why The Nuggets Will Be Better: Outside of the two "stars" mentioned above, it's unclear who else Portland can genuinely rely on night in and night out. Nurkic overachieved after being traded and, once his bad attitude returns, should come crashing down to Earth. This a .500 team yet again.
The Trendy Pick – Minnesota Timberwolves (Last Year: 31-51)
General Outlook: Adding Jimmy Butler was one of the sexiest moves of the offseason, and pairing him with Andrew Wiggins and Karl-Anthony Towns gives Minnesota one of the more exciting "big threes" in basketball. This team projects as one of the trendiest sleepers in the NBA.
Why The Nuggets Will Be Better: Wiggins and Towns didn't win squat last year, as the Timberwolves were by far the worst team in the division. And Butler? He barely led the Bulls to the playoffs in the weak Eastern Conference. None of these guys have been winners, why would they start now?
The Sleeper – Utah Jazz (Last Year: 51-31)
General Outlook: The Jazz were gutted this offseason, losing their best player in Gordon Hayward to Boston and arguably their second-best player in George Hill to Sacramento. But Quin Snyder is a rising star in NBA coaching circles who consistently gets the most out of non-household names.
Why The Nuggets Will Be Better: While Snyder is a good coach, he can't possibly cover for the talent Utah watched walk away for places where it's easier to get served an adult beverage. Utah could be better than folks think, even a playoff team, but Denver is significantly more talented.
**
Denver will be in Golden State on Saturday night in a game that, in the grand scheme of things, means nothing.
But if the Nuggets win the Northwest Division and finish fourth or fifth in the Western Conference, there's a good chance they could be back in the Bay Area next April for a second-round series.
At that point Denver would be playing with house money, looking to dethrone the champs if the cards fell just right.
Let's shuffle up and deal on the 2017-18 NBA season.